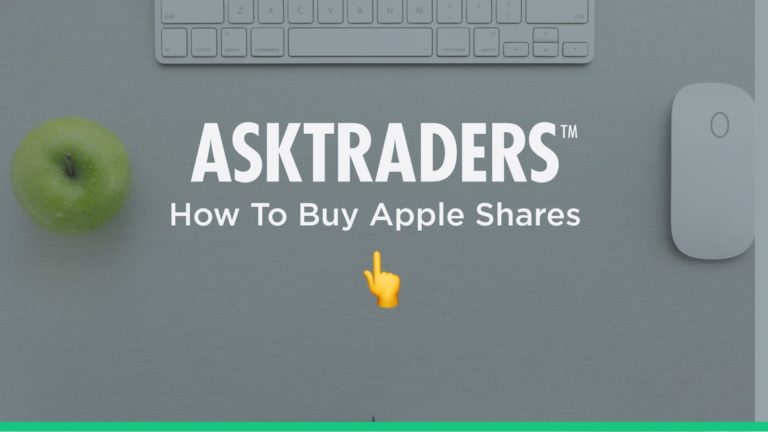 Not even a global pandemic has been able to halt Apple's history-making ascent, with its share price more than doubling since Covid-19 took a stranglehold on the world in March 2020. So, if you're looking to invest in Apple, it's not too late to buy Apple shares. In this guide, we'll show you how to buy Apple shares, where to buy them and more.

About Apple
Apple Inc is one of the world's strongest brands. Not only that, but it's top of the pile in the world's growth industry — consumer technology. Its position as the industry-leading manufacturer of smartphones, laptops, mobile devices, watches and computers, has generated profits on such a scale that it is sitting on a cash pile of $191bn.
Apple Share Price 2016–2020
Source: eToro
Apple is often credited with inventing the smartphone. The project developing their innovative product even had a code name 'Purple' to allow for a show-stopping release. The reality is that products such as Palm devices preceded the Apple version.
However, this demonstrates a core strength of the firm, one that finds favour with investors. The loyalty to the brand is so strong that the firm can effectively re-write history and turn weakness into strength. It's more than willing to adopt new ideas of its rivals, rebrand them, and turn them into their own profit-making ventures.
Key data: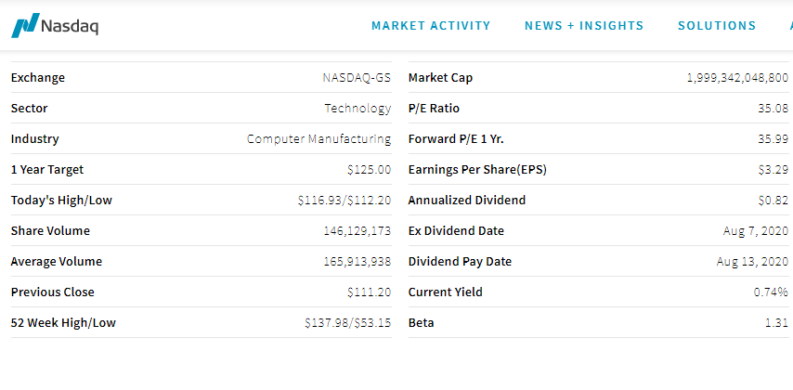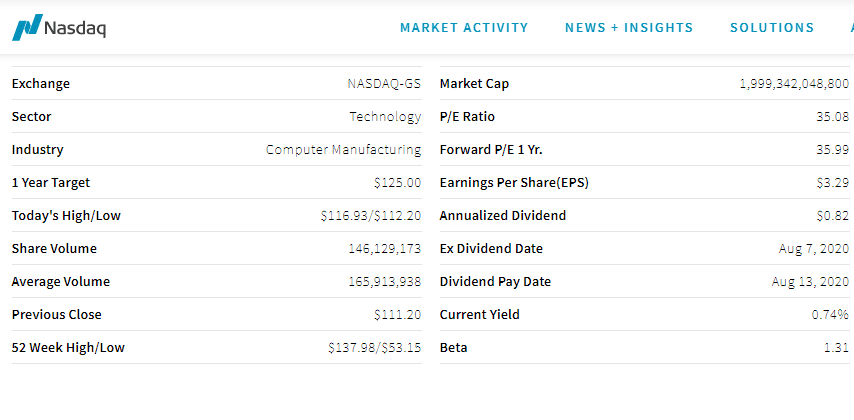 Source: Nasdaq
One challenge facing Apple is the growing trend for 'greener' consumption. The firm's success is based largely on sales of its iPhone handsets, and the premise that everybody needs or wants a smartphone. Consumer tastes are changing and once the world's population has their initial handset, it takes careful marketing to encourage them to upgrade. The frequency with which even loyal fans are willing to switch to a new model looks likely to be influenced by customers questioning if they need to replace their old one as often as they are?
In the Q3 earnings announcement of 2020, the firm held back on giving investors guidance on sales of their latest handset, the iPhone 12. The 5G-compatible device went on sale in October 2020 and the lack of an indication on how sales are going spooked the market.
Apple Shares Overview
Here are some key statistics and information about Apple shares:
| | |
| --- | --- |
| Name | Apple Inc. |
| Symbol | AAPL |
| Exchange | NASDAQ |
| P/E Ratio | 32.85 |
| EPS | 3.29 |
| Dividend Yield | 0.75% |
Apple's primary listing is on the Nasdaq where it first listed in 1980 at a (stock split-adjusted) price of $0.10. Its primary listing is still the Nasdaq exchange where it trades under the ISIN code US0378331005 and ticker AAPL.
To satisfy demand from international investors, the firm has also set up seven other listings on a range of global exchanges.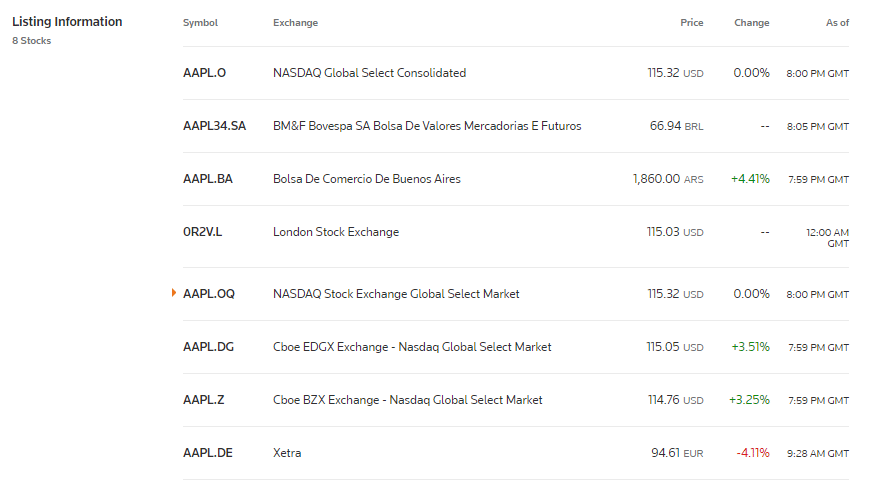 Source: Reuters
The huge Apple cash pile is almost a distraction for the firm and draws a lot of attention from investors and tax authorities. Unlike some other tech stocks, AAPL does pay dividends.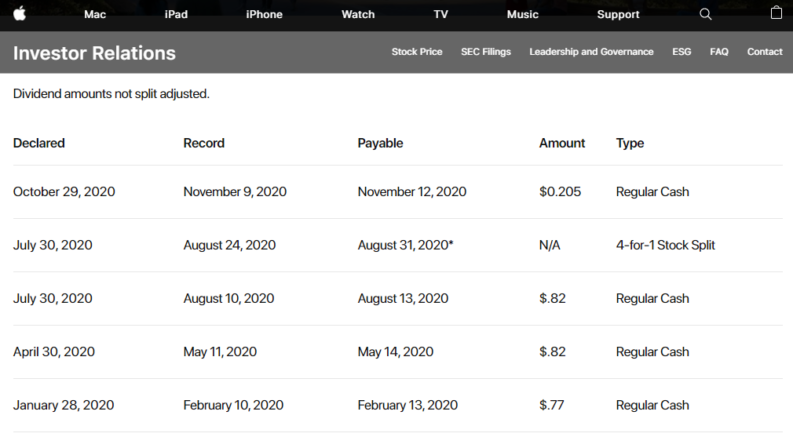 Source: Apple Inc
It has also returned value to investors by processing five stock-splits. Including a 4-for-1 stock split on 28th August 2020, one at 7-for-1 on 9th June 2014, and a split of 2-for-1 on 28th February 2005, 21st June 2000, and 16th June 1987.
The firm has also processed share buy-backs.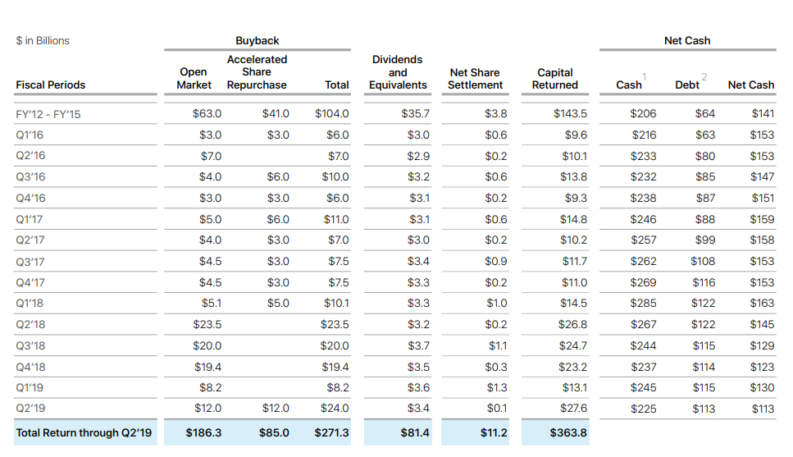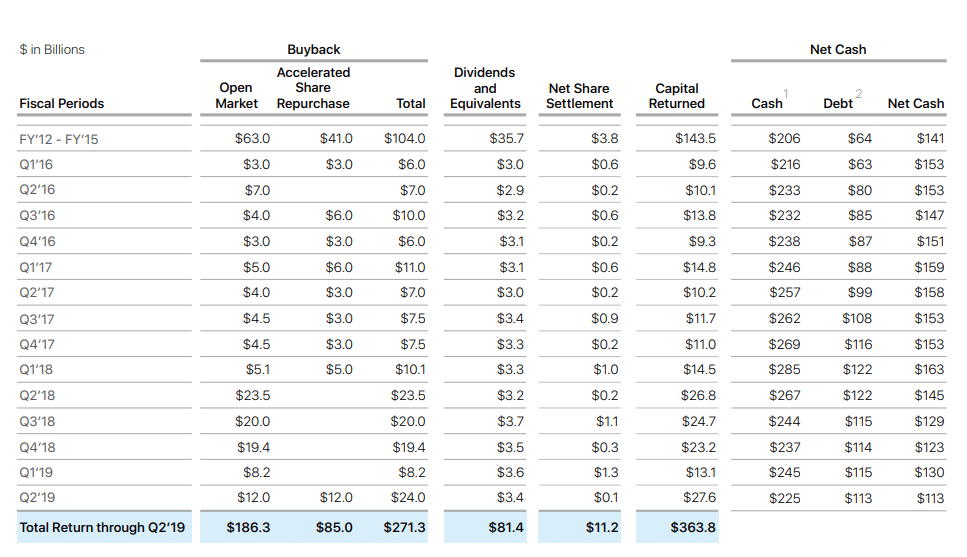 Source: Apple Inc
---
How To Buy Shares in Apple
1. Research Apple Shares
As the saying goes, failure to prepare is preparing to fail. Despite Apple's incredible success, the phrase 'sure thing' in trading and investing is something of a misnomer. While Apple may well be considered a safe 'blue-chip stock' by many investors, it pays to do your due diligence and arrive at your own conclusions. A good place to start is learning how to value stocks in order to make informed investing decisions – something that will stand you in good stead in the future.
2. Find a Broker
Finding a broker is like finding the right pair of gloves; it should be a perfect fit for you. While you can buy Apple stock with most brokers on the market today, not all brokers are created equal.
Best Brokers to Buy Apple Shares:
eToro:
68% of retail CFD accounts lose money
Take a look
Finding the right broker for you is perhaps the most important part of the process. While you can buy Apple shares with most brokers on the market today, not all brokers are created equal. If you're ready to get started, you'll need to use a broker that is FCA regulated, has low trading commissions and a reliable trading platform. Finding one can be an arduous and daunting task, which is why we've hand-picked favourites that tick all of these boxes to help you get started.
3. Open & Fund an Account
Once you've compared the best brokers and selected the one that is right for you, it's time to open an account and start trading. This begins with making a deposit, and, in line with ESMA 'Know Your Client' (KYC) regulations, you'll need to fill out a brief form to confirm your identity. When it comes to depositing methods, some brokers offer more than others. You should opt for a broker that offers a variety of payment methods including bank transfers and e-wallets such as PayPal, Neteller and Skrill.
4. Buy Apple Shares
Once you've deposited your funds, you're ready to buy shares in Apple. Navigate to the stocks/shares section of your broker's platform and search for 'Apple' or 'AAPL'. You'll then need to fill in the number of Apple shares you want to buy in the order form. One thing to bear in mind – it's always a good idea to set order types in order to protect yourself against potential losses, for example, if the price of Apple stock were to decline suddenly.
Related:How to Research and Pick Stocks
---
Fees When Buying Apple Stock
Dramatic price moves can make or break a trading position, but even so, it's vital to keep an eye on the more marginal costs and fees associated with trading. Financing charges and commissions can add up over time. Making sure you are aware of the T&Cs of your broker is a key part of turning a profit.
The decision on whether you trade using CFDs or equities will largely come down to the type of strategy you adopt. Longer holding periods tend to be associated with share trading.
| | | | |
| --- | --- | --- | --- |
| | eToro | Plus 500 | Markets.com |
| Inactivity Fee | Yes | Yes | Yes |
| Inactivity Fee details | $10 per month. After 12 months | $10 per month. After 3 months | $10 per month. After 3 months |
| FX Conversion | Yes – on non-base currency trades | Yes – on non-base currency trades | Yes – on non-base currency trades |
| Fund withdrawal fees | Yes – $5 | Applied on some payment methods | Yes – $5 -$100 |
| Trading commissions | Included in spread | Included in spread | Included in spread |
| Overnight Financing | Yes, on CFDs | Yes, on CFDs | Yes, on CFDs |
Summary
The price history for Apple shows that many investors will have made considerable profits by just jumping in and holding on to a long position. Past performance does not guarantee future returns, but if you are considering buying Apple shares, the good news is that the process is quick and easy to learn.
People who read this also read: