The endearing popularity of the MetaTrader platforms is remarkable considering that MT4 was first launched in 2005, but this points to there being something inherently attractive about the tools and functionality on offer. The trick with any platform is getting the most out of it, and with MetaTrader platforms being the go-to option for so many broking accounts, the below hints and tips will help you to optimise your trading returns.
MetaTrader Tools on Offer
MT4 and MT5 have a similar feel, but there are some differences in terms of what each platform offers. MT5's default setting, for example, offers a wider range of instruments, including stocks, and has more indicators. One of the major attractions of the MetaTrader platforms is how they can be adapted to suit personal taste, and as indicators don't form part of the MT4 factory settings, they can be downloaded and bolted on. Most of the below tools can be used on both platforms.
MetaTrader MT4 indicators are found in the 'Insert' dropdown bar at the top of the dashboard. Click 'Indicators' to find the trading tools broken down into four categories: Oscillators, Trend, Volumes, Bill Williams and Custom. The last section is where you can save any bespoke charts and indicators you create.
How to Use MetaTrader 4 Oscillator Indicators
The first thing you'll notice when selecting an indicator on MT4 is that the parameters of each metric are highly adaptable. Selecting RSI (Relative Strength Index), for example, brings up a monitor that allows not only the time period to be adjusted, but also the type of price used (close, open, high, low, median, typical or weighted), the core levels (default set to 30:70), and a wide range of colouring tools.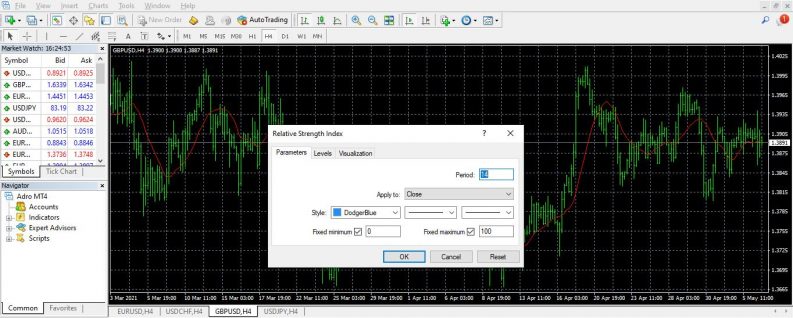 Source: MetaTrader
The four-hour price chart of GBPUSD shows how RSI on MetaTrader can be a reliable tool for spotting moments when the market is oversold or overbought. The time when RSI clipped 30 proved to be a profitable trade entry point as the market rallied soon after to move from 1.369 to 1.390.
GBPUSD with Oscillator – RSI set to levels 30:70

Source: MetaTrader
The subsequent buying pressure then took GBPUSD to be overbought on the H4 chart, and the clip of the 70 level on RSI was then followed by a price fall. The above chart shows the potential for textbook trading strategies for sideways markets to be easily applied using MT4 tools.
Applying the MACD oscillator as well as RSI onto the EURUSD H4 chart highlights one of the best features of MT4. That is the ability to lay several indicators over the same chart and take advantage of the razor-sharp graphics, which allow for multiple indicators to be used at once but a clear visual image to be maintained.
EURUSD with Oscillator – RSI and MACD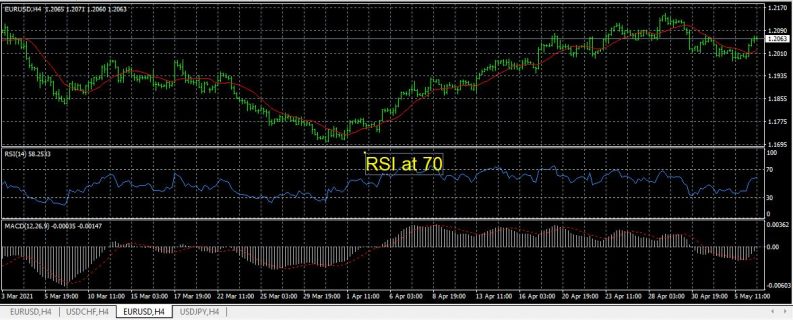 Source: MetaTrader
Oscillator indicators offered as part of the default MT4 package include Average True Range, Bears Power, Bulls Power, Commodity Channel Index (CCI), DeMarker, Force Index, Momentum, Moving Average of Oscillator, Relative Vigor Index, Stochastic Oscillator and Williams' Percent Range.
How to Use MetaTrader 4 Trend Indicators
The indicators used to follow trend-following strategies are equally easy to use and have the same crisp aesthetics. The below charts of USDCHF on an H4 timeframe have been overlaid with Bollinger Bands and Parabolic SAR.
USDCHF with Trend – Bollinger Bands

Source: MetaTrader
USDCHF with Trend – Parabolic SAR
Source: MetaTrader
Each of the indicators can be added and adjusted with the click of a mouse or touch of a screen, thanks to the MetaTrader indicators being designed to be used on handheld as well as desktop devices.
How to Use MetaTrader 4 Volume Indicators
Any trade signal that is accompanied by an increase in volume is seen as being more reliable. The good news for traders is that instruments such as the Money Flow Index do all the hard work of measuring and presenting volume data in a user-friendly format. As with RSI, the graphics, timeframes and levels are all customisable.
USDCHF with Volume – Money Flow Index (MFI) Indicator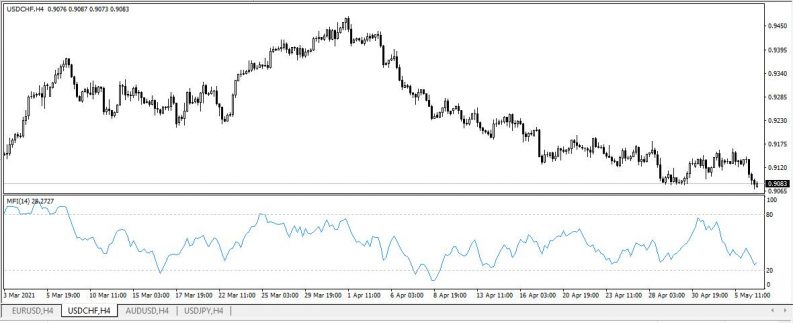 Source: MetaTrader
Other volume indicators offered as part of the standard package include Accumulation/Distribution, On Balance Volume (OBV) and Volume.
How to Use MetaTrader 4 Bill Williams Indicators
The Bill Williams indicators, named after the renowned trader and author, open the door to MetaTrader clients using indicators that consider chaos theory. Williams inverted and enhanced a range of indicators, and given his trading success, it is fortunate that MetaTrader offers six of them as a default on MT4. Once again, it's worth reiterating that others can be bolted on should those six not be to your preference. The Bill Williams indicators offered to all MT4 clients when they start out are Accelerator Oscillator, Alligator, Awesome Oscillator, Fractals, Gator Oscillator and Market Facilitation Index.
GBPUSD with Bill Williams Alligator Indicator
Source: MetaTrader
How to Use MetaTrader 4 Custom Indicators
Chart types include bar, candlestick and line. The absence of Heiken-Ashi-style candles from the default settings highlights how the MT4 platform is set up to be user-friendly and uncluttered. Bolting on the 'average bar' charts is easy enough to do on both MT4 and MT5. Simply head to the Custom section of the Indicators section and follow the prompts to set up your dashboard with the new format.
MetaTrader MT4 Customisable Functionality
Other housekeeping-style features to consider include the settings that allow you to change the formatting of the screen. There are nine time intervals available on MT4, and 21 on MT5, and three template background colour settings. There is an entire palette of different colours to choose from when setting up your charts, and favourites can be saved and used as default.
Source: MetaTrader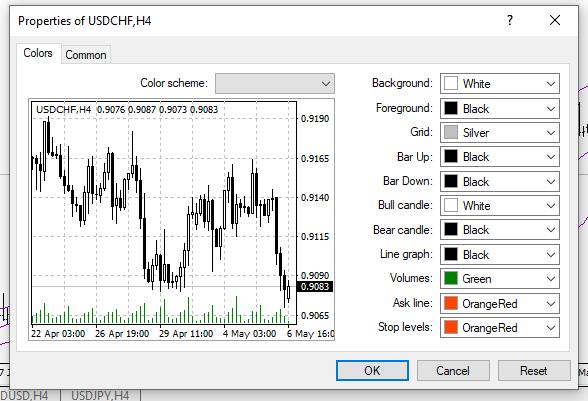 Source: MetaTrader
How to Install Additional Indicators to MetaTrader
The selection of preinstalled indicators has been fine-tuned over many years, but there is still a chance that you want a particular indicator that isn't part of the default package. The good news is that introducing a new indicator into your toolbar of favourites takes moments to do:
Navigate to File on the top tool bar.
Open the dropdown list and click on 'Open Data Folder'.
Search the full list of indicators already installed on your MT4 platform but currently held in the background.
Drag and drop the desired indicator into the Indicator file.
Restart the MT4 platform.
Click 'Insert', then 'Indicators', then 'Custom' and click on the newly installed indicator.
Adjust the parameters in the settings box to match your requirements and click 'OK'.
The indicator will be applied to the price chart you have open.
Taking your trading and use of indicators to the next level can involve using the in-house code MQL to begin programming your own models or downloading indicators that have been developed by third parties. The MQL5 area of the MetaTrader platform is a place where the millions of MetaTrader users around the world exchange bespoke indicators they have developed. Some charge a fee, but some are provided free of charge.
Make sure that before adding a custom indicator to MT4, you check that it is from an authentic source. Any kind of downloading from the internet runs the risk of malware or an unwanted phishing virus being an unwanted part of the package you subscribe to.
Tips for Using MetaTrader Tools and Indicators
Having so many charting tools and indicators made available is obviously ideal, but optimising trading returns comes down to how they are applied.
Using a combination of indicators can make the signals you generate more reliable. Any price chart with the Bollinger Band indicator applied will show instances where price reached the outer limit of the band, and instead of reverting back to mean, price carried on pushing the band wider. This would lead to any stop-loss instructions that are set too closely to trade entry points being triggered and a losing trade. Instilling some discipline and requiring the Bollinger Band and another indicator to both be activated reduces the risk of false signals.
A further enhancement of a strategy would be to check that the two indicators aren't too similar. If that is the case, then both could just be confirming the same false signal. The RSI and Money Flow Index are both oscillators, with the major difference between them being that the MFI incorporates some element of trade volume data. They are, though, more alike than they are different, so pairing the RSI with an indicator from the Volume, Trend or Bill Williams list of indicators ensures a different interpretation of any particular market situation.
MetaTrader's trademark crisp graphics ensure that several indicators can be used at the same time without the dashboard becoming hard to read, but having too many indicators open at once can lead to confusion and hamper decision-making.
One way to establish which combination of indicators works best for you is to set up a demo account. MetaTrader Demo accounts take moments to set up and require little more than an email address. Once through to the platform, you'll have access to all the functionality of a live account, but the trades you put on will use virtual funds. Practicing using live prices on a risk-free account is the best way to establish what does and doesn't work for you. Unlike some other platforms, the MetaTrader Demo accounts do not expire after a period of time. This means that it's possible to take a relaxed approach to fine-tuning your skills and allows you to test out medium and long-term strategies before applying real cash.
As mentioned previously, the MT4 and MT5 platforms are offered by thousands of different brokers. This means that once you've developed your strategies, you can easily pick and choose between brokers. If you find one that offers better T&Cs for your style of trading, switching to that more cost-effective one doesn't mean that you'll lose the models you invested so much time creating.
Final Thoughts
The super-powerful software tools available at MetaTrader still represent the benchmark by which other platforms measure themselves. Beginners need not be worried that an abundance of indicators will hinder their first steps into the market. The default settings of MT4 and MT5 contain enough tools and indicators for most traders, and any tools you might want to add on are kept in the background until needed. At that point, adding a new one is a straightforward process that takes moments to complete.
The popularity of the platform speaks for itself, and the millions of MetaTrader users have established a thriving online community that shares trade ideas and other information to help MT traders make the most of the markets. Whether you are a novice or experienced trader, navigate to this list of trusted brokers that have been reviewed and analysed by the AskTraders team.