Shares of 4d Pharma PLC (LON: DDDD) are up 15% since Monday as buyers step in to reverse the two-week downtrend in place since the beginning of the month.
The live biotherapeutics company has not made any significant announcements recently except for John Beck's appointment as its chief financial officer (CFO).
The US Securities and Exchange Commission (SEC) approved the listing of its American Depositary Shares (ADSs) on the NASDAQ in late February, which was a boost for its shareholders but did not trigger a huge rally.
4d Pharma's merger with Longevity Acquisition Corp is yet to be completed. It is likely to be followed by a share placement to raise between  $25 million and $50 million as its current funds can last up to Q3 2021.
Some investors are unsure if 4D pharma shares are still undervalued since they have rallied 440% over the past 12 months.
To determine if 4D Pharma is richly valued, we have to look at other similar companies and their valuations. The company's main competitor is Seres Therapeutics, which has a market valuation of $1.95 billion.
In comparison, 4D Pharma has a market capitalisation of £163.8 million, yet it has a promising pipeline of products that could catapult its valuation into billions.
The biotech company is currently running a combined phase II trial of MRx0518, a live biotherapeutic cancer candidate with Merck's Keytruda and has generated positive results.
Keytruda is worth $100 billion to Merck, meaning the potential earnings from the commercialisation of the drug combination could be worth billions to 4D Pharma.
4d Pharma has an impressive drug pipeline, which could generate billions in revenues once they are commercialised, which is why the bullish case for the company remains strong. Based on the above factors, we can confidently conclude that 4D Pharma is undervalued.
Many positive factors make 4D Pharma an attractive biotech value play, which we cannot cover due to space constraints.*
*This is not investment advice.
4D Pharma share price.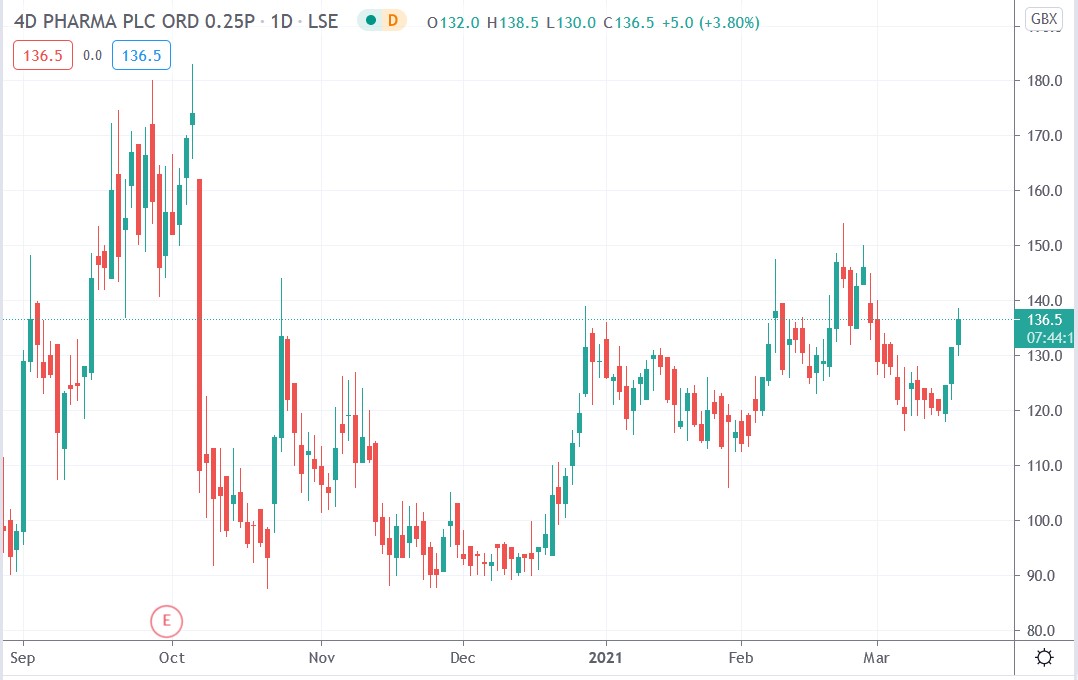 4D Pharma shares are up 15% since Monday reversing a 2-week decline. Are the shares still trading at a discount?