Key points:
7Digital announces year end results and interesting contract news
Also, that some directors didn't reveal enough of past activities
The spread is massive, making trading difficult
7Digital (LON: 7DIG) shares have sumped another 23% this morning. There's always a temptation to think that cheaper is better and that we should buy in after such a share price fall. This is not always true though – the wise trading decision is to work out why this has happened and then to think on whether it might happen some more. It is, after all, true that 7Digital shares are down at least 80% from their position only a year ago. Evidence of a turnaround isn't entirely obvious.

That's all before we get to today's announcements. Firstly, someone's been a naughty boy. The company has a new nominated advisor and they've found that: "Strand Hanson Limited, its recently appointed Nominated Adviser, as part of its ongoing due diligence exercise and that had previously been omitted in error." the error being that the non-exec chairman and the CFO were previously directors of a firm that went bust. Which is no problem, no shame, often enough that's actually a learning experience. But not declaring it, that is a problem. Partly because we'd all like to know but also because if this was genuine error then what else isn't being recorded properly through error?
This all gets a little more convoluted when we realise that the company which went bust was a subsidiary of eMusic, the very company which 7Digital is just announcing a further collaboration with. Yes, obviously it's true that in a small business sector there will be such crossovers but still.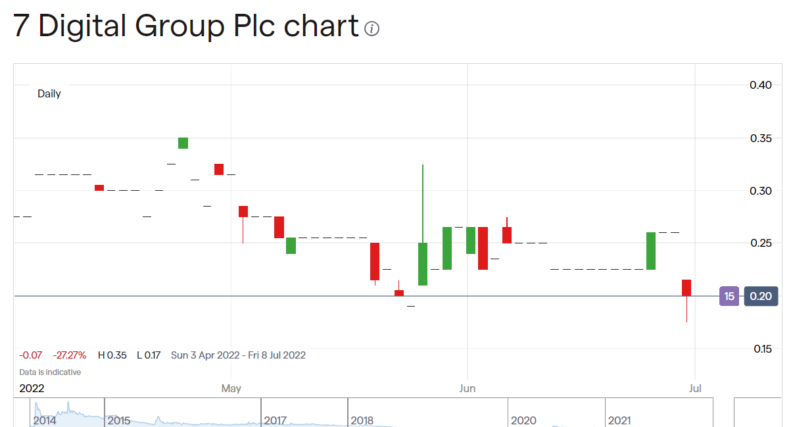 The third piece of news to affect 7Digital shares this morning is the Final Results. The heart of which is that revenue is up marginally (£6.7 million to £6.5 million in 2020), gross margin up to 64.2% from 63.4% but adjusted EBITDA loss increased to £2 million from £1.9 million. It's true that they say that half year licensing revenue for the current year is already 21% up on last full year. But then looking at the last year results increased revenue appears to lead to increase EBITDA losses which isn't a good sign.
Further, that new deal announced with eMusic is with the very group that is the subject of the unrevealed directorships of a company that went into administration.
This is, as we might say, something of a mixed bag of news. Pulling out one specific issue which will drive the 7Digital share price one way or the other is therefore difficult.
It is possible though to note that the spread seems to have blown out as well. While we may have a mid-price of 20 pence the actual bid/offer spread is 15 to 25 pence. Depending upon how we calculate that could mean that we require as much as a 66% rise in the share price before it would be possible to profit from a trade. This does mean that whatever the prospects for 7Digital it's simply not a share to be actively trading. At which point, given that we are traders here, there's not much more to add really, is there?