Key points:
7digital group just won a £1m multi-year contract.
Investors have a reason to smile as its shares rallied higher.
Its shares had been trading sideways for several months before today.
Investors in B2B music services company 7Digital Group PLC (LON: 7DIG) have a reason to smile after the company released some excellent news for investors.

Today, the company announced that it had secured a two-year contract with a pan-Asian consumer services company worth a minimum of £1 million.
The firm, which provides end-to-end music streaming services for other businesses, said that the contract allows it to deliver an app-based music streaming service to the unnamed client.
7Digital is one of a few companies that provide music-as-a-service packages to other companies from a vast music catalogue licensed from music production companies, including Universal Music.
Paul Langworthy, 7digital's CEO, said: "This is a major, multi-year contract for 7digital that further enhances our visibility over our forecast revenues for the next two years. It is an important endorsement of our offering, having been awarded by a multinational corporation and after a competitive tender. This win also reflects how brands are increasingly utilising digital music solutions to engage with their customers. We're pleased to see our pipeline continue to translate to signed contracts, and we look forward to updating the market on further progress."
Based on data from IG, 7digital shares were trading up 8.35% at 0.32p. However, data from other sources showed that the shares had pulled back.
Investors who were not paying attention to 7digital shares have not missed much since the company's share price has been trading sideways for a long time and is down 35.48% for the year.
However, now might be a good time for investors to buy since the shares may finally start moving higher. However, there are no guarantees that this will happen.
*This is not investment advice. Always do your due diligence before making investment decisions.
7digital share price.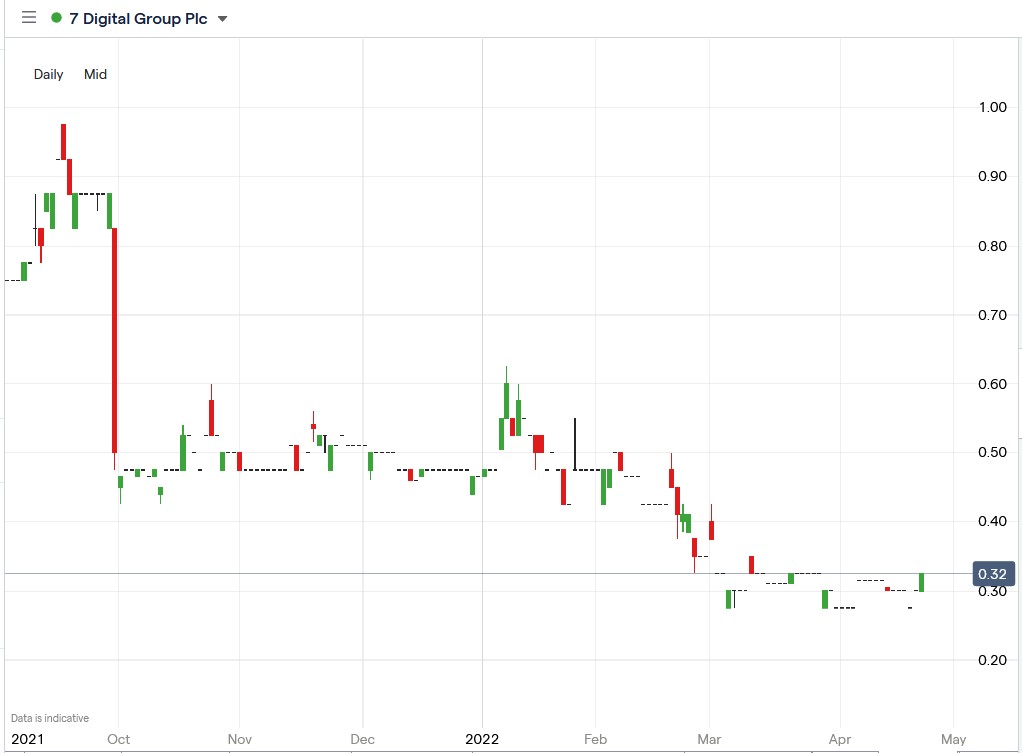 7digital shares had risen 8.35% to trade at 0.32p, from Monday's closing price of 0.30p.