Key points:
Abingdon Health's trading update describes conditions as "disappointing"
That's certainly true, although they've finally got paid for the covid tests
What matters is what comes next in the contract business
Abingdon Health (LON: ABDX) shares are down some 25% this morning on the announcement of the trading results – and with good reason. This is not the opening phrase we all want to see in a corporate announcement "The trading performance in FY22 was disappointing." Well, yes, it was, and perhaps rather more than merely disappointing: "FY22 revenues are expected to be in the region of £2.8m (FY21: £11.6m (£3.6m excluding DHSC revenue and a one off COVID customer order)) and a substantial loss for the year will be incurred." Now it's necessary to pick the information out of that so that's what we'll do.

Yes, Abingdon worked on covid tests during the pandemic, that drove the share price. But outside the covid work there is indeed still a business there. It's just that it's a small one – but that's OK, a business can be small and yet perfectly formed. Sadly, that's also not what is there. It might become a perfectly decent business but it's not one as yet – thus the losses.
Now, part of this is also to do with the hangover from covid. ABDX geared up to make and market those covid test kits, that market didn't arrive in the volume expected, it takes time to wind down the overheads taken on to do that. But sadly that's not all that's in there.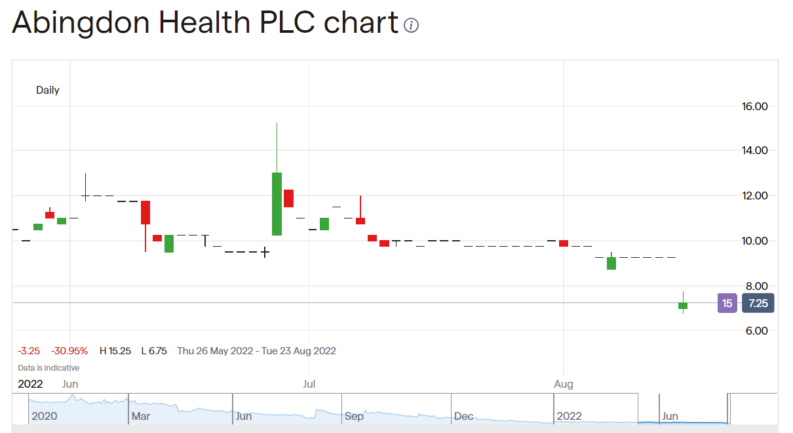 Also Read: The Best Healthcare Stocks To Buy Right Now
That work for the government on covid tests did not, as we know, work out well. It proved not possible to get the invoices paid such were the tests produced. That led to that capital raise to replace the working capital then tied up in those unpaid invoices. Not a good look nor series of events, obviously.
A reasonable estimation is that the whole market for covid tests has now gone. Of course, there are still many being used and so on but easy sales of them have gone. It's not – as long as one can get it right – a goldmine any more. It's a harshly competitive business with high sales costs. Given this then Abingdon Health reverts back to being what it was before. A small development company whose future depends upon what is developed within it.
That's the thing about the results to come – this is the trading update today – and it's, well, what are they developing? At what margin, for which market?
Now there are useful signs. The DHSC unpaid invoices have now been paid – so Abingdon has both that cash and also the fundraise that had to cover it. This means Abingdon is easily funded through the end of this financial year (2023) and can return to its core business of contract work. So, that's good. But success, of course, depends upon winning the contracts, being able to do the work and doing it sufficiently well to actually get paid for it. Which is what trading positions need to be based upon – how good are they going to be at that?