Key points:
The AFC Energy share price surged 13.*% on the Extreme E contract renewal.
The company will power the off-road competition for the second year.
The competition raises awareness of global climate change issues.
The AFC Energy plc (LON: AFC) share price surged 13.8% after revealing that its zero-emission, "L" Series hydrogen power generator would be used in the Extreme E all-electric SUV racing series 2022.

The hydrogen power company said that it had signed a new contract with the leaders of the Extreme E rally to use its hydrogen power generator to fuel all the vehicles participating in the rally in extreme weather conditions.
AFC Energy's system was used to power the participating SUVs in the 2021 season and will also power the SUVs in the 2022 season, which kicks off in NEOM, Saudi Arabia, later this month.
Investors cheered the announcement, as evidenced by today's rally in AFC shares. The company has demonstrated that its hydrogen power generators can replace diesel and heavy fuel generators in extreme weather conditions.
AFC Energy continues to carve a niche in the multiple industries that rely heavily on diesel power generators to provide off-grid electricity, given the significant carbon dioxide emissions associated with diesel generators.
The Extreme E competition takes place in off-road locations to raise awareness of emerging climate change issues such as melting ice caps, global warming, wildfires, rising sea levels, and extreme weather.
The competition hopes to promote the adoption of sustainable energy sources, primarily via electric vehicles, to protect the planet.
Adam Bond, AFC Energy's CEO, said: "We are delighted to be extending our collaboration with Extreme E into 2022. The inaugural race season enabled us to demonstrate the possibilities of AFC Energy's zero-emission power generators while operating in high pressure, high-profile and extreme environments. This world-first showed what can already be achieved in moving the world to zero-emission technologies. Last year, the use of our fuel cell by Extreme E prevented a significant amount of CO2 from being emitted into the atmosphere."
Alejandro Agag, Extreme E's CEO and Founder, said: "Working with AFC Energy has enabled Extreme E to be the world's first sporting event to use zero-emission power generators. From the outset, our vision of using battery-powered race cars could only be truly fulfilled if we could charge them in a completely sustainable way. AFC Energy has enabled us to do that, and we are delighted to be using their technology again for the 2022 season."
*This is not investment advice. Always do your due diligence before making investment decisions.
AFC Energy share price.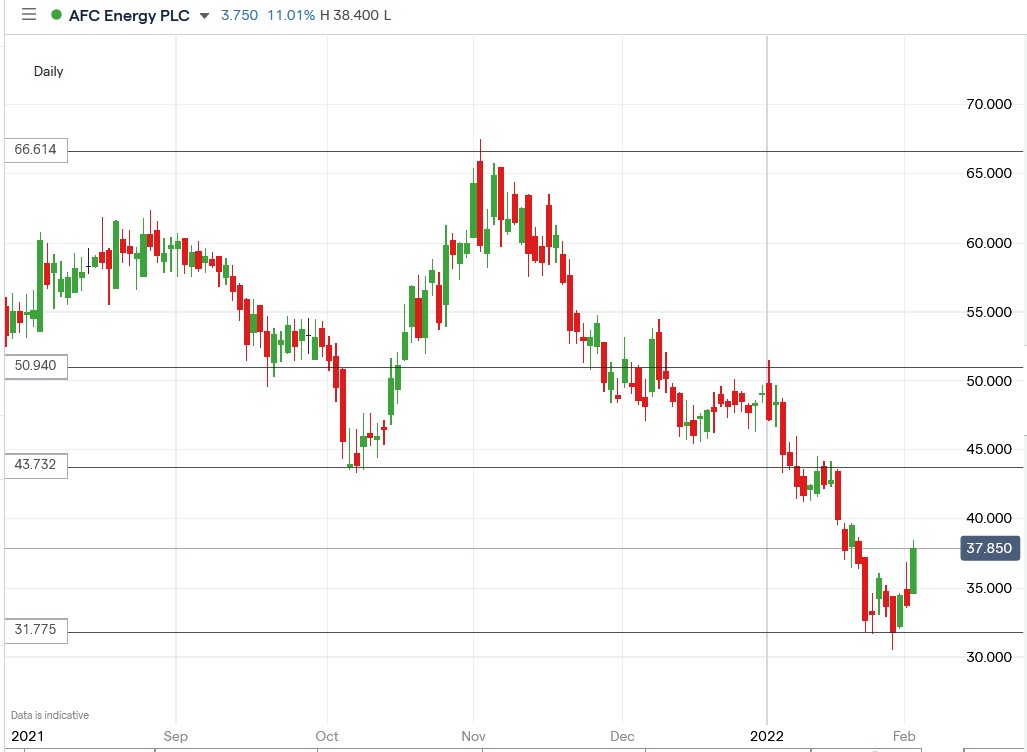 AFC Energy share price surged 13.85% to trade at 38.425p, rising from Tuesday's closing price of 33.75p.