Key points:
The Akash Network is known as the Airbnb of cloud computing.
However, the AKT token is trading at $1.2068 is a long way from $2.
Here's what needs to happen for the coin to break above $2.
The Akash Network has branded itself as the "Airbnb of cloud computing" since it allows developers to rent and buy space on cloud computing servers from anywhere in the world at 2X-3X less the cost of the major cloud computing providers.
The network claims to offer friendly prices to developers on a need basis without locking them up in expensive subscriptions when they might need the cloud computing services temporarily.
The company operates by leasing unused cloud computing networks and storage space from many data centers worldwide with loads of idle, unused capacity. The company then resellers the space to developers who need cloud computing services.
The Akash Network could pose a significant threat to the major cloud computing networks led by Amazone Web Services and the Microsoft Azure platform. Still, can they guarantee the security offered by the leading players?
Many people prefer to work with AWS simply because of the guaranteed security and fast speeds the network offers despite the much higher prices they have to pay for that guarantee.
The Akash Network has to convince developers that they provide the same high-quality services as AWS at a fraction of the cost for AKT to surge above $2 and beyond, which is yet to happen.
AKT price prediction.
Going back to the AKT price prediction, we do not have charts that track the token's performance since the project was launched in September 2020. The chart with the most extended tracking period starts in May 2021, which we will use in our analysis.
According to the Bittrex trading platform chart, AKT traded at an all-time high of $6.353395 on September 13, 2021, and has been on a protracted downtrend since then, punctuated by multiple spikes higher along the way.
Investors who bought AKT coins near the highs are still sitting on losses if they held their coins. The token is trading at $1.206843, and we are asking whether it can break above the $2 level.
To reach our $2 target, AKT has to break above the $1.38865 resistance level and the $1.828772 resistance levels. These are key levels to watch, and I would be interested in buying the coin if it broke above the nearest resistance level at $1.38865.
*This is not investment advice. Always do your due diligence before making investment decisions.
Akash Networks (AKT) crypto price.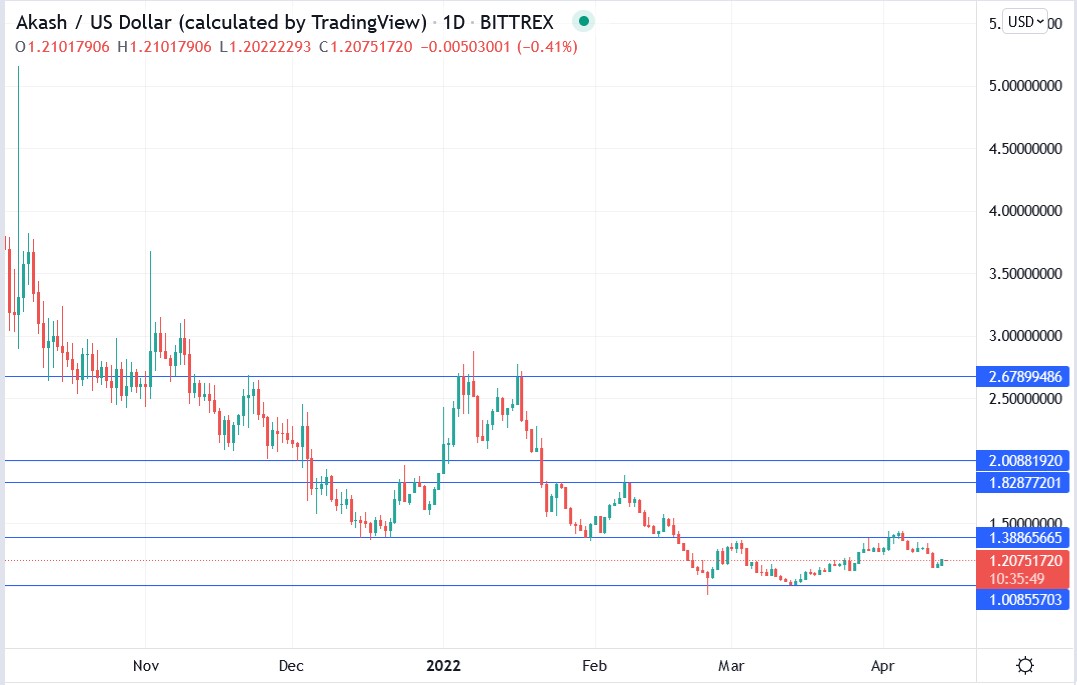 The Akash Network (AKT) crypto price has fallen 36.69% in 2022 but is up 14.48% in one month.