Key points:
Alien Metals shares plunged 10% despite acquiring an iron ore mine.
Investors were largely unimpressed, as evidenced by the decline.
Many are waiting for Alien Metals to start commercial production.
The Alien Metals Ltd (LON: UFO) share price plunged 10.1% after announcing that it had completed the 100% acquisition of the Vivash Gorge Iron Ore project in Pilbara, Western Australia.

The company noted that it had satisfied all the requirements in the Binding Heads of Agreement with Zenith Minerals released on 30 May 2022. However, investors were largely unimpressed by the announcement, given that Alien Metals had to issue new shares to Zenith shareholders diluting existing shareholders.
Alien Metals agreed to issue over 7.8 million new shares to Zenith shareholders and admitted to trading on the LSE AIM earlier today after the deal's completion. Furthermore, investors might have been unconvinced that the acquisition could benefit Alien Metals over the long term.
Bill Brodie Good, Alien Metals' CEO & Technical Director, commented: "We are pleased to have completed the acquisition of the Vivash Gorge Iron Ore Project from Zenith Minerals. We thank the team at Zenith for their support in this process and look forward to getting on the ground in the coming quarter. We feel it's a great fit to our iron ore portfolio, which adds further potential to the company's growth in the high-grade iron ore sector."
UFO shares are trading almost flat for the year as investor sentiment towards the minerals exploration and development company remains muted. Investors are waiting for the junior miner to start generating revenues from its multiple projects,w which could trigger a significant rally in its share price.
Alien Metals has multiple projects in Mexico, Australia and Greenland, which have significant production potential. However, the firm's potential will remain muted until significant progress toward commercial production at any site is evident.
Meanwhile, investors interested in buying Alien Metals shares may find its current prices attractive since it has been trading sideways since November 2020. However, there is no guarantee that UFO shares won't fall further.
*This is not investment advice. Always do your due diligence before making investment decisions.
Alien Metals share price.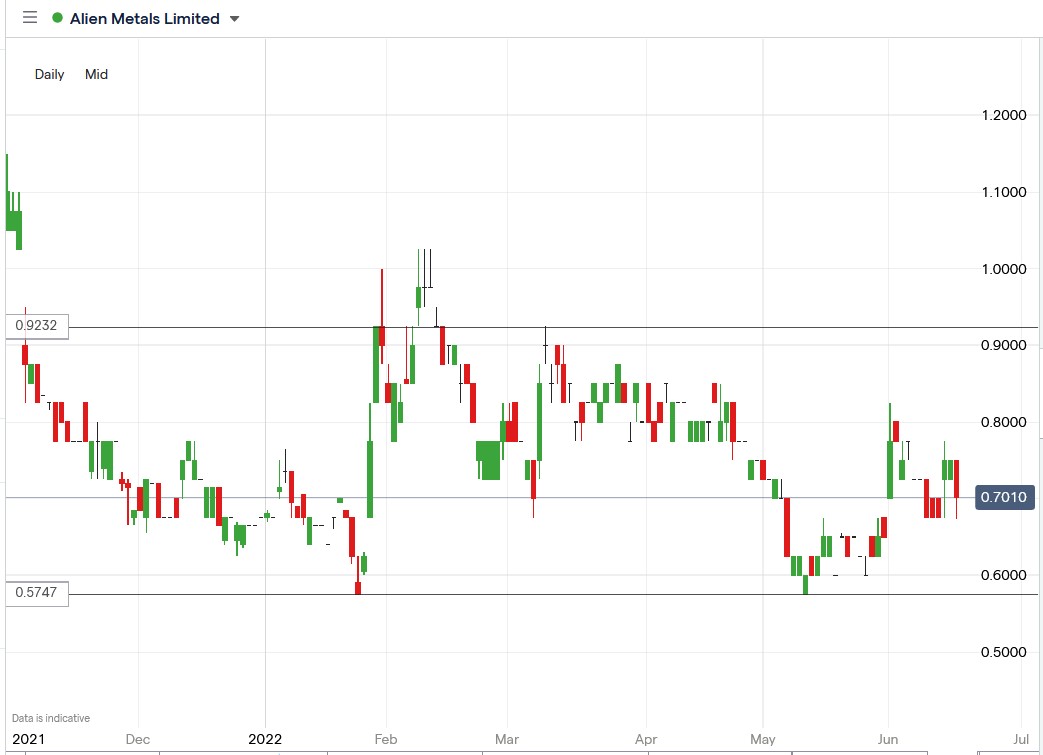 The Alien Metals share price plunged 10.13% to trade at 0.6740p, falling from Friday's closing price of 0.7500p.