Key points:
Thor Mining shares kept trading sideways despite a nickel discovery.
The junior mining company's shares are trading flat for the year.
THR shares may be attractive to long-term investors.
The Thor Mining Plc (LON: THR) share price was trading flat earlier today despite the mining company announcing that it had discovered nickel deposits at its Ragged Range Project in Eastern Pilbara, Australia.

The company revealed that it had discovered a shallow conductive anomaly through a high-powered Fixed Loop Electromagnetics (FLEM) ground geophysics survey. The anomaly was discovered below the nickel gossan at the Krona Prospect.
Thor Mining said that the anomaly was consistent with sulphides and that it would drill the location to validate the existence of the nickel sulphides at the prospect.
The company intends to drill test the shallow conductor, including a downhole EM, as part of the reverse circulation (RC) drill programme scheduled to start next week. The RC drilling programme will also cover the Sterling Gold Prospect.
Investors barely reacted to today's announcement as Thor Mining shares were still trading at the same level they were yesterday. Luckily for investors, THR shares are trading almost flat for the year, unlike many other UK shares that have fallen heavily.
Nicole Galloway Warland, Managing Director of Thor Mining, commented: "I am encouraged that the first ground geophysics survey at Ragged Range has identified a shallow electromagnetic conductor. The target is modelled at around 100m below the surface, establishing it as a clear drill target for the upcoming RC drilling program. We look forward to drill testing this anomaly as part of our RC drilling program, scheduled to commence at Sterling Prospect next week."
Investors and traders looking to acquire Thor Mining shares should remember that the company is far from generating mining revenues since most of its projects are still in the exploration stage. Therefore, an investment in the company should be made based on a long-term perspective.
*This is not investment advice. Always do your due diligence before making investment decisions.
Thor Mining share price.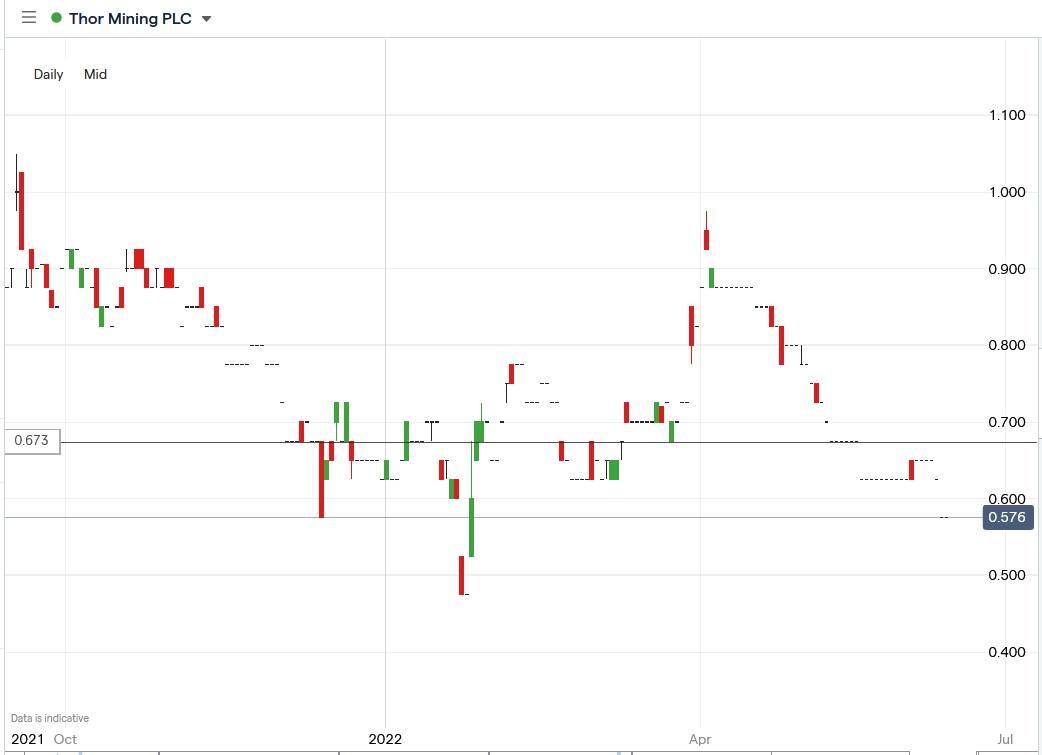 Thor Mining shares are trading almost flat for the year despite the selloff in UK shares.