Key points:
Alien Metals shares edged higher after issuing its latest drilling update.
The junior miner just started phase 4 RC drilling at its Hancock mine.
As a result, UFO shares look attractive to investors at current prices.
The Alien Metals Ltd (LON: UFO) share price rallied after revealing that it had begun phase 4 reverse circulation (RC) drilling at its Hancock mine, Western Australia.

The RC drilling will focus on the 3km strike length of targets on ridges F and G, which were recently identified via surface sampling. The goal of this portion of the drilling campaign will be to determine a maiden drill estimate for the newly discovered ridges.
The drilling campaign will also cover ridges C and E that have been drilled in the past as the miner looks to update a portion of the current Mineral Resource Estimate (MRE).
Alien Metals' Hancock project has a JORC compliant Inferred Mineral Resource Estimate (MRE) of 10.4Mt @ 60.4% Fe. The goal of the current drilling campaign is to increase the company's geological confidence in the current MRE.
The phase 4 RC drilling campaign will involve the drilling of 70 holes to a total depth of approximately 2100 metres and will start at ridges C and E before proceeding to ridges F and G.
Most of the holes drilled will have a  depth of 15-25m, with the ultimate goal of discovering DSO grade materials.
The infill drilling at ridges C and E aims to convert a large portion of the existing JORC compliant inferred resource estimate to an indicated status. In addition, alien Metals hopes that the maiden drilling at ridges F and G will result in a maiden JORC resource estimate over the new ridges.
Bill Brodie Good, Alien Metals CEO & Technical Director, commented: "The phase 4 RC drilling programme at Hancock is now underway. This programme has two key aims – to upgrade confidence in the existing Mineral Resource Estimate (MRE) to convert a portion of the MRE to an indicated status, and to define a maiden MRE over a portion of ridges F and G."
Investors considering buying Alien Metals (UFO) shares may find their current prices quite attractive since UFO shares are trading near a long term support level. However, investors should remember that Alien Metals is a junior miner and is yet to start generating revenues from its various projects.
*This is not investment advice. Always do your due diligence before making investment decisions.
Alien Metals share price.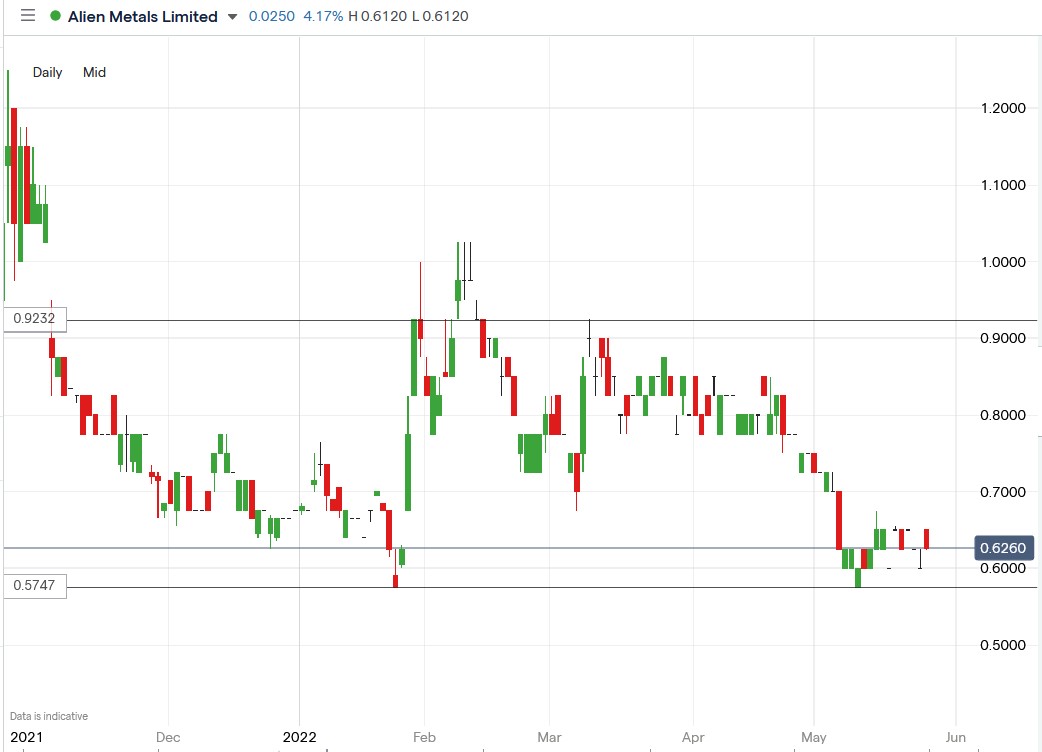 The Alien Metals share price rallied 8.5% to trade at 0.651p, rising from Thursday's closing price of 0.600p.