Key points:
Allied Minds is likely to delist given the costs of being on the market
Shareholders might end up simply a minority in a private company
Or perhaps assets will be distributed – what happens next is the important thing
Allied Minds (LON: ALML) is down 42% on the outcome of their strategic review – a likely delisting. It's possible to think that that's an excessive reaction to that announcement – it's also possible to believe that it's not large enough. For what really matters next is what the specific form of that delisting takes. If it becomes a delisting via a total liquidation then we've got one set of things to think about. If it's a simple delisting, on the other hand, we've a different set of concerns. As so often the correct valuation depends upon what comes next, not what has just happened.

Allied Minds is an early stage IP commercialisation company. Focused on those early days of developing IP for the tech market. This isn't a bad place to be, after all inventing that better mousetrap does bring the world to your door. It does depend upon actually inventing that better thing of course.
Hopes were high back in 2015 when Allied Minds shares were up at 693p at one point. Matters have been less happy since then, there was a notable crash in the price in 2017 – over 60% pretty much overnight. And since then a steady enough decline to yesterday's some 20p and today's further 42% fall. The problem is simply that technologies worth more than they cost to develop are thin on the ground and that leaping salmon of a catch just wasn't found.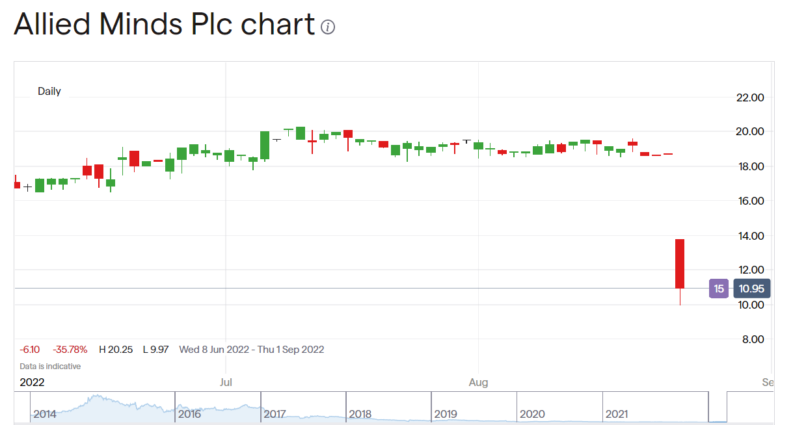 Also Read: The Best Tech Stocks to Buy Right Now
Such things happen and, as always, it's what happens next that matters. Allied Minds undertook a strategic review and looked into cost cutting. One outcome of which is that the costs of maintaining a full listing are simply too high for a company of this size, with this sort of revenue flows. So, the intention is to do without that full listing.
What matters then is what do they do about not having the listing? Dropping the costs could well be a good thing. But dropping the liquidity of investors being able to get in – or out – of positions is another thing. The less liquid an investment is then – other things equal – the less it is worth. So, it matters what they replace the full listing with. There are varied options here.
One is simply to become a privately held company. That lowers the valuation for any minority shareholders considerably. Being a small shareholder in a private company isn't a good place to be often enough.
It's also possible that Allied Minds will attempt a lower grade listing elsewhere – something OTC in the US perhaps. That's much cheaper and preserves some liquidity for shareholders. But that needs to be set against whether any listing is worthwhile.
Finally a full liquidation could take place. Dispose of all assets and return the cash to shareholders. The problem there might well be that the investment portfolio itself is illiquid so there's not much value that can be recovered by attempting to sell it.
The future value of Allied Minds shares will depend upon which of the options the management take – it's the future that matters, as it always is.