Key points:
Alphabet inc (GOOGL) stock price has fallen 12.8% in 2022 amid broad selloff.
Many wonder whether now is a good time to buy the tech giant's shares.
The shares look attractive at current prices, and the firm is making progress.
The Alphabet Inc Class A (NASDAQ: GOOGL) stock price has fallen 12.8% in 2022 and is trading around a crucial support level that has held since July 2021 amid the broader tech stock selloff. So what comes next for the search company?

Luckily for investors, Google has a massive cash hoard and is not indebted like many other growth stocks. The company is also a massive cash generator driven by its advertising services, which have long been its primary revenue source.
However, now that ad revenues are plateauing, the company is looking for growth from other avenues, such as entering the cloud services market dominated by Amazon, an early mover in the space.
Despite its efforts to grow its cloud services division, Google has found it hard to dislodge Amazon from its leadership position. Still, there is room for everyone in this very competitive market.
It recently emerged that Google was discussing acquiring Mandiant, the cybersecurity firm that discovered the SolarWinds hack. The company confirmed that it had agreed to acquire Mandiant for $23 a share.
Mandiant shares were trading at $21.70, resulting in a market capitalisation of $5.08 billion. Hence, Google will be paying a small premium to acquire the company.
Interestingly, Sundar Pichai, Google's CEO, said that he was glad to welcome Mandiant to Google cloud, indicating that the company was keen to incorporate Mandiant's cybersecurity services into its Google Cloud services.
Google currently ranks third behind Amazon Web Services and Microsoft's Azure Cloud offering, and the latest move coil catapults it higher given the rising concerns about cybersecurity threats globally.
The global business environment is changing, and most companies are now taking measures to ensure their websites, databases, and critical technology infrastructure is safe from cyberattacks.
However, only time will tell whether Google shall successfully integrate Mandaint's cybersecurity capabilities into its Cloud services and whether it will translate into higher sales for the company.
Another risk that Google shareholders are grappling with is the looming threat that US regulators may force the company to break up into different entities due to anti-trust concerns that big tech companies are stifling competition.
Many have argued that big tech companies enjoy such large operating moats that make it difficult for new entrants to compete against them. In addition, such companies could also lower prices significantly in specific sectors to make it impossible for smaller players to remain profitable.
Still, Google is a solid company with a lot going for it and seems quite attractive at current prices. Given the decent risk-reward ratio seen on the daily chart below, I would buy.
*This is not investment advice. Always do your due diligence before making investment decisions.
Google stock price.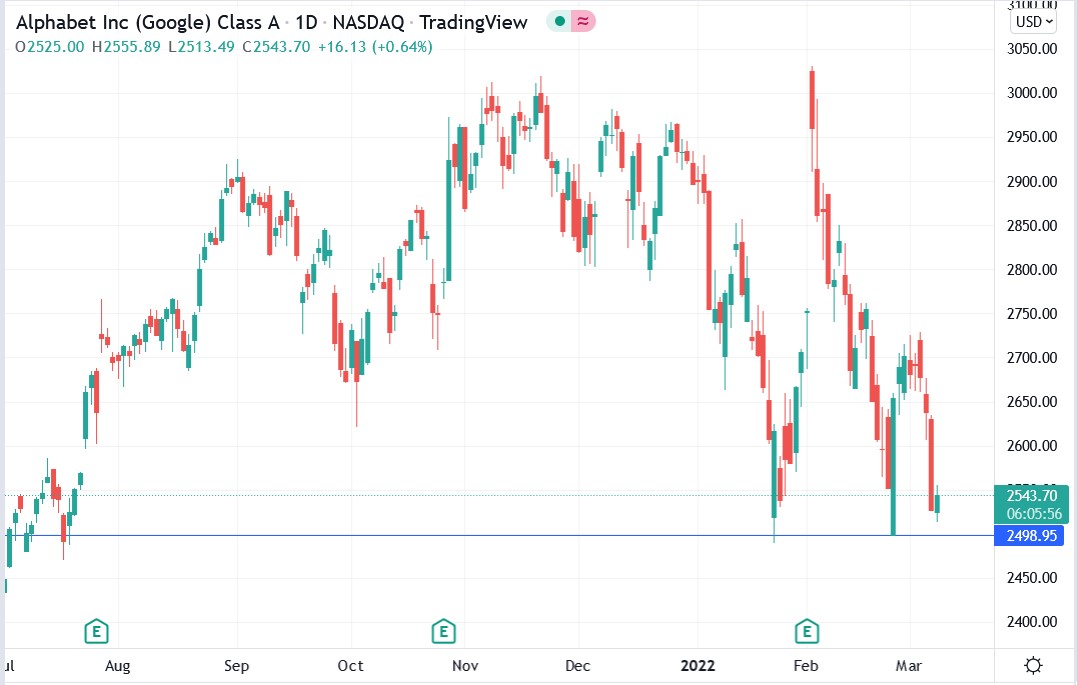 Google stock price has fallen 12.75% in 2022 and is trading around some significant lows. What's next?