Key points:
Kohl's stock price has fallen 14.3% in one month, raising questions.
Calls for the retailer to change its strategy are gaining traction.
Can the department store reinvent itself for the 21st-century?
The Kohl's Corporation (NYSE: KSS) has fallen 14.3% in one month as the operator of a chain of department retail stores comes under pressure from activist investors.

The retailer continues to oppose efforts by the investors to get it to sell some of its 1,100 stores and lease them back to unlock shareholder value.
Kohl's released its earnings and forecasts at an investor day held yesterday, where it announced plans to build its Sephora partnership into a $2 billion business.
The retailer disagrees with Macellum Capital Management, the activist investment fund that wants to take control of the business and implement its proposal to sell off the firm's real estate and lease back the properties.
Unlike many other brick and mortar retailers that have been reducing their store count, Kohl's has maintained the same number of stores and plans to open 100 new small-format stores in the next few years.
The retailer argues that its stores are the key to its success since 80% of the US population live within 15 miles of its stores, making it convenient for many people to shop.
However, investors argue that Kohl's stock has barely moved for the past five years as sales declined amid stiff competition from other retailers and the rise of eCommerce, which the company was slow to embrace.
Many retail analysts agree that Kohl's stores are crucial for the retailer's business. Still, they argue that the company is not fully exploiting the opportunity they have at their stores.
Nowadays, stores can be much more than what they were two decades ago, or even 60 days ago when the department store chain was founded.
Therefore, if the retailer can fend off the attack from the activist investor, the least they can do is modernise their stores to make the shopping experience an authentic experience for 21st-century buyers to love shopping at their stores.
Meanwhile, the jury is still out regarding Kohl's future as Macellum Capital ramps up calls for the company to make changes. Luckily for Kohl's management team, this isn't their first rodeo; the retailer has fended off other funds that wanted to take over the firm forcefully.
As an investor, I would not buy Kohl's shares at current prices since the path ahead for the firm is full of uncertainty, and I believe there are much better companies out there.
*This is not investment advice. Always do your due diligence before making investment decisions.
Kohl's stock price.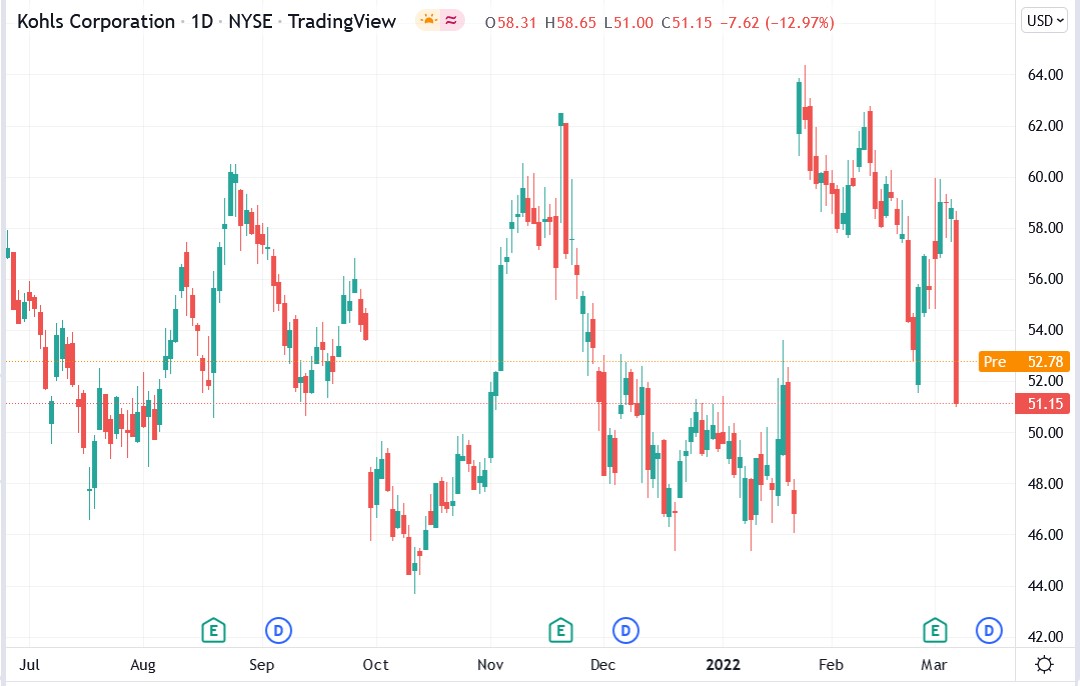 Kohl's stock plunged 7.62% after management confirmed that it would keep its stores.