Key points:
Amazon's stock price barely moved after the tech giant closed its telehealth unit.
Investors were largely unbothered by the decision and the missed sales.
The unit failed to gain significant traction among enterprise customers.
The Amazon.com, Inc. (NASDAQ: AMZN) stock price barely moved despite the tech giant announcing the closure of its telehealth business, which failed to gain traction among its target clients, large corporations.

The tech giant's telehealth initiative, Amazon Care, was launched in 2019 with massive expectations of disrupting the US healthcare industry. However, the company has to admit that it cannot deal with the complexities of the US healthcare industry.
Also read: The Best Tech Stocks To Buy Right Now.
Amazon is not the first large tech company to try and break into the healthcare industry; Google and Apple both tried to break into the lucrative healthcare industry but had to curtail their ambitions after terminating their health ventures.
After the project was widely criticised for being directionless, Google had to shutter its health division. Likewise, Amazon had to end its AC Wellness healthcare unit after concerns arose about collecting users' healthcare data.
However, all is not lost for these tech giants with healthcare ambitions. One advantage they have over traditional healthcare companies is their health tracking apps, which allow users to collect data about their health status.
Any future ventures into the healthcare sector by the tech giants should be based on their unique advantage in readily available user healthcare data. However, users should have an ultimate say on whether their data is shared and with whom it is shared.
Amazon shares opened higher today, indicating investors did not care much about the health division. However, the tech giant still has a thriving eCommerce business combined with a robust cloud service division that continues to generate significant cash and profits for investors.
Despite the challenging economic climate, Amazon has built a significant moat around its business and is constantly innovating to stay ahead of its peers, making it extremely hard to lose its leading positions in eCommerce and cloud services, despite stiff competition.
*This is not investment advice.
Amazon stock price.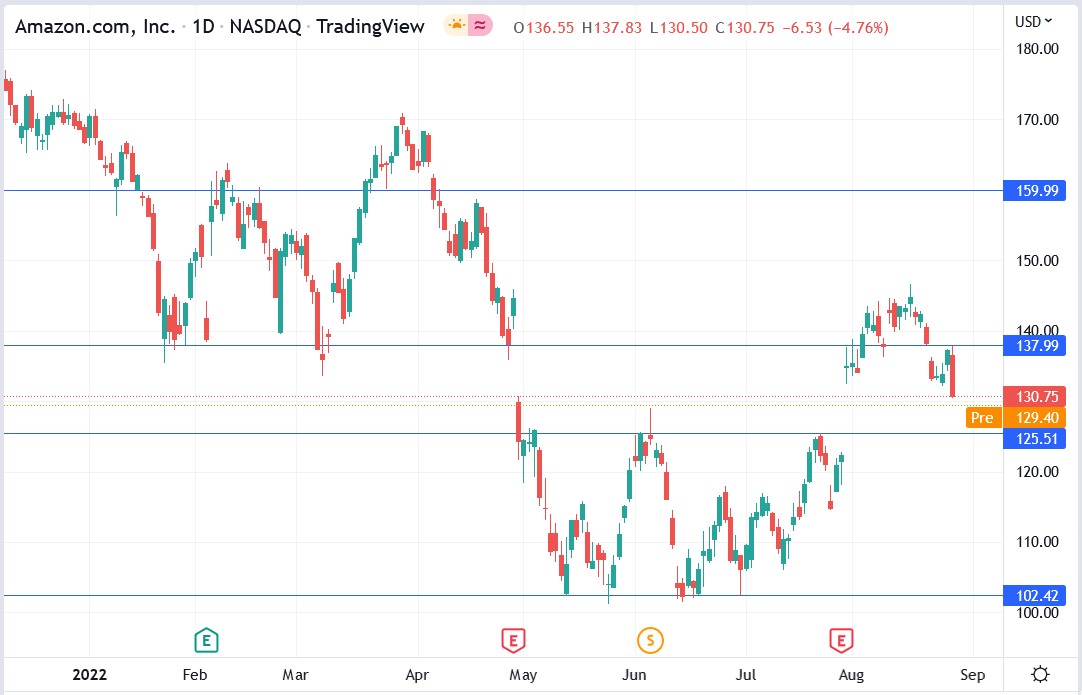 The Amazon (AMZN) stock price was trading down 1.19% at $129.20, falling from Friday's closing price of $130.75.