Key points:
Amigo Loans' share price rose 9.12% despite a lack of announcements.
The lender's last significant release was its FY results earlier this month.
However, investors should not ignore the latest rally. Here's why.
The Amigo Holdings PLC (LON: AMGO) share price rose 9.12% despite the lack of news announcements from the guarantor lender. The last significant announcement from Amigo was the release of its annual results for the year ended 31 March 2022.

The lender reported a pretax profit of £167.9 million ($201.9 million), significantly improving from the £283.6 million loss recorded in the previous financial year. At the time, Amigo said that the profit reported resulted from the court ruling favouring its new business scheme, which released some locked funds.
Also read: 12 Best Shares To Buy As A Beginner.
To support this view, the guarantor lender's revenues fell to £89.5 million compared to the £170.8 million revenues recorded last year.
Gary Jennison, Amigo Loans' CEO, commented: "The profit we are reporting today of £170m should not be taken as an indication of Company performance or shareholder benefit. It is a result of the recent Court ruling in favour of our Scheme of Arrangement to pay out compensation to customers who were mis-sold loans. Prior to the ruling, Amigo was insolvent, and the only change is that the complaints provision has been replaced with a Scheme provision of just under £170m, resulting in a credit of £157m to the P&L. The adjusted profit after tax was £13.3m."
The company said it was still working with the UK's Financial Conduct Authority (FCA) on plans to resume lending and thanked the regulator for continuing to work closely with the firm for an extended period after the previous scheme of arrangement was rejected by the courts.
Amigo loans must restart lending activities within nine months of the scheme's effective date of 26 May 2022. Furthermore, it should raise funds needed to compensate the customers affected by mis-selling within 12 months of the scheme's effective rate.
While today's rally could not be attributed to a clear fundamental driver, investors should not ignore the move. The rally could indicate that Amigo is about to make a materially significant announcement soon.
*This is not investment advice. Always do your due diligence before making investment decisions.
Amigo Loans share price.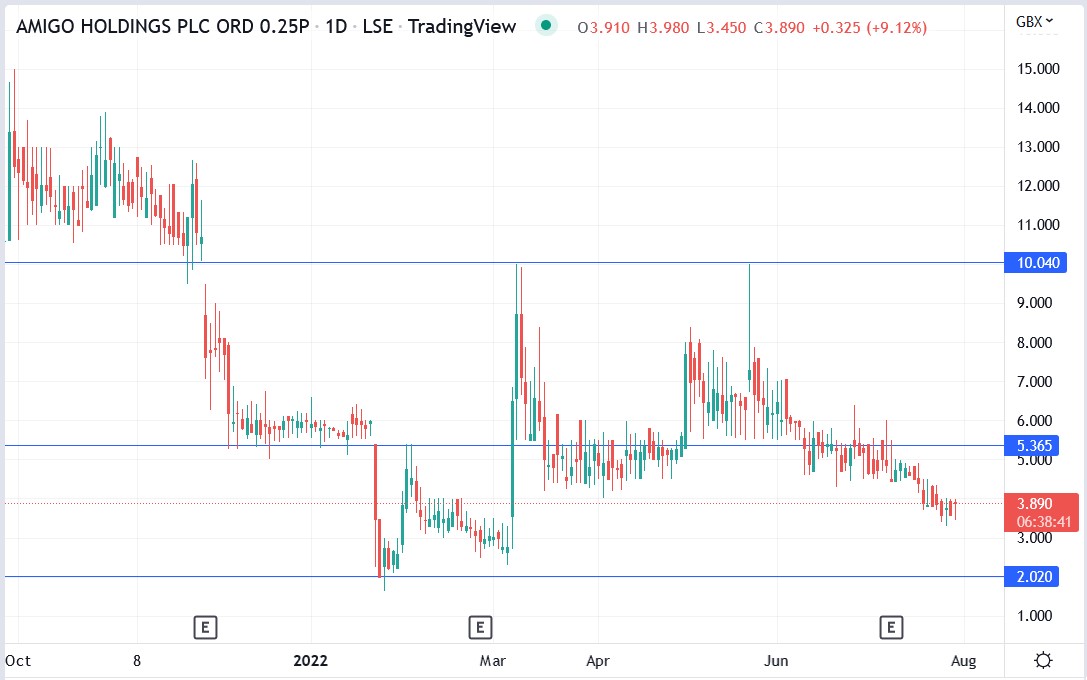 The Amigo Loans share price rose 9.12% to trade at 3.89p, rising from Wednesday's closing price of 3.56p.