Key points:
The Ceres Power share price rallied 7.78% after releasing its H1 update.
The company had lower revenues but had a promising H2 outlook.
Investors are waiting for JV agreements between Ceres, Bosch and Weichai.
The Ceres Power Holdings plc (LON: CWR) share price rallied 7.78% after releasing its H1 2022 operations update. The provider of fuel cells and electrolyser technology told investors that it had generated revenues worth £10 million during the six months, a significant decline from the £17.4 million generated in H1 2021.

Also read: Five Best Green Energy Stocks In 2022.
The fuel cell company attributed the lower revenues to ongoing JV negotiations with Bosch and Weichai. Still, it reassured investors that the parties were close to signing definitive contract agreements that could unlock significant untapped revenues in H2 2022.
Investors were happy to learn that the joint venture between Shell and Ceres was progressing well. Both companies focused on building a partnership to use solid oxide electrolyser cell (SOEC) technology to generate high-efficiency, low-cost green hydrogen.
Ceres has a significant advantage over other hydrogen energy and fuel cell players. Its fuel cells can be used with various energy sources, including hydrocarbons.
Therefore, companies that buy Ceres' solid-oxide fuel cells could use them alongside traditional energy sources until hydrogen becomes more widely available. At that point, they could switch to hydrogen energy and go green.
Ceres also noted that it had participated in the UK Clean Maritime Demonstration Competition, which showed that its SOFC technology offers a highly differentiated and fuel-flexible solution that could reduce the carbon emissions of traditional maritime fuels by up to 47%.
Investors celebrated that Ceres had £221 million in cash and short-term investments at the end of June.
Phil Caldwell, Ceres Power CEO, said: "Ceres is placed at the heart of the energy transition, and everything we do is focused on ensuring the success of our partners by deploying our technology in multiple geographies and applications. Whilst short-term revenues are dependent on the timing of significant licensing deals. Our focus remains on building long-term value through scaling the manufacturing capacity for our technology and growing the recurring, annual royalty streams we will receive as partners succeed."
Many look forward to the signing of definitive agreements between Ceres Power, Bosch and Weichai to unlock the company's next growth phase.
*This is not investment advice. Always do your due diligence before making investment decisions.
Ceres Power share price.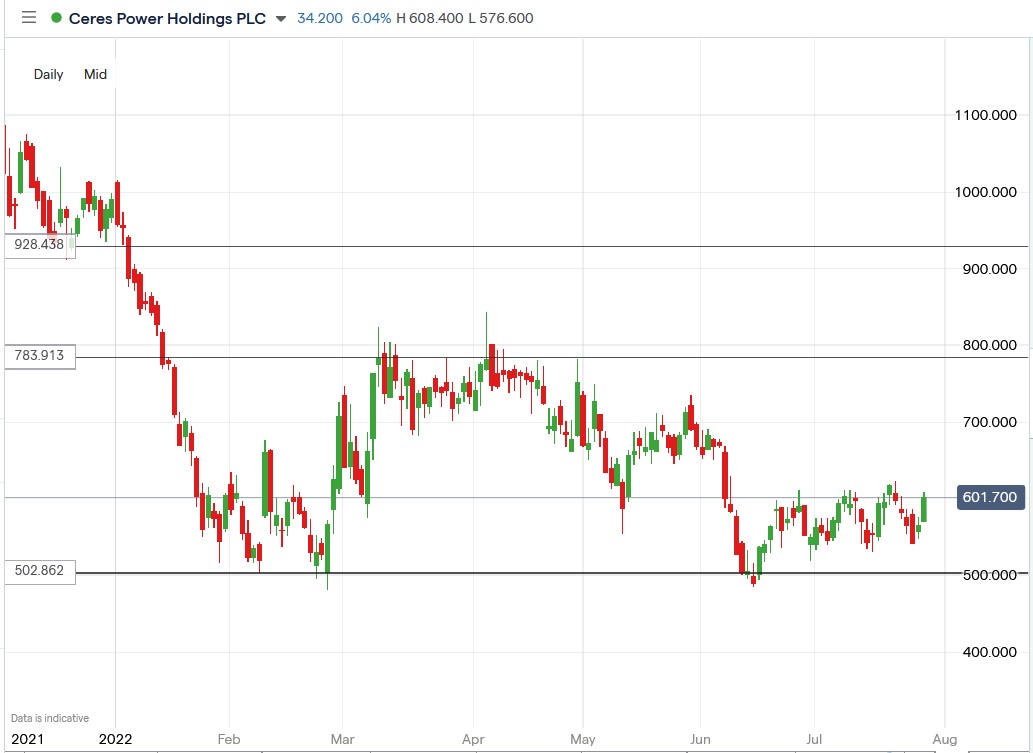 The Ceres Power share price rallied 7.78% to trade at 609.20p, rising from Wednesday's closing price of 565.20p.