Shares of Amigo Holdings PLC (LON: AMGO) surged 21.3%, building on yesterday's massive 35.8% rally as institutional investors led by J.P.Morgan upped their stakes in the troubled lender despite the significant pending issues that are yet to be resolved.
The guarantor lender has attracted significant attention from institutional investors such as J.P.Morgan, which recently crossed the 5% threshold and is now up to 7%.
Financial institutions such as UK stockbroker Hargreaves Lansdown,  which owns 31% of the company, and IG Markets have also invested in Amigo.

Other Banks such as HSBC, Barclays, and Coutts & Co., also own stakes in the sub-prime lender.
Retail investors might feel left out given Amigo's recent rally. Still, I wouldn't buy the company's shares at current prices, given that the stock has formed the all too familiar parabolic rally.
While it may seem like we are beating a dead horse, by now, most of us know that a parabolic rally is typically followed by a massive drop eradicating most of an asset's recent gains. Amigo has formed a very steep rally.
The company is still waiting for the FCA to approve its plans to settle the outstanding customer claims before resuming lending activities. Many are currently assuming that the FCA will approve the plan, but we are yet to confirm the same.
A NO from the FCA would force Amigo to file for bankruptcy, which is clearly stated in its proposals for the scheme of arrangement to settle outstanding claims. The FCA is still reviewing the proposal, which is why retail investors should exercise caution when investing in Amigo.
Remember that a million-dollar loss to an investment bank or large institution is relatively small, while most retail investors cannot handle such massive losses.
I'd wait for the FCA's decision before taking a long-term position in Amigo.
Amigo Loans share price.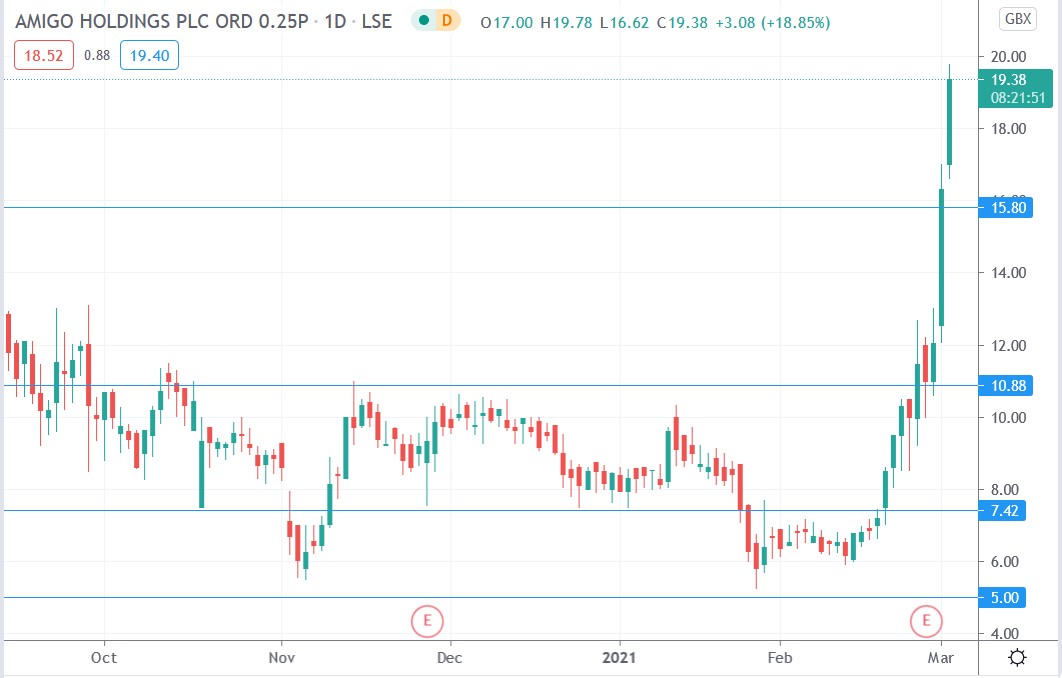 Amigo shares surged 21.34% higher to trade at 19.78p, having rallied from Monday's closing price of 16.3p.