Key points:
Amigo Loans shares edged higher after creditors approved its new scheme.
Investors cheered the move that brought the firm closer to resuming lending.
Still, the stock could face significant volatility ahead of the sanction hearing.
The Amigo Holdings PLC (LON: AMGO) share price edged higher after the affected creditors approved the new business scheme proposed by the company to address the liabilities that arose from the firm's past lending practices.

Investors were happy to see that 88.8% of the voting creditors voted in favour of the new business scheme representing 90% of the value of liabilities via 145,532 votes worth £459,526,003 compared to the dissenting creditors, had 18,401 votes against the scheme worth £50,894,131.
Most creditors also voted for the wind-down scheme, which is the alternative process if the courts and the UK Financial Conduct Authority (FCA) do not approve the new business scheme.
Amigo has requested the FCA to temporarily suspend its shares from trading on the court sanction hearing date set for 23 and 24 May 2022 until the hearing is over and the company has an update for the markets.
After the court sanction hearing, the guarantor lender intends to resume lending operations and raise additional capital via a massive equity raise that will dilute existing shareholders by over 90%.
Therefore, it is understandable why Amigo Loans wants its shares suspended so that it can finalise its plans and come back to investors with a solid plan on how it will move forward.
The lender is also looking to minimise the volatility likely to hit its shares as investors react to its new plans.
Overall, Amigo has a strong brand that is well established; hence, it is likely to claw back most of its previous market share. As I have mentioned before, demand for Amigo's guarantor loans has skyrocketed due to the impact of the coronavirus pandemic.
The pandemic left many workers in the UK without jobs and with lower incomes despite the recent reopening of the UK and European economies after the relaxation of covid-related movement restrictions.
Amigo investors should prepare for more volatility due to the factors mentioned above. Now, those who are not shareholders could dip their toes with a small stake until the lender unveils its new strategy and resumes lending.
*This is not investment advice. Always do your due diligence before making investment decisions.
Amigo Loans share price.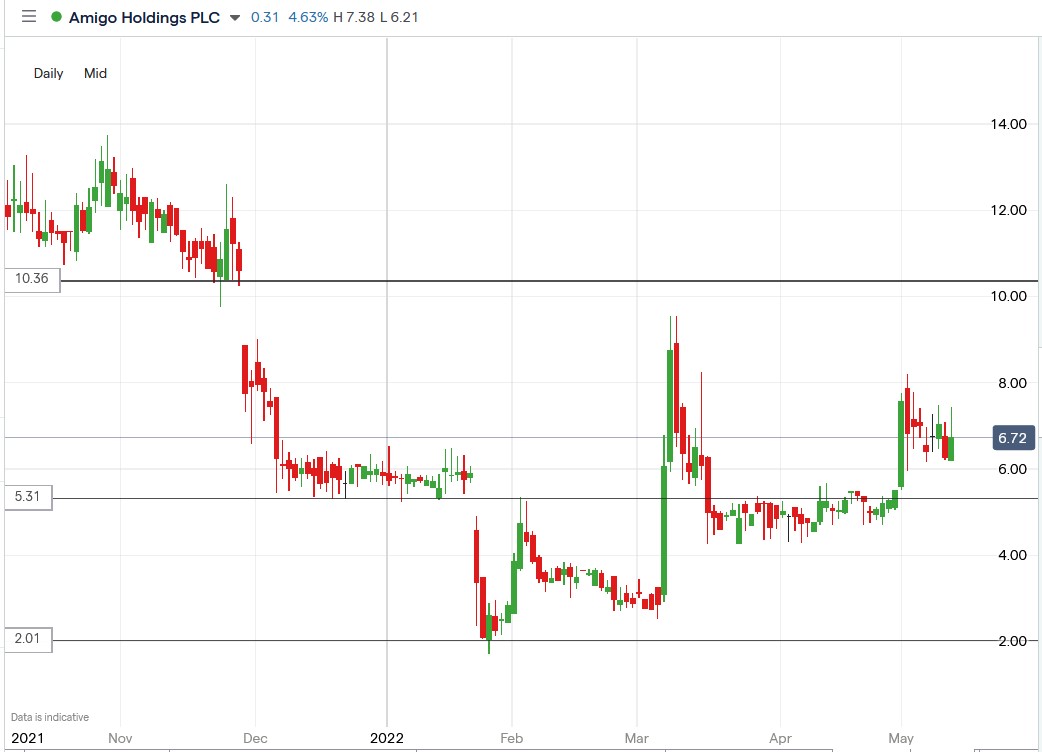 Amigo Loans shares rallied 8.47% to trade at 6.72p, rising from Thursday's closing price of 6.26p.