Shares of Amigo Holdings PLC (LON: AMGO) rallied 22.9% after the guarantor lender received the FCA's conditional approval to proceed with its customer compensation scheme.
The UK's Financial Conduct Authority (FCA) expressed reservations about the scheme singling out that some customers with legitimate redress claims would receive amounts less than they are entitled to under its current terms.
It seems like institutional investors such as J.P.Morgan, who have acquired significant stakes in Amigo, were anticipating the FCA's approval given that the company could have filed for bankruptcy if the FCA rejected the compensation scheme.
Amigo shareholders will be relieved by today's update, given that the FCA had revealed last week that it had deepened its investigation into the company casting doubts on whether the regulator would approve the compensation scheme.
With the backing of its institutional shareholders, Amigo is likely to streamline its operations if the court process is successful and the lender can resume operations. The company has noted that demand for its guarantor loans has increased due to the coronavirus pandemic, indicating a very profitable future for the lender.
Amigo has a court hearing on the compensation scheme scheduled for 30 March 2021, which, if passed by the Scheme creditor vote, the Court's would hold the final sanction hearing on 19 May 2021.
Gary Jennison, Amigo's CEO, said: "We are grateful for the work of the FCA and the time they have dedicated to understanding and enhancing Amigo's Scheme of Arrangement."
Adding:
"Their letter is a significant step forward ahead of the first court hearing next week.  We look forward to our customers having an opportunity to vote and support the Scheme, which after careful consideration, we believe, is the only real option for customers who are due redress to receive cash compensation."
Amigo Loans share price.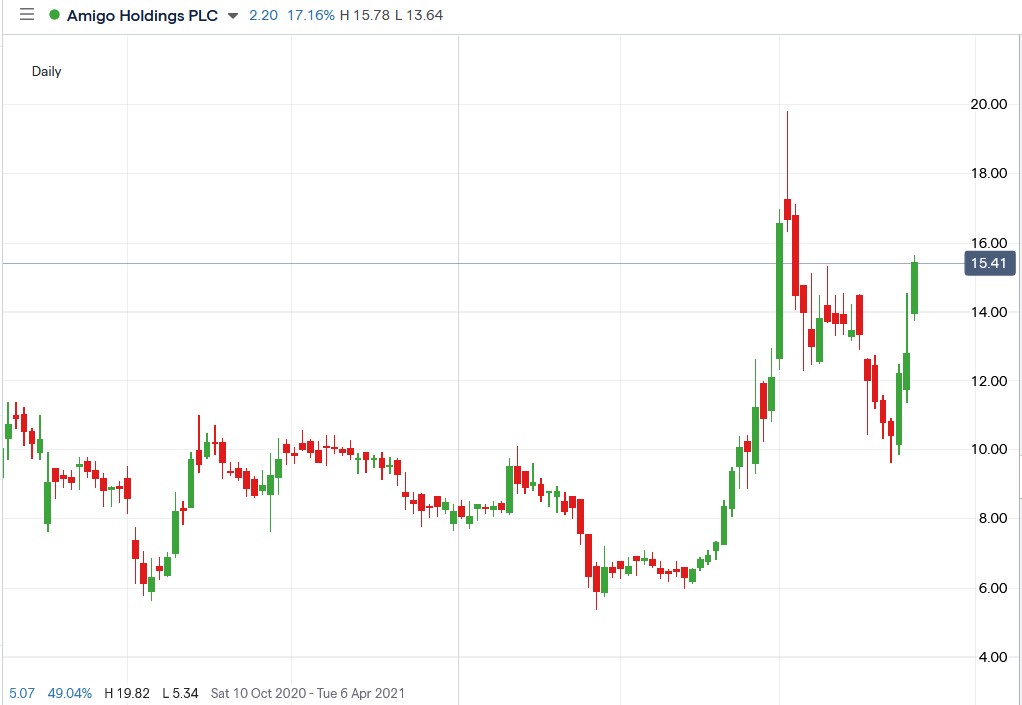 Amigo Loans shares rallied 22.91% to trade at 15.72p rising from Tuesday's closing price of 12.79p.