Key points:
Amigo loans shares plunged 11.9% after the court set a hearing date.
The convening date is 8 March 2022, and the hearing date is 24 May.
The High Court's ruling will lead to Amigo's liquidation or keep it alive.
>
The Amigo Holdings PLC (LON: AMGO) share price plunged 11.9% after revealing that the UK High Court had set a convening date for its scheme of arrangement and hearing date on 8 March 2022.

The company expressed its appreciation for the date, which gives it a month to finalise the scheme's documentation with the relevant stakeholders before presenting the details to the High Court.
Amigo also revealed that the court sanction hearing would take place on 23 and 24 May 2022, after which the court will rule on whether the new scheme is appropriate or not.
The outcome of the sanction hearing will determine whether Amigo will keep operating or if it will enter the liquidation process as indicated by the company's management many times in the past.
However, the situation has changed this time, and Amigo is in danger of going under, unlike last year when it presented its first scheme of arrangement. An unfavourable ruling by the courts could be the final nail in Amigo's coffin.
The guarantor lender has gone out of its way to address the issues raised by the courts during the last scheme of arrangement hearing, where the judge pointed out that the scheme unfairly favours bondholders at the expense of Amigo's aggrieved customers.
The current scheme allocates more funds to pay the affected customers while at the same time diluting existing shareholders by up to 95%, which is precisely what the court had ordered.
The previous scheme cut the payable claims to customers by almost 90% while protecting shareholders equity and bondholders whose claims were paid in full.
Therefore, there is a good chance that Amigo's latest scheme of arrangement will get the High Court's approval allowing the company to resume lending activities.
As mentioned in previous articles, demand for Amigo's guarantor loans has skyrocketed since the pandemic. Many people lost their jobs, which saw them default on their existing loans damaging their credit scores.
However, everything hinges on what the court shall decide come 24 May 2022.
*This is not investment advice. Always do your due diligence before making investment decisions.
Amigo share price.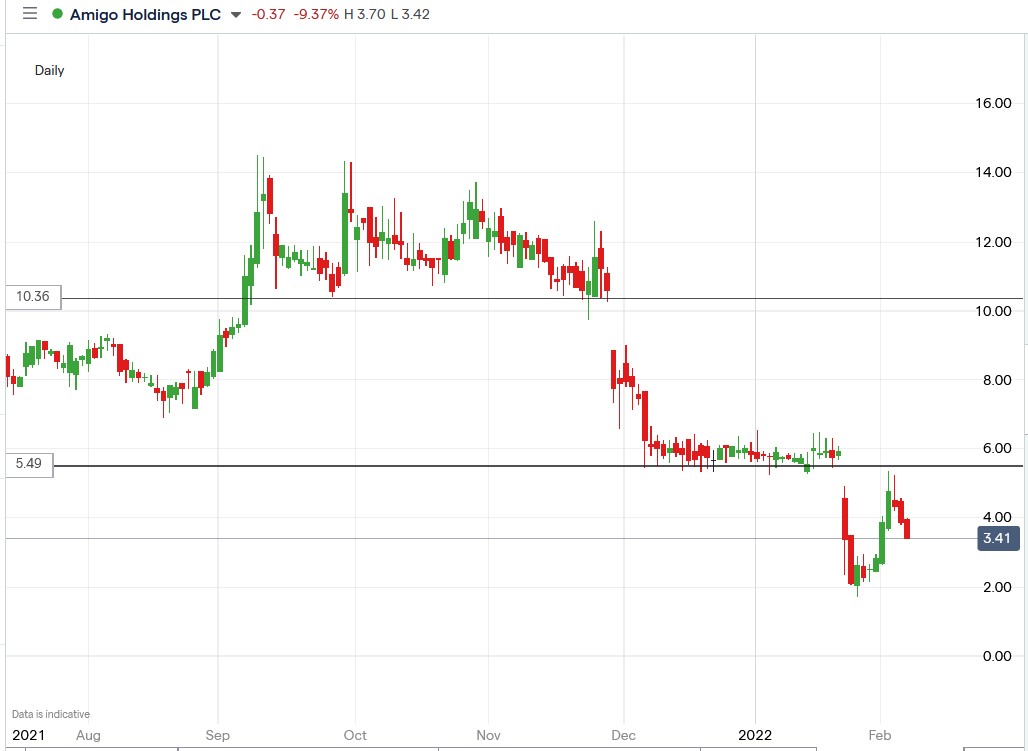 Amigo share price fell 11.94% to trade at 3.39p, falling from Friday's closing price of 3.85p.