Key points:
Royal Mail (RMG) shares fell after announcing a radical strategic change.
The company is reviewing its agreements with the CWU after talks failed.
The firm has set a new trajectory for its relations with the CWU.
Today, the Royal Mail PLC (LON: RMG) share price fell 3.2%, bringing its total losses over the past week to 17.2%. The decline was precipitated by a strategy change initiated by the parcels company to revamp its industrial relations with the Communication Workers Union (CWU).

The parcels company noted that negotiations with the CWU had hit an impasse and has proposed that the discussions be referred to Acas (the Advisory, Conciliation and Arbitration Service) to see if a solution can be reached.
Also read: The Best Undervalued Stocks To Watch In 2022.
Royal Mail further announced that it would review or serve notice on several historical agreements and policies that the CWU has used to frustrate the company's desire to transform its operations. The move will also help Royal Mail modernise how it works with the union.
Investors and the union workers were surprised by the steps Royal Mail took to resolve the ongoing friction between the company and the workers union. The parcels company noted that a complex web of agreements signed with the CWU over many decades had made it impossible for the company to modernise its operations.
Royal Mail noted that efforts to revamp its operations over the years had been met with resistance from the CWU, which has the power to veto some of the company's operational decisions that could make it more competitive in the cut-throat delivery business.
By modernising its agreements with the CWU, Royal Mail will speed up its daily decision-making processes, quickly trial and introduce new technology, and reduce the complexity and cost of its operations. The move will also see Royal Mail revise the attendance policy of its employees who have been persistently missing work.
Royal Mail noted that it had invested tens of millions of pounds in new technology to improve the customer experience but could not use the information to improve performance and safety due to restrictive CWU agreements.
The company hopes to retain its position as the best employer in the parcel delivery industry by modernising its working relationship with the CWU.
*This is not investment advice.
The royal mail share price chart.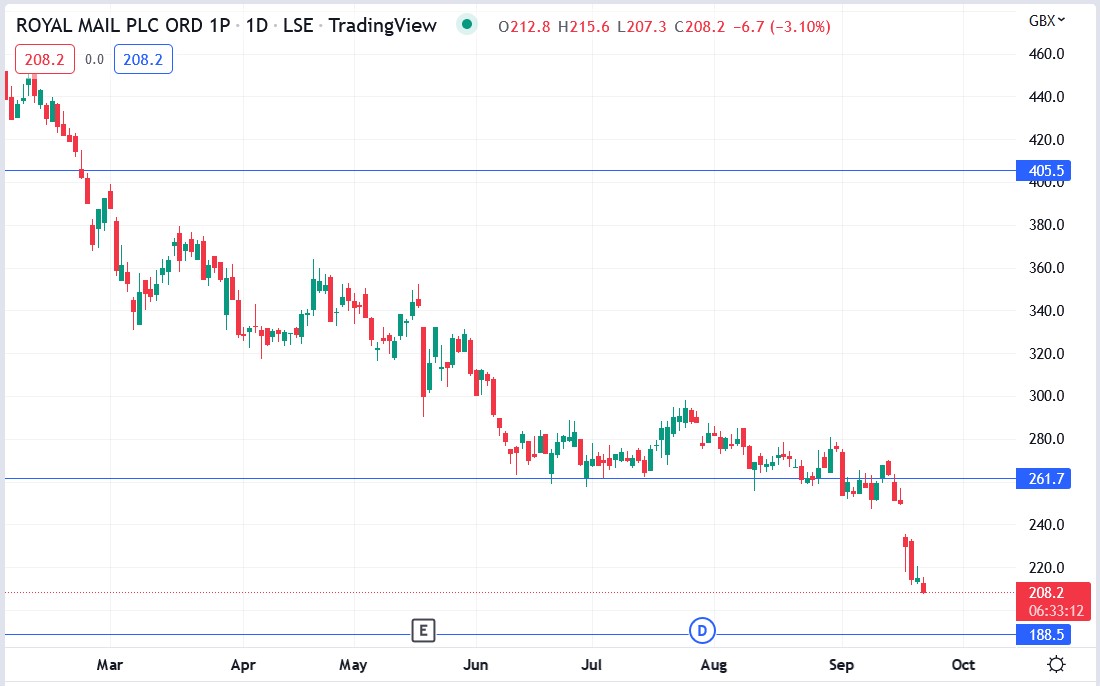 The Royal Mail (RMG) share price has fallen 17.2% in the past week. Can it recover?