Key points:
REVB announces that BDO won't sign off on the accounts
This doesn't reflect well on BOO, which bought into REVB
Also, long positions in BOO are being built to balance the shorts
Revolution Beauty (LON: REVB) sharea are currently suspended over the non delivery of the audited accounts. The announcement today is that BDO has told REVB that it is, currently, unauditable. The controls and documentation to be able to give a true and fair view just aren't there – or are not available to the auditors. This is not one of those things considered to be a good sign. But, given that the REVB shares are currently suspended the big interest here is how badly does this reflect upon Boohoo (LON: BOO)? For Boohoo did just take a large position in Revolution Beauty and it doesn't seem to have done the homework when it did so. How much more of BOO's activities are so slapdash therefore?

The particular problem at Revolution Beauty is this:"BDO LLP ("BDO"), the Company's auditor, has written to the Board and identified a number of serious concerns that have arisen during the course of its work on the FY22 audit regarding, amongst others, the Group's ability to provide sufficient and accurate audit evidence in respect of a number of key audit areas and the validity of certain commercial arrangements entered into by the Company. BDO has indicated that, at the present time, it is not able to sign an audit report in respect of the FY22 accounts." They are, in their current state, unauditable. This is one of those things which is a really bad sign.
We're also told, in the same statement: "The Company has, however, continued to encounter macro headwinds, including the ongoing impact of the Russia/Ukraine conflict, consumer spending patterns and cost inflation. In light of the above, the Company now expects that its results for FY23 will be materially below market expectations and the previous guidance given." Or, as we might put it, stick a fork in it, it's toast.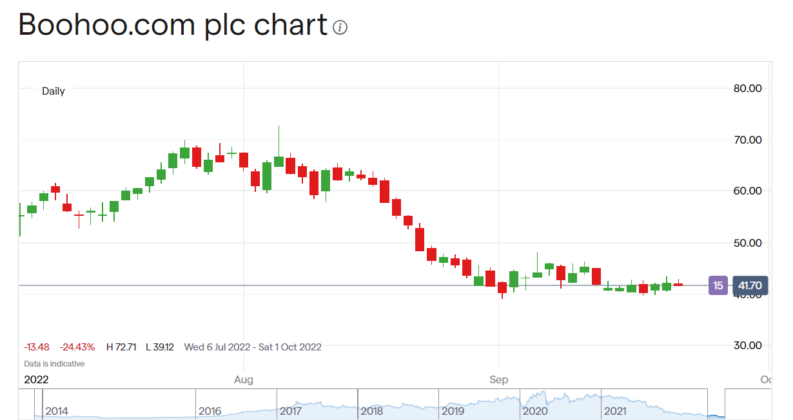 Also Read: The Best Clothing Stocks To Buy
Given the suspension at REVB there's not much we can do about this. But there's that Boohoo interest to consider. BOO invested in Revolution Beauty and that's not turned out well, obviously. Which has hit the Boohoo share price.
The question to ask being, well, why did Boohoo buy into a company that can't even produce the documentation to get audited? That's not showing a great amount of due diligence there now, is it? The specific BOO and REVB deal isn't all that important – it's not that large given the size of Boohoo. But as a signal to how decisions are taken it's just not a good look.
Boohoo is London's most shorted stock. There are problems within the business as well, but this sort of insouciance with shareholder money could be part of it. On the other hand we've seen Citadel buy in with a 5% long stake. FIL has just taken a 5%-ish stake in Boohoo too.
So there's considerable disagreement in the market as to Boohoo's future. Many short, some going long with significant stakes. Our own trading position has to be determined by which way we think this is going to go. But buying into a company which then cannot gain an audit just isn't a good look for BOO.