Key points:
Angus Energy shares rallied higher on interim results.
Investors are waiting for the firm to start exporting gas.
The company is also making progress on its other projects.
The Angus Energy PLC (LON: ANGS) share price rallied 6.12% after releasing the interim results for the six months ended 31st March 2022 yesterday. Investors cheered the multiple milestones achieved by the energy company, including the start of the commissioning process for its Saltfleetby Gas Field, with the firm expecting to start gas exports soon.

The company also highlighted other crucial events, such as the termination of its formal sale process in April, which took the firm out of the offer period. However, the company was still keen on selling some of its assets.
Angus Energy has raised capital multiple times this year while capitalising on the rally in its share price due to the record high global crude oil prices. The company raised £750,000 by placing 115,384,611 ordinary shares to institutional investors in December 2021. However, it did not stop here, as it sold another 175 million shares in February to raise £1.4 million.
The company's latest capital raise occurred in April when it raised £675,000 by selling 61,363,634 ordinary shares to some institutional investors at 1.1p each. The energy firm has also been issuing shares to other firms to settle certain transactions.
In May, Angus Energy announced that it had signed a share purchase agreement (SPA) to acquire the entire issued share capital of the Salffleetby Gas Field from its joint venture partner, Saltfleetby Energy Limited, a total consideration of £15 million. The transaction will be funded via cash payments and the issuance of millions of shares.
Angus Energy reported progress on all its projects, including its UK geothermal prospects, Brockham oil project, Balcombe oil and gas project, and Lidsey mining projects. The fur projects are in the early development stages apart from the Brockham oil project, which is currently producing oil.
Investors were impressed by the company's operational progress despite its losses mounting to £31.75 million due to an unrecognised loss of £30.459 million due to the derivate instrument used by the company for hedging purposes.
However, Angus Energy's adjusted loss was £1.291 million compared to last year's £1.479 million loss. Many are waiting for the Saltfleetby gas field to start exporting gas by 12th July or earlier.
*This is not investment advice. Always do your due diligence before making investment decisions.
Angus Energy share price.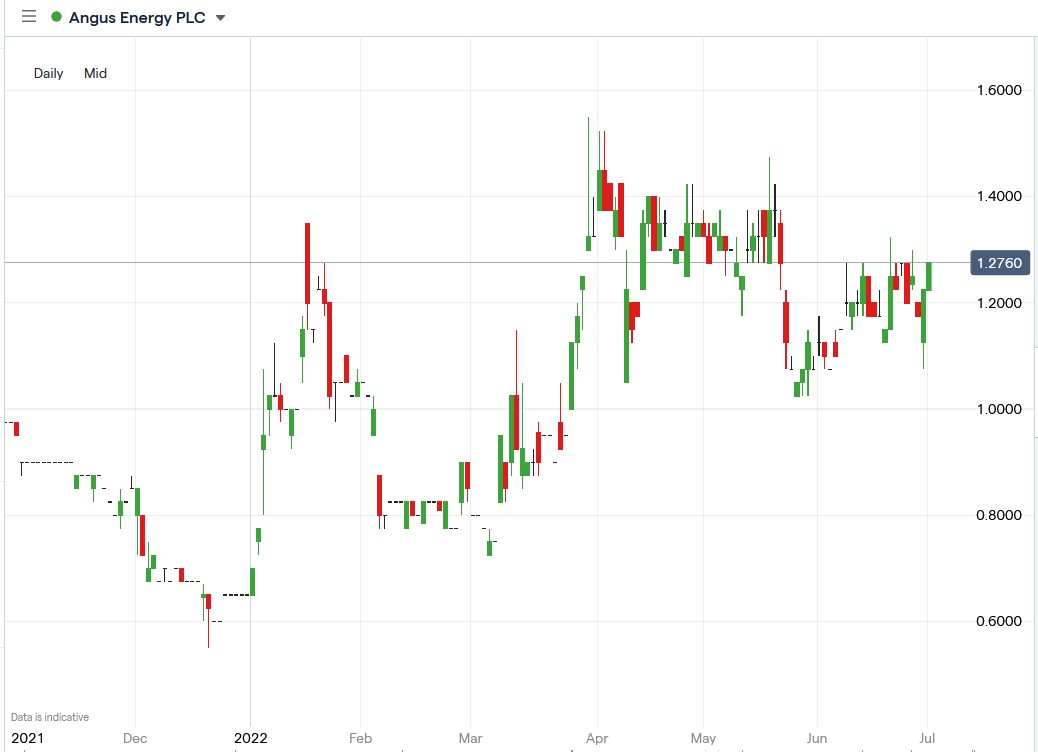 The Angus Energy share price has risen 92% in 2022, buoyed by the higher global crude oil prices.