Key points:
Apple stock fell 1.86% despite agreeing to sponsor the NFL Halftime Show.
The firm is currently negotiating for rights to stream the Sunday Night games.
The tech giant is looking to boost subscribers to its Apple TV+ service.
The Apple Inc (NASDAQ: AAPL) stock price fell 1.86% despite the tech giant announcing that it would now be the main sponsor of the NFL Halftime Show. This coveted advertising spot could have cost the company about $50 million.
The tech giant is currently negotiating with the NFL over the streaming rights for its Sunday Night games that are widely watched across the United States. Unfortunately, the negotiations are taking much longer than expected as the two sides wrestle over the NFL's $2.5 billion price.
Also read: The Best Tech Stocks To Buy Right Now.
Apple, which has massive cash reserves and could quickly pay the figure, is trying to get a better deal given that the price is $1 billion higher than the current deal between the NFL and DirecTV. The pushback from Apple is not new, as the company tends to squeeze its suppliers to preserve its high-profit margins.
The NFL has tried reaching out to other streaming services, encouraging them to submit a bid for the rights, but many firms are hesitant because the league could use any potential offer to try and squeeze a better deal from Apple.
Apple wants to boost the subscriber numbers for its streaming service Apple TV+, which has attracted about 16 million viewers compared to Disney+, which has 44.5 million subscribers in the US and Canada.
It will be interesting to see the final deal agreed upon by the NFL and Apple. At the moment, Apple shares were largely unmoved by the news, given that the company does not make a profit on the streaming service, which is estimated to generate $1-$2 billion in annual revenues.
Hopefully, Apple can make its streaming service profitable by acquiring more rights over the live streaming of sports events. Still, for a company that generates over $400 billion in revenues, the revenues generated by the streaming service will always be marginal.
*This is not investment advice.
Apple stock price.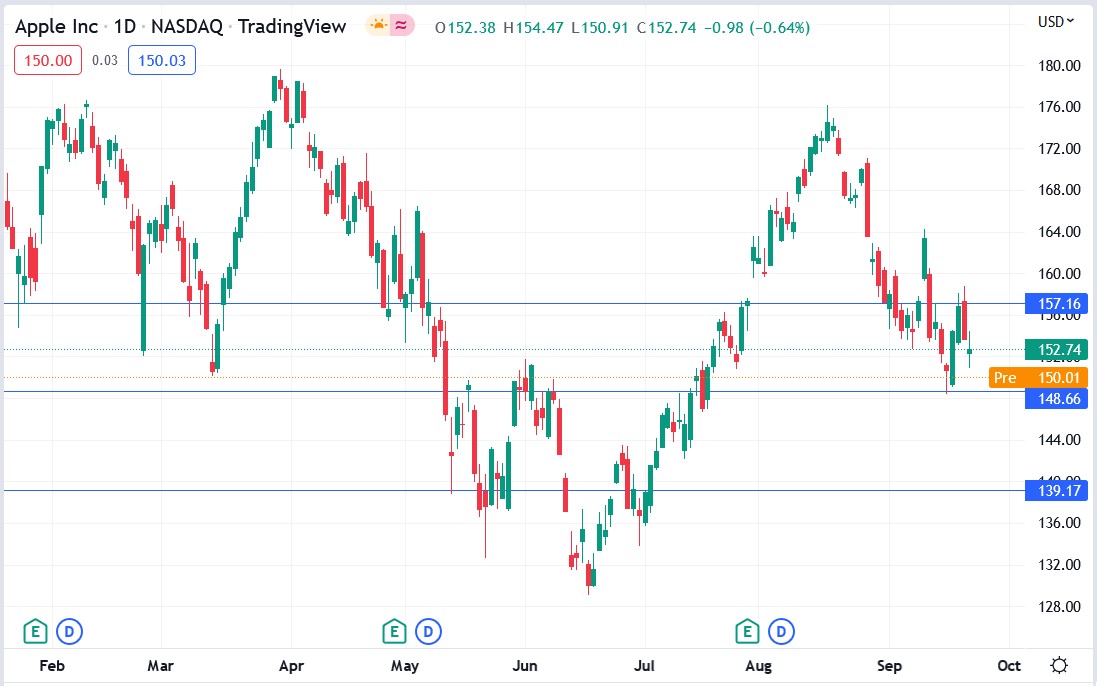 The Apple stock price fell 1.86% to trade at $149.91, from Thursday's closing price of $152.74.