Key points:
Applied UV stock soared 84.8% on a Pakistani government contract win.
AUVI's Pakistani partner won the contract as the sole distributor.
Investors cheered the move, which could lead to more contracts.
The Applied UV Inc (NASDAQ: AUVI) stock price soared 84.8% after the KPK Provincial government awarded its Pakistan dealer a sole source provider contract in Pakistan.

The contract award for Airocide air purification systems supply for government hospitals was issued to M/S Novatek Pakistan, which is Applied UV's distribution partner in Pakistan.
Investors reacted positively to the announcement, given that the contract made M/S Novatek Pakistan the sole distributor of the air purification technology to government hospitals throughout the province.
Furthermore, the contract award could lead to other provinces following suit and awarding similar contracts to M/S Novatek Pakistan if it delivers, installs and maintains the Airocide air purification systems well in all the target hospitals.
Investors were pleased by the contract, given that M/S Novatek Pakistan had previously won another contract with the Pakistani government to install 657 Airocide air purification systems across the country.
Mr Munawwar Zahid, M/S Novatek Pakistan's CEO, said: "M/S Novatek Pakistan is proud to be the sole distributor of the Airocide Patented technology that was developed for NASA and is listed as an FDA Class II Medical device, allowing us to deploy it throughout the country of Pakistan. We were selected to partner with Airocide because we knew that their air purification solutions are the best in the class, which have been deployed and used by globally recognized brands throughout the world to protect against SARS-COV-2 and other harmful air-borne pathogens, even those too small to be filtered."
John Andrews, Applied UV's CEO, said: "We are proud to partner with M/S Novatek Pakistan and appreciate the trust they have placed in our Airocide suite of air purification solutions. Improving the quality of indoor air in all public indoor places, specifically government hospitals, protecting the facilities, staff, and the patients who frequent them from dangerous pathogens is at the centre of efforts by governments globally… As a Company, we are very aware of the great importance of improving the circle of care by protecting the world's front line healthcare providers post this three-year pandemic."
Investors interested in buying AUVI shares should wait for a pullback before buying.
*This is not investment advice. Always do your due diligence before making investment decisions.
Applied UV stock price.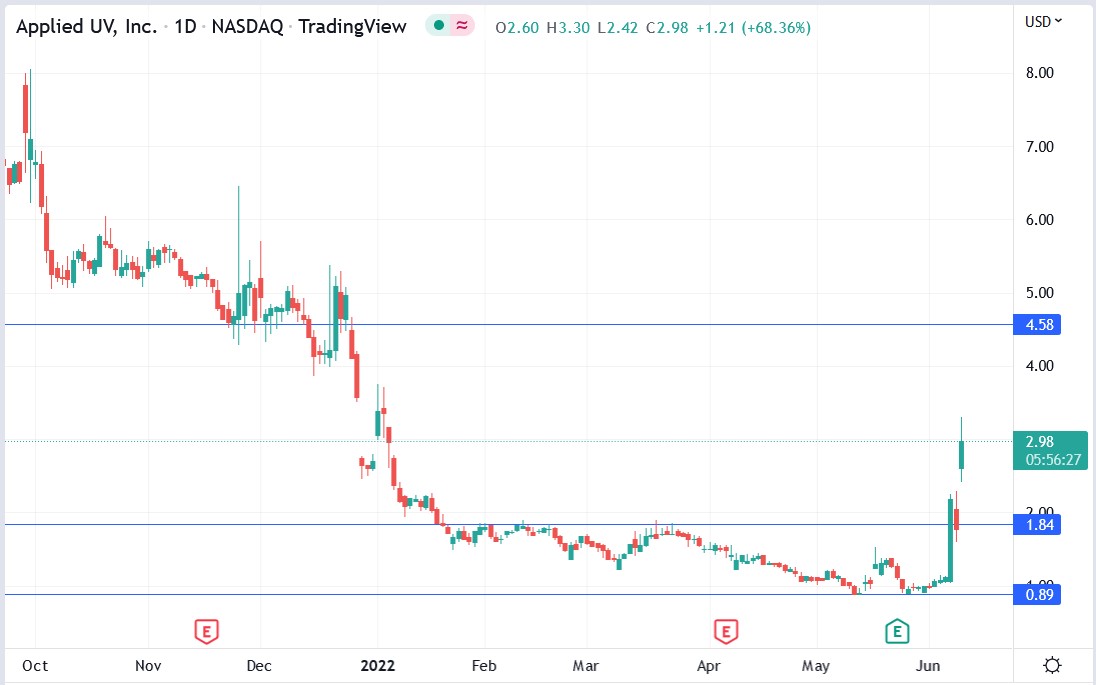 Applied UV stock price rallied 84.8% to trade at $3.29, rising from Wednesday's closing price of $1.78.