Key points:
Asana's stock price has fallen 65.7% in 2022. Can it rally higher?
Yes, the stock can rally higher, boosted by its solid fundamentals.
The company just updated its earnings forecast for Q3 of its FY.
The Asana Inc (NYSE: ASAN) stock price has fallen 65.7% this year but appears to have formed a bottoming pattern, as shown in the chart below. Can it break above the current resistance level and rally higher? Let's find out.

Asana provides work management software to companies, individuals and teams to collaborate on projects and is an efficient project management tool. The company faces stiff competition from Monday.com and a litany of other firms in a highly fragmented industry that continues to attract new entrants.
Also read: The Best Tech Stocks To Buy Right Now.
The company's new estimates for the quarter show its EPS in the range of $0.33 to $0.32, which is lower than the consensus estimate of $0.32 per share. The company expects to generate sales worth $138.50 million to $139.50 million, which is higher than analysts' forecast of $137.64 million.
Asana stock has fallen heavily from its November 2021 high of $145.81 and is now trading 82% from its highs at $25.56. However, ASAN  shares rallied higher last week after the company released its latest earnings results, which were better than expected, triggering a rally higher.
The company generated revenues worth $134.9 million in Q2, beating analysts' consensus estimates of $127.2 million. The company noted that it beat its revenue guidance by 6% and its operating loss forecast by 14%.
Dustin Moskovitz, Asana's co-founder and CEO, said: "Growth was driven by large enterprise deals and momentum in the US, with the number of customers spending $100,000 or more on an annualized basis up 105 per cent. We believe that Asana is the most scalable work management platform out there, as evidenced by our broad deployment and millions of users worldwide, including our largest customer deployment of over 100,000 paid seats."
The company also announced that its CEO had bought over 19.27 million shares worth $350 million via a private placement. As a result, the company is fully funded to execute its strategies and become positive cash flow by 2024.
Asana's shares have risen 13.35% in the past week following the upbeat Q2 earnings report. It has also attracted significant attention from retail investors due to the affordable price of its shares and its upside potential.
*This is not investment advice.
Asana stock price.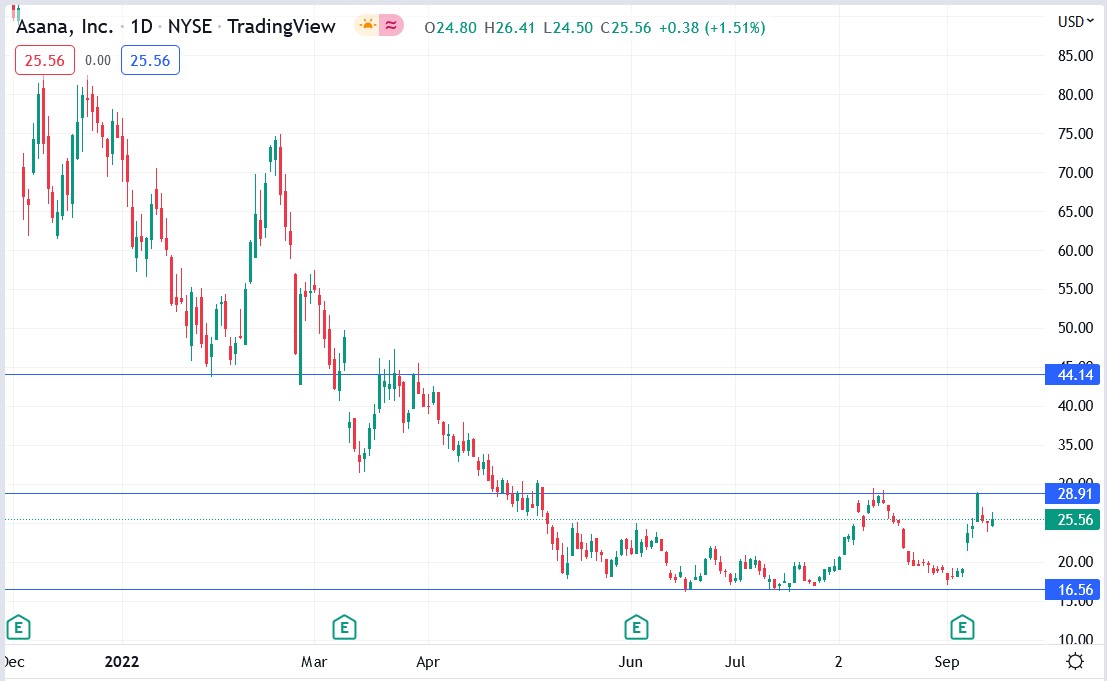 The Asana stock price has fallen 65.76% this year, but it appears to have bottomed. Can it rally higher?