Key points:
EVgo stock price rallied 11% on President Joe Biden's speech in Detroit.
The President announced that he had unlocked funding for states.
To build their EV charging stations, which could lead to contracts.
The Evgo Inc (NASDAQ: EVGO) stock price rallied 11% after President Joe Biden attended the Detroit Auto Show and reaffirmed his government's commitment to ensuring an electric future for the US transport sector.

Many analysts expect the current administration to announce more funding for EV charging stations, which could benefit EVgo, which operates a national network of charging stations induing superchargers open to all people who own EVs.
Also read: The Best Electric Car Stocks To Buy.
The President reassured the nation of his commitment to boosting American innovation and manufacturing, including EVs so that the country can reclaim its global leadership position as a tech and manufacturing hub. The US ignored manufacturing for many years, which let its competitors, such as China, catch up to it.
Joe Biden announced that his government had unlocked funding for 35 states to build their EV charging stations through the Bipartisan Infrastructure Law. Given that most states cannot build such stations, EVgo will likely get contracts to build the charging stations in multiple states.
However, there are concerns about the government's increasing isolation of China, from which it buys about 20% of its imported goods. While some experts support the move to sideline China by limiting technology transfers from Us companies to Chinese firms, many are not convinced that such measures are worthwhile.
For example, former President Donald Trump's tariffs on China were paid by American consumers, who had to contend with higher prices of goods imported from China. The same applies to future tariffs imposed on Chinese goods by the current administrations.
As for the EV sector, the number of new electric vehicles bought by American consumers continues to rise, which is good for EVgo, which generates its revenues from EV charging stations, which are likely to witness increased demand.
EVgo shares have rallied off a crucial support level and could keep rising if the bullish momentum persists over the coming days. However, the next upside target is $12.05, at which point we could get a pullback.
*This is not investment advice.
EVgo stock price.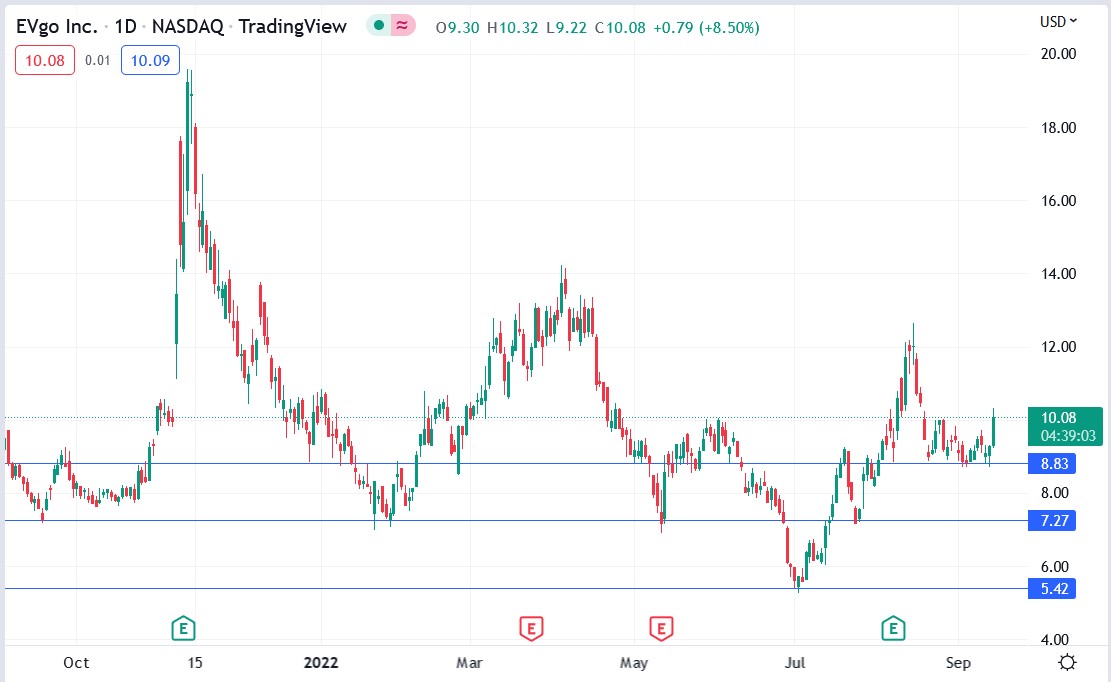 The EVgo stock price rallied 10.99% to trade at $10.30, rising from Wednesday's closing price of $9.28.