Key points:
Rumours swirl that Aston Martin is to raise more capital
This could be significantly dilutive of current equity
Where does the buying point come in?
Aston Martin Lagonda (LON: AML) shares have fallen near 10% this morning, following another 10% fall the day before. The worry is that AML is gearing up for yet another capital raise to solve its basic problem – developing high end motor vehicles is a very expensive, capital intensive, business. Aston Martin has been plagued by this problem over the decades and is still so in this current corporate incarnation.

As we've reported before the Aston Martin share price is down 58% already this year. There's a significant temptation to think that a bottom is being reached and that therefore this is the time to buy in. But it's not always true that cheaper is better – sometimes there's a reason for cheaper and that reason can mean that it's going to get cheaper yet again. The base problem at AML is simply that the capital structure doesn't support the ambitions – or at least that's potentially so. So, it might be that there's another change to that capital structure coming.
Autocar – normally a well enough sourced, umm, source – has a rumour that there will indeed be a significant capital raise, bringing in a keystone investor with perhaps £200 million in additional capital. This would likely involve significant dilution to current shareholders of course.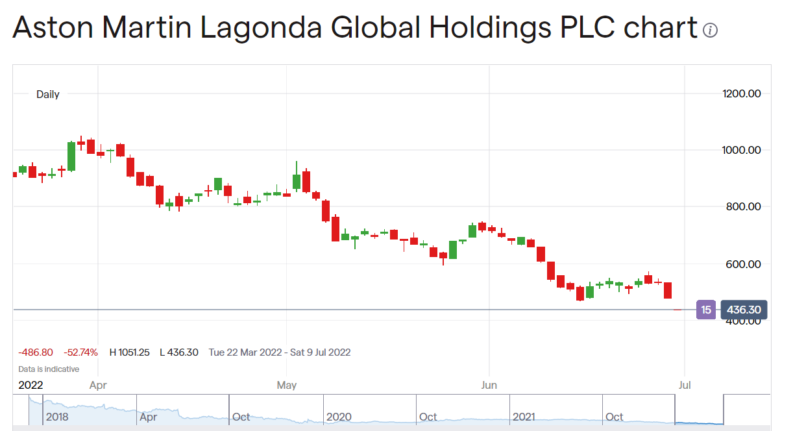 The problem is that AML is already carrying £1.2 billion in debt which is a large amount on the current equity base. A goodly portion of that is also expensive, paying possibly 10% per annum. That's a significant drain on corporate resources.
The underlying business itself could be seen to be doing reasonably well. The Valkyrie supercar programme is sold out even if deliveries have been late. The bringing in of AMG (connected to Mercedes) as both an equity partner and engine supplier aids future development. The big issue though over trading splits into two.
China is the second largest market and there are considerable worries over the future performance of that economy as a whole. Also, possible crackdowns on the overt display of wealth – and an Aston is definitely one of those. The other issue is that the medium term finances at Aston depend a great deal on the success of the SUV, the new DBX model. The news there is encouraging, at least so far as we know, but not provative of success as yet.
Which is where Aston Martin shares find themselves. A business that seems to be doing reasonably enough at the operating level, but not provably able to grow out of its financial constraints given that debt burden. We don't think that it's likely to go bust – unlike the previous 7 times of the business within different corporate wrappers – given the financial resources available to the current majority owners. But we do probably think that it possibly needs more capital. And that will be dilutive of the current equity. Whether this particular story is true, well, we don't know, but that Aston Martin shares swoon on even the rumour shows that there's not much support at current prices.