Key points:
Beyond Meat shares have fallen 67.2% over the past 12 months.
The company also reported weak sales figures in Q3 2021 and lower Q4 guidance.
However, there is hope for the company in its multiple partnerships.
The Beyond Meat Inc (NASDAQ: BYND) stock has fallen 67.2% in the past 12 months as many investors wonder if the demand for meat alternatives is finally waning.
The company, which sells meat alternatives, has seen its shares fall 67.2% last year as short-sellers piled into the stock, betting on its demise.
Beyond Meat shares rallied in 2020, and other meme stocks were driven higher by retail investors keen to stick it to institutional investors looking to profit from falling stocks.
According to recent publications, Beyond Meat is now the most shorted stock in the Russel 1000 index that tracks 1,000 of the most valuable US public companies.
The question on mind is, will retail investors swoop in once again and save the stock from the institutions keen to drive its shares lower so that they can profit.
Unfortunately, we cannot time a phenomenon like a meme stock craze. It is a chance occurrence that no investors should base their investment strategy on. However, it is okay to profit from such a trend once it gets underway.
Recent reports indicate that there could be significant trouble ahead for meat alternatives companies after Impossible Foods fired a few employees in recent weeks.
However, while we wait for retail traders to save the company, Beyond Meat has been making strategic moves, including a partnership with KFC, which launched its Fried Chicken meal at all its restaurants across the United States earlier this month.
Beyond Meat also recently witnessed the launch of the first product from its partnership with PepsiCo, a plant-based jerky, which will be sold across the US.
The company also has other partnerships with major companies such as MacDonalds and supermarkets to stock its products, which could start bearing fruit in rising sales figures.
Today, Micheal Lavery, an analyst at Piper Sandler, said that he believes that sales of Beyond Meat's McPlant products at McDonald's could be three times the initial estimates providing a short-term positive catalyst for the company.
Therefore, all is not doom and gloom for Beyond Meat and its peers in the meat alternatives industry. However, the road ahead might not be as easy as many initially thought.
*This is not investment advice. Always do your due diligence before making investment decisions.
Beyond Meat share price.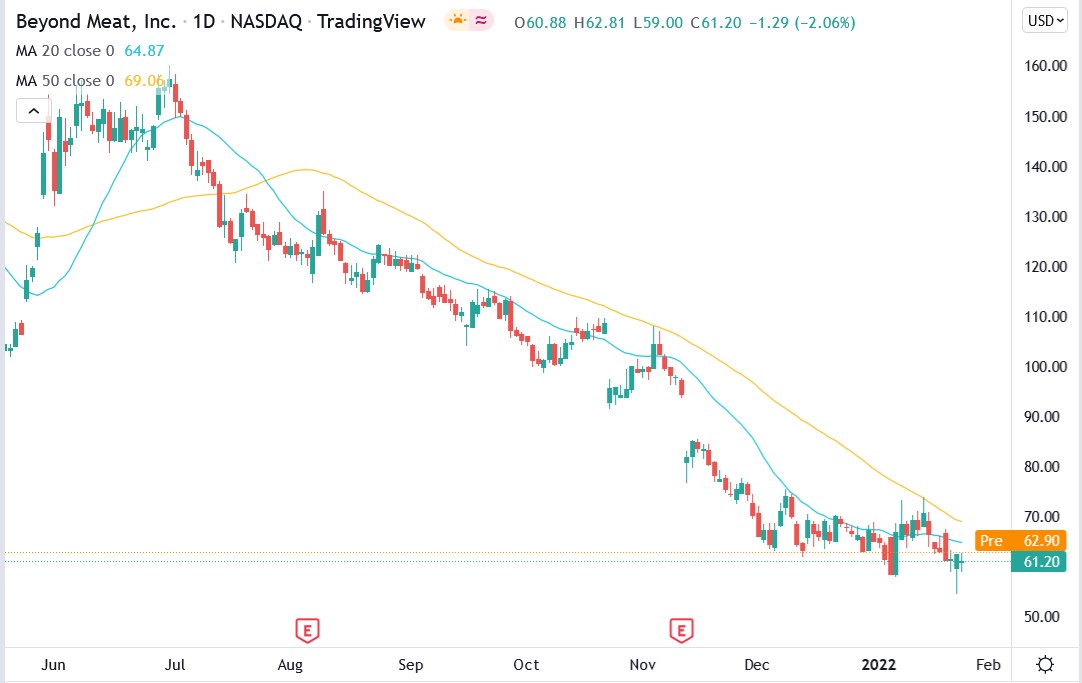 Beyond Meat stock has fallen 67.24% in the past 12 months and has been down 6% since the year. So is there hope for the company?