Key points:
Gatos Silver shares crashed 50.3% premarket after issuing resource estimates warning.
The mining company said that the resources at its joint venture were lower than initial estimates.
The firm is working on reconciling the available data to arrive at an accurate estimate.
The Gatos Silver Inc (NYSE: GATO) share price crashed 50.3% premarket after warning investors that the resource estimates at its Los Gatos Joint Venture could be much lower than initially expected.

The mining company revealed that it had depleted resources at the site by 1.3 million tonnes between July 1, 2020, and December 31, 2021, and was uncertain of the remaining resources.
Gatos Silver said it could have depleted 30% to 50% of the available mineral resource reserves at the Los Gatos project. Therefore, the resource estimates published in the 2020 Technical Report should not be trusted.
Investors reacted negatively to the news despite the company confirming that it was working with independent engineering consultants to understand better the extent of the overestimation within the 2020 report.
The miner is working to create a new "Life of Mine" plan by reconciling the current production to the previous models and the calculation estimates for the mineral reserves at the mine.
Gatos Silver notified investors that it had discovered that the mineral deposits at the mine are more complex than what was shown in initial models. The size and orientation of the mineral veins were more variable than initially expected.
Yesterday's press release regarding the Cerro Los Gatos ("CLG") mine suggested that Gatos Silver expects to have an excellent 2022 with the potential reductions in the estimates contained within the 2020 technical report titled "Los Gatos Project, Chihuahua, Mexico".
The report was effective beginning July 1, 2020, which contained significant overestimations based on today's SEC filing.
The company reassured investors that today's announcement would not impact the performance of its GLG mine and that it expects to produce 15% more silver this year than the 7.6 million ounces produced last year.
The GLG mine produced 40 million pounds of lead, 50 million pounds of zinc, and 5,000 ounces of gold.
Today's selloff seems like a market overreaction as investors reacted to today's announcement, w which seems to negate the reassurances given by Gatos Silver yesterday when it issued a press release explaining the situation.
Investors looking to buy Gatos Silver shares may find today's selloff an excellent buying opportunity.
*This is not investment advice. Always do your due diligence before making investment decisions.
Gatos Silver share price.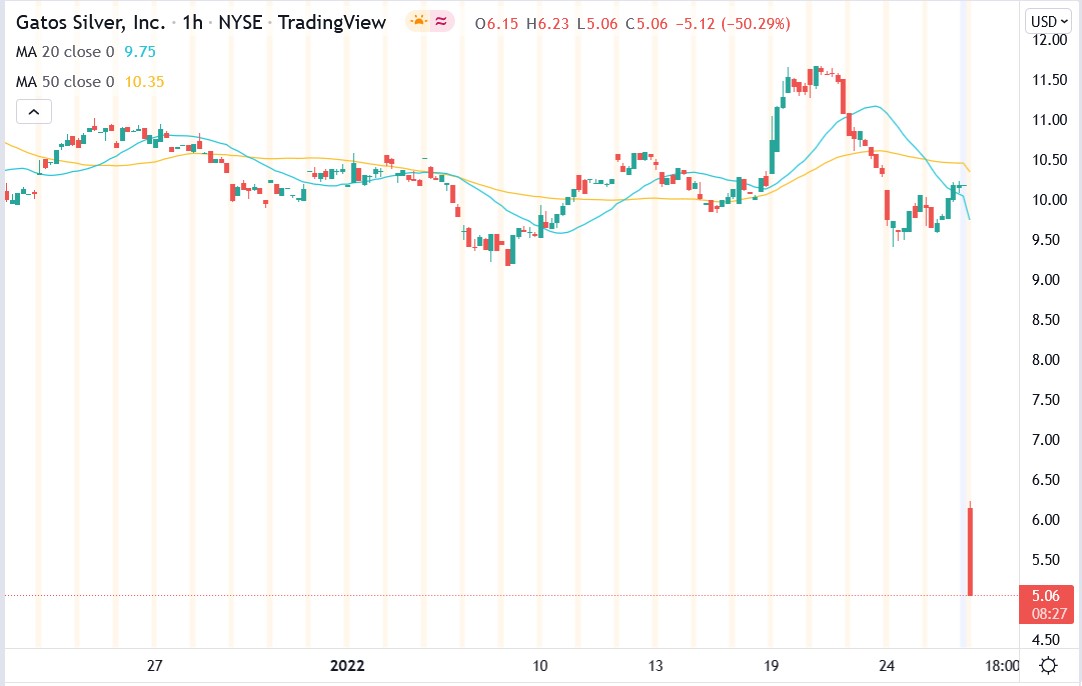 Gatos Silver shares crashed 50.34% premarket to trade at $5.06, falling from Tuesday's closing price of $10.19.