Key points:
BioNTech shares barely moved after launching a vaccine facility for Africa.
Investors missed the significance of the announcement to BioNTech.
Africa represents a significant untapped COVID-19 vaccine market.
The BioNTech SE – ADR (NASDAQ: BNTX) share price barely moved despite unveiling a new vaccine manufacturing facility for Africa made from shipping containers.

The company said it intends to ship the vaccine manufacturing facility to Ghana, a West African country and pledged to give Africa access to its future cancer drugs.
Uğur Şahin, BioNTech's CEO, said: "We pledge as BioNTech to develop our cancer medicines also according to the needs of the African people and enable affordable access to our immunotherapies to African states and African people,"
BioNTech's initiative is part of a more comprehensive cooperation agreement between Ghana, Germany, and the EU worth up to €1 billion. For those wondering about Germany's and the EU's involvement in the project, it is because BioNTech is a German biotech company.
Daniel Krull, Germany's Ambassador to Ghana, said: "The initiative will help create an enabling environment for local vaccine manufacturing in Africa and tackle barriers and demand siders. It is being backed by €1 billion from the EU budget and European development finance institutions such as the European Investment Bank (EIB),"
He added:
"This is co-funded by the EU and the German Federal Ministry for Economic Cooperation and Development (BMZ). The government of Ghana has already committed US$25 million seed money to the overall vaccine manufacture initiative, and this project forms an integral part of the overall road map."
Investors seem to have missed the significance of today's announcement, given that Africa represents a massive untapped COVID-19 vaccine market. The majority of African countries are yet to vaccinate most of their populace.
Many African governments have complained about the lack of vaccines supplies for the continent as most companies focus on the developed countries, many of which have now vaccinated a large proportion of their overall populations.
BioNTech may have a significant first-mover advantage over other COVID-19 vaccine manufacturers with the location of its mRNA vaccine manufacturing facility in Ghana, which is a regional powerhouse.
BNTX shares have fallen 36.6% in 2022 amid concerns about weakening demand for COID-9 vaccine, but this may change as the focus turns to Africa, which still has a sizeable unvaccinated population.
I would bet on BioNTech/ Pfizer winning on the African continent this year and in future.
*This is not investment advice. Always do your due diligence before making investment decisions.
BioNTech share price.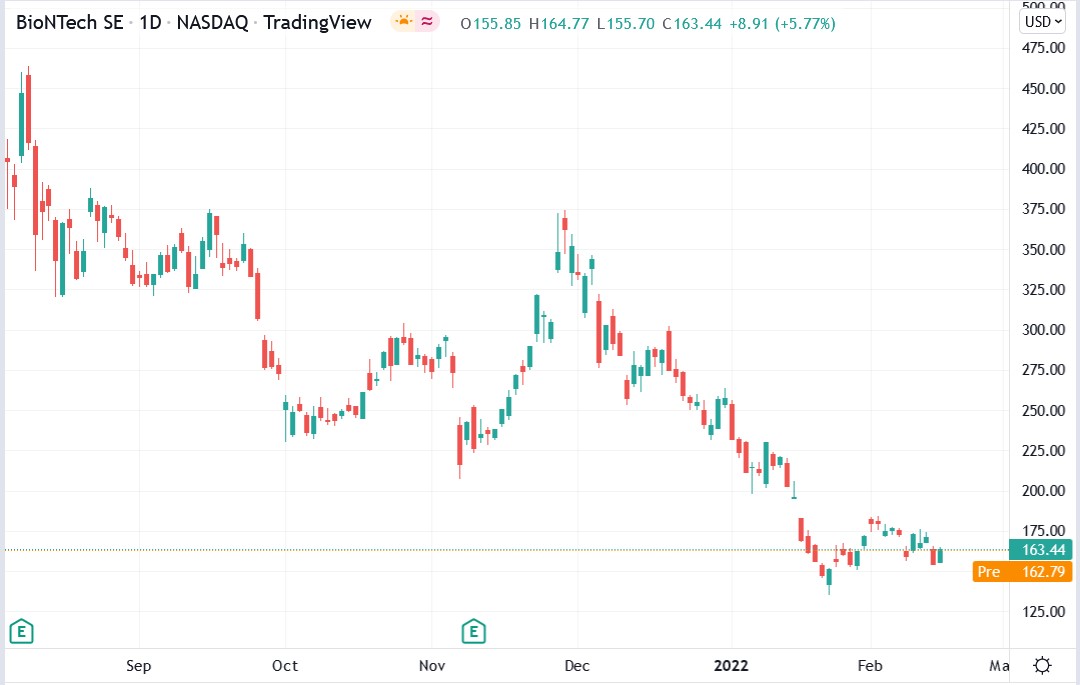 The BioNTech stock was down slightly at writing despite today's positive announcements.