Key points:
Bitnile stock rallied 7.69% premarket on upbeat 2021 revenues.
The bitcoin miner's 2022 revenue estimates also wowed investors.
However, its revenues are heavily dependent on Bitcoin prices.
The Bitnile Holdings Inc (NYSEAMERICAN: NILE) stock price rallied 7.69% premarket after announcing that it expects to report 2021 full-year revenues worth $52 million, representing a 119% surge from 2020's $23.9 million figure.

The Bitcoin mining company also revealed an ambitious revenue target of $155 million for the 2022 financial year, a 197% jump to the 2021 revenues.
Bitcoin mining accounts for the most significant portion of its revenue mix, with the firm expecting to generate $82.1 million from Bitcoin. Bitnile intends to install 20,600 bitcoin miners by the end of 2022 to help it reach its lofty goals.
Bitnile expects to generate significant revenues from its Greshsm Worldwide subsidiary and its Real Estate arm, which recently acquired four hotels, including two Hilton Garden Inn and two Marriott hotels.
However, the company warned investors that bitcoin mining revenues largely depended on the prevailing market prices and the actual prices when it mines and delivers bitcoin to its clients.
Investors cheered the preliminary results, as evidenced by the rally in Bitnile shares. The company further added that it was looking for new bitcoin mining locations with friendly taxes to host its mining activities.
Bitnile is among many companies mining bitcoin whose revenues depend primarily on Bitcoin prices, with falling prices resulting in lower profits and higher prices triggering higher profits.
Milton "Todd" Ault, III, Bitnile's Executive Chairman, said: "We are encouraged by the company's momentum across its business segments, which leads us to expect significant revenue growth in 2022. We have several key initiatives that we expect will drive nearly 200% revenue growth from 2021 to 2022:"
Adding:
"BitNile expects to grow its Bitcoin mining operations through strategic procurement of power at its Michigan data center to support the additional Bitcoin mining equipment the company plans to install in 2022. The company is taking a dual-path strategy for power procurement, looking at the cost-benefit analysis of increasing capacity in Michigan versus procuring power in more advantageous geography. To this end, BitNile is exploring various tax-friendly locales in addition to opportunities through alternative energy sources, including hydropower."
*This is not investment advice. Always do your due diligence before making investment decisions.
Bitnile stock price.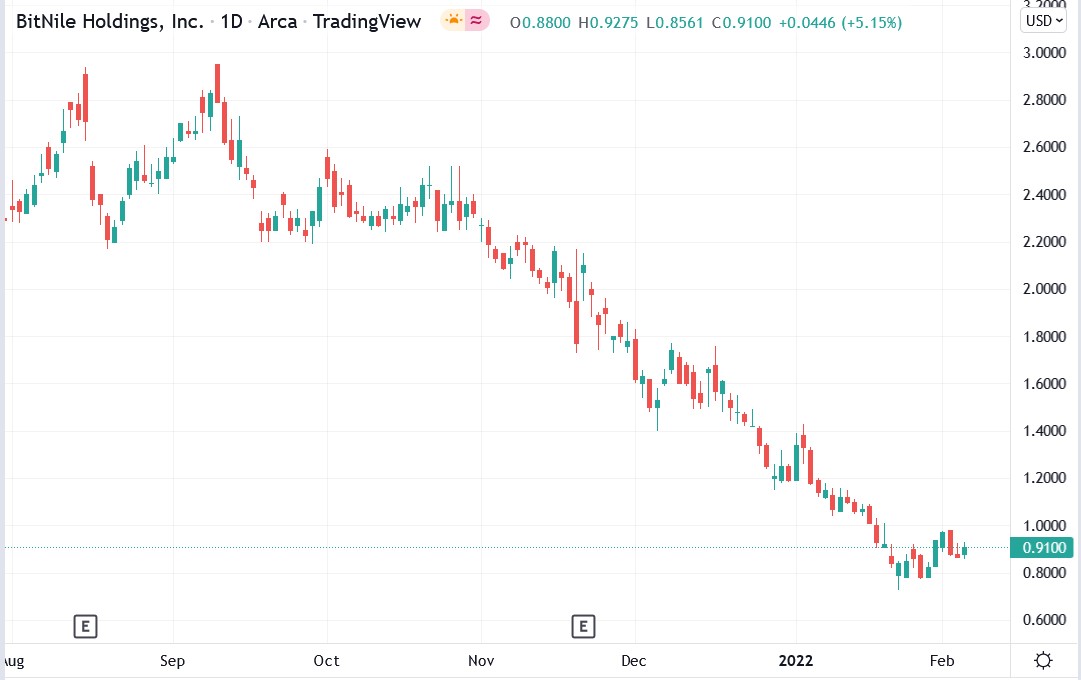 Bitnile stock price was up 7.69% during premarket trading to trade at $0.98, rising from yesterday's closing price of $0.91.