Key points:
Peloton stock price surged 31.9% premarket amid acquisition rumors.
The company's investors prefer going private than to remain listed.
However, none of the companies mentioned has submitted a firm offer.
The Peloton Interactive Inc (NASDAQ: PTON) stock price surged 31.9% premarket on rumors that Nike and Amazon are looking to acquire the exercise equipment and fitness company despite its recent troubles.

Although neither company has commented on the Reuters report, it is evident that investors think a potential sale to either of the two companies is a much better bet than remaining on the public markets.
Peloton shares are trading at $25, which is a far cry from the $171 it was trading at its peak in January 2021 after a massive boost in sales driven by the coronavirus pandemic lockdowns of 2020.
In a recent article, we mentioned that Peloton had temporarily halted the production of its fitness bikes due to low demand after increasing its production capacity at the height of the pandemic to meet surging demand.
The company is currently reviewing its operations to cut costs after it became clear that the massive demand witnessed during the pandemic lockdown period may never come back after gyms reopened. Restrictions were also eased, allowing people to exercise outside.
Peloton is now valued at a mere $8 billion, a fraction of its $50 billion valuation at the pandemic's peak.
Recent news also indicates that activist investor Blackwells Capital is trying to oust Pelototn's CEO, James Foley, due to the company's poor performance despite Foley being one of the firm's co-founders.
Foley has indicated his reluctance to fire Peloton's employees, assuring them that it would be the last lever he would pull to stabilise its operations.
Peloton is facing lower demand for its bicycles and other exercise equipment. Still, it is also recording lower sales in its apparels division, whose revenues more than doubled in 2020 to cross the $100 million mark.
***Just before this article was published, analysts at Wedbush said that Apple should acquire Peloton since such an acquisition could add value to the tech firm. Apple already offers fitness exercises to Apple Watch customers and could easily integrate Peloton's services into its health and fitness offering.
The markets are making it quite clear that they are open to an acquisition offer from a leading company in future as compared to remaining a public company given the massive erosion of value witnessed in the recent past.
*This is not investment advice. Always do your due diligence before making investment decisions.
Peloton stock price.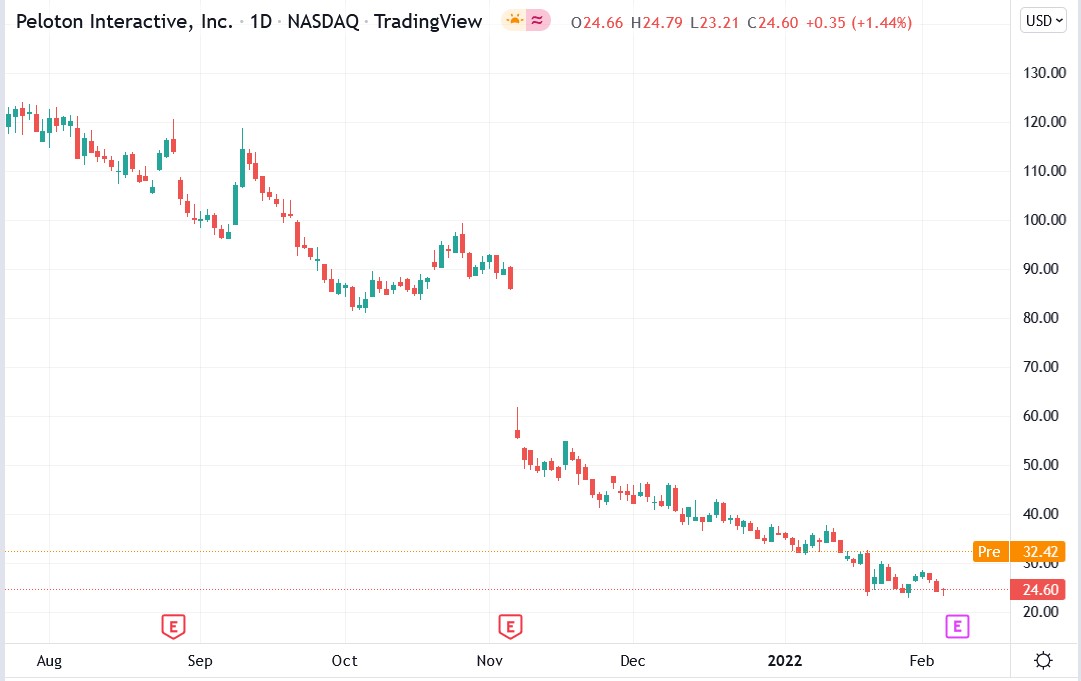 Peloton shares surged 31.9% premarket on acquisition rumors.