Key points:
BitNile stock surged 26.5% after revealing that it will repay its loans.
The company said it was ready to repay the $66 million senior loan.
Investors cheered the move that frees up the firm's assets and equity.
The Bitnile Holdings Inc (NYSEAMERICAN: NILE) stock price surged by 26.5% after confirming that it will repay the senior secured notes worth $66 million due on Thursday, March 28, 2022.

The diversified holding company told investors that the repayment would release the security interest on most of its assets and the pledged equity interests in its operating subsidiaries.
BitNile further added that the repayment in full of the senior secured notes would eliminate the restrictive covenants imposed on the company that could hinder its plans to list its subsidiary TurnOnGreen on the stock market.
As covered in a previous article, BitNile plans to list TurnOnGreen on the stock market via a revere merger with its listed subsidiaries known as Imperalis Holding Corp. (OTC Pink: IMHC).
Investors cheered today's announcement, evidenced by BitNile's share price rally.
Kenneth S. Cragun, BitNile's Chief Financial Officer, said: "We are pleased to be in a position to fully pay our senior secured debt this week. Other than the loans on our portfolio of hotels, which are non-recourse to the parent company, the company will be virtually debt-free."
Milton "Todd" Ault, III, BitNile's Executive Chairman, added: "The elimination of this secured debt is significant for BitNile and our stockholders as we will be able to pursue the issuance of special dividends and execute on strategic opportunities to spin out key holdings in the future."
BitNile shares have recently attracted significant attention from retail investors with good reason. The company's shares are cheaply priced, and they have had significant price movements that have rewarded traders.
*This is not investment advice. Always do your due diligence before making investment decisions.
Bitnile stock price.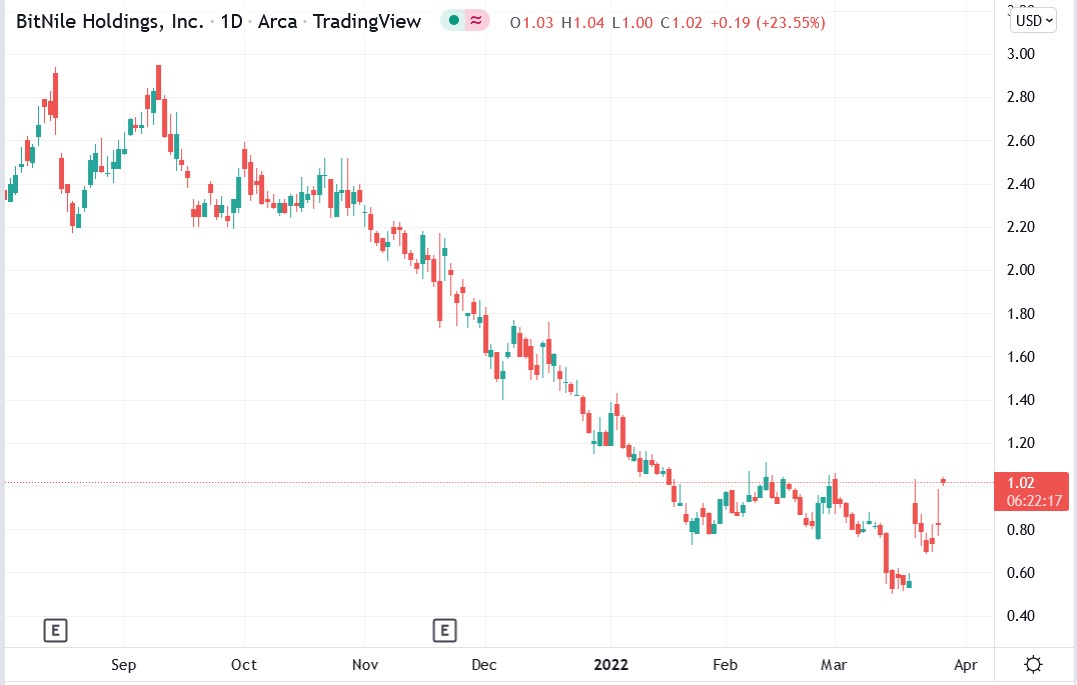 Bitnile stock price surged 26.51% to trade at $1.05, rising from Friday's stock price of $0.83.