Key points:
Braveheart's shares plunged 34.1% on an update about the Paraytec sale.
The investment firm revealed that the sale of Paraytec has slowed down.
As a result, investors hope that the downtrend will be over soon.
The Braveheart Investment Group plc (LON: BRH) share price plunged 34.1% after it admitted that it might be difficult to sell its Paraytech division for a reasonable price as demand for COVID-19 tests diminishes.

The investment holding company revealed that the decision by the British government to wind down the COVID-19 testing requirements rapidly and isolation requirements for travellers and British citizens has significantly affected the COVID-19 testing market.
Investors were spooked by Braveheart's admission that its involvement in the COVID-19 testing market was about to end. The company told investors that discussions with potential acquirers of Paraytech had slowed down, with only one company remaining interested.
However, investors ignored Braveheart's announcement that Paraytech would pivot from developing COVID-19 tests to working on its sepsis and bladder cancer treatments.
Paraytec is currently conducting a prospective clinical study to generate clinical proof that its CX300 technology platform works. The technology can be used to develop sepsis and bladder cancer drugs.
Therefore, while the COVID-19 testing market is shrinking, other industries have significant potential. Braveheart has investments in other companies, including GyroMetric Systems, Kirkstall, Phasefocus, and Sentinel Medical Ltd.
Braveheart's other strategic investments may generate better returns than Paraytec, and investors should expect them to drive future growth.
However, Braveheart is not the only company that has suffered from the UK government's sudden shift towards COVID-19 testing requirements. Most of the companies involved in the sector have also seen their shares sell-off recently.
Braveheart shares have fallen 57.8% in 2022, and many shareholders hope the downtrend will soon be over. As a result, I wouldn't buy BRH shares until we get strong signals that a bullish trend has started. Until then, I am adopting a wait-and-see attitude.
*This is not investment advice. Always do your due diligence before making investment decisions.
Braveheart share price.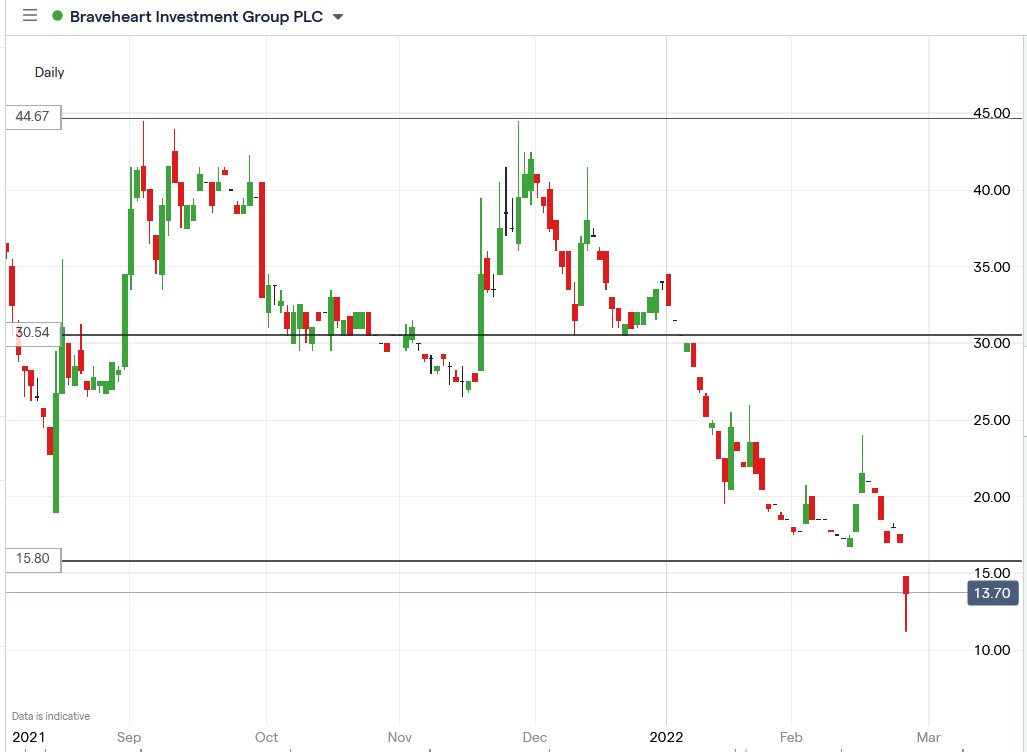 The Braveheart share price plunged 34.12% to trade at 11.20p, falling from Thursday's closing price of 17.00p.