Key points:
Broadcom (AVGO) stock has fallen 14.3% in a week as it weighs new acquisitions.
Investors seem unimpressed with Broadcom's rumoured VMware acquisition.
Such a deal would face scrutiny but could boost Broadcom's stock price.
The Broadcom Inc (NASDAQ: AVGO) stock price has fallen by 14.3% in one week as the chip manufacturer is in talks to acquire VMware in a deal worth $60 billion.

Investors seem unimpressed by the latest acquisition attempt, given that VMware is a software company specialising in enterprise virtualisation.
The company does not have an outstanding record of integrating its acquisitions and making them more profitable, hence, the muted reaction from investors.
In the past, Broadcom's acquisitions have attracted scrutiny from regulators due to anti-trust issues, and this one will likely not be an exception given Broadcom's history.
However, Broadcom is yet to submit a firm acquisition offer for VMware, with Bloomberg reporting that it got the information from sources familiar with the discussions. The source added that the deal could be made public later this week.
An analyst at Wells Fargo commented that Broadcom's acquisition of VMware makes strategic sense given the company's focus on expanding its portfolio of enterprise infrastructure software products.
Woo Jin Ho, an intelligence analyst at Bloomberg, lauded the deal saying it was in line with other software deals since it is valued at a price-to-earnings ratio of at least 17, with the expected acquisition price of $60 billion, being higher than VMware's current valuation of $49 billion.
VMware's current shareholders will also be rewarded if the company's business expands after Broadcom's takeover since the deal will be structured in a 50/50 stock and cash deal.
Mergers and acquisitions in the tech sector remain high, driven by massive deals such as Microsoft's $69 billion acquisition of Activision Blizzard and Elon Musk's $44 billion Twitter acquisition.
However, investors seem unconvinced that such a deal will be successful, given the antitrust scrutiny it is likely to attract. However, unlike in 2018, when Broadcom was forced to abandon its $117 billion takeover of Qualcomm due to its Singapore headquarters, Broadcom is headquartered in California.
Investors should watch this story closely, especially if a firm offer from Broadcom materialises.
*This is not investment advice. Always do your due diligence before making investment decisions.
Broadcom share price.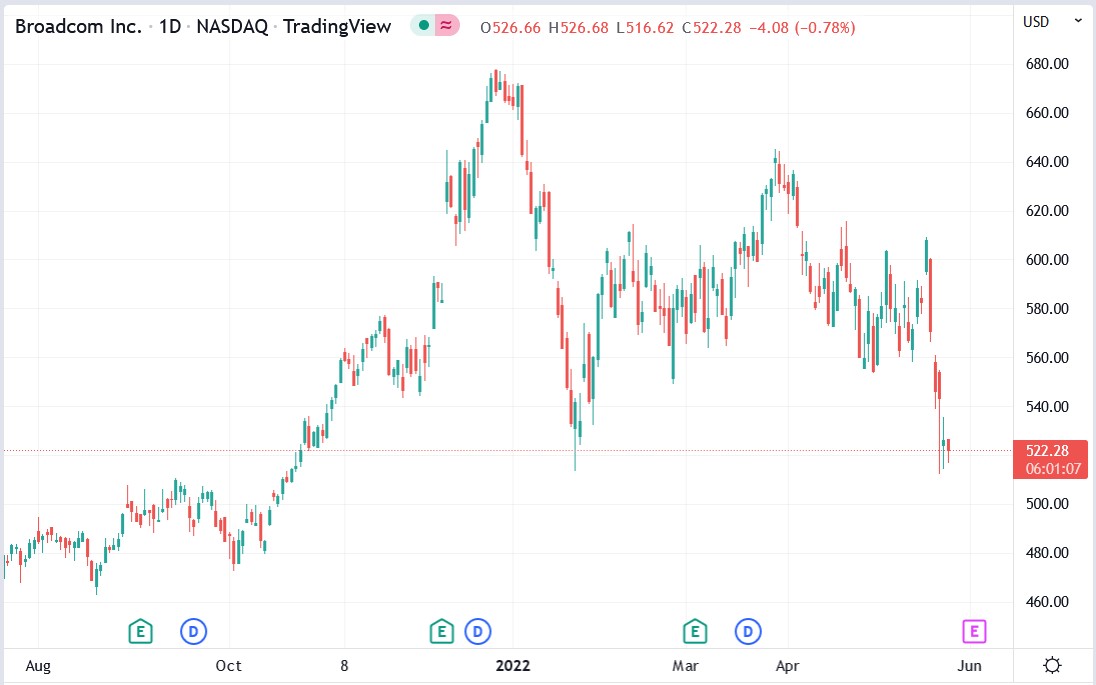 Broadcom stock has fallen 14.37% in the past week amid rumours of plans to acquire VMware.