Key points:
Robinhood stock rallied 25% higher after the FTX founder acquired a 7.6% stake.
Sam Bankman-Fried acquired 56.3 million Robinhood shares worth $482 million.
Investors are waiting for Sam to publicise his plans as a leading shareholder.
The Robinhood Markets Inc (NASDAQ: HOOD) stock rallied 25% premarket after the CEO and Founder of crypto trading platform FTX Sam Bankman-Fried acquired 56.3 million shares in the commission-free stock trading app.

Investors were impressed that Sam Bankman-Fried had decided to become a leading shareholder in the retail broker, whose fortunes have dwindled recently due to the US stock markets slump and the crypto selloff.
It is unclear whether the FTX CEO intends to acquire Robinhood and take it private or whether he wants to become an influential shareholder who can drive the financial services firm towards a more profitable future.
Robinhood's latest earnings report indicated that the firm had identified the crypto industry as its next growth avenue as the meme stock rally of 2021 that led to its best numbers yet fades into the distant past.
I expect Sam Bankman-Fried to outline what he intends to do with his new stake in Robinhood. Still, I wouldn't be surprised to see him push for the broker to dive deeper into the crypto space, probably through FTX, an established player in the crypto industry.
Overall, investors are excited at the prospect of Bankman-Fried being part of Robinhood, given his success with FTX, but we have to wait for the crypto CEO to unveil his plans.
Meanwhile, Robinhood just rolled out an exciting feature for its clients where they can earn 1% interest on the uninvested cash in their trading accounts. According to Bankrate, while 1% might seem like a small amount, it is 16 times more than the 0.06% average interest rate paid by US banks.
The new features introduced by Robinhood, which include allowing its customers to lend out their stock, unveiled earlier this month, could see the platform attract more customers. In addition, due to the high returns, many existing clients could reactivate their accounts and start executing new trades while using their accounts to store cash.
Therefore, as we wait for Sam Bankman-Fried to make his plans public, Robinhood seems to be heading in the right direction. Robinhood stock has fallen 51.8% in 2022, and many hope it will bottom soon and start rising.
*This is not investment advice. Always do your due diligence before making investment decisions.
Robinhood stock price.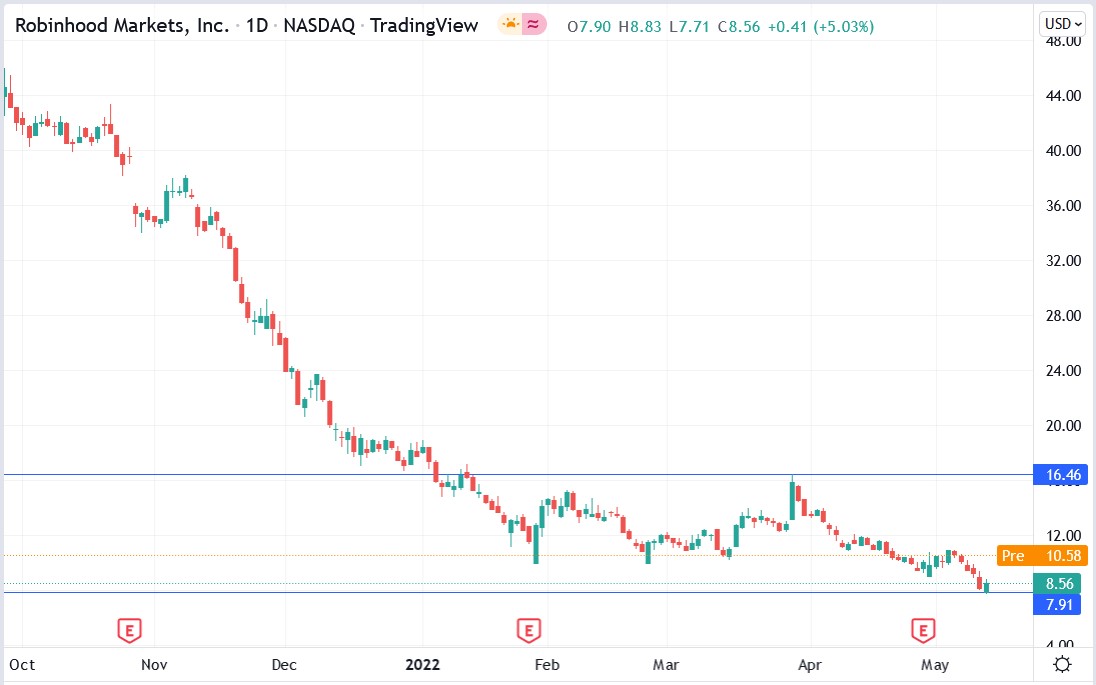 Robinhood stock rallied 25% to trade at $10.70, rising from Thursday's closing price of $8.56.