Key points:
The USDCAD pair rallied higher as the US dollar rallied on upbeat NFPs.
The Canadian dollar fell on a weak jobs report as Canada lost over 30k jobs.
Is now a good time to buy the USDCAD pair? Read on to find out.
The USDCAD currency pair was trading up 0.50% at writing as the US dollar soared against its Canadian peer on an upbeat jobs report. The US non-farm payrolls released earlier today showed that the country added 528,000 jobs, beating analysts' consensus estimates of 250,000 jobs.

The US dollar was further boosted by the country's unemployment rate's drop to 3.5% from the 3.6% figure recorded last month. However, bond yields short higher as bond prices fell on the string dollar, boosting yields. The 2-year and 5-year bond yields soared as investors priced in higher interest rates in the near term versus the long term.
Also read: Forex Trading For Beginners.
Today's employment data supports the Federal Reserve's view that the US economy is not yet in a recession, given the rate at which new jobs are being created and filled. Moreover, the falling unemployment rate also supports the Fed's views. Therefore, the debate around whether the US is in a recession will continue for much longer.
On the Canadian side, the country lost 30,600 jobs instead of adding 20,000 jobs, as expected by most analysts. The weak Canadian employment data contributed to the loonie's poor performance against its neighbour.
Furthermore, weak crude oil prices have also not been good for the Canadian dollar, as the country is a net oil exporter. The fundamental picture for the loonie is negative as the US dollar strengthens and oil prices fall.
As I have mentioned in other articles, I was expecting lower prices when most analysts were counting on higher prices since June when oil price surged higher for the second time and peaked at $122.
However, we are not done with high oil prices just yet. We are likely to see a spike higher as the autumn season kicks in and demand for oil rises. However, the expected summer prices spike higher did not happen as oil prices have been trending lower since mid-June.
So, should you buy the USD/CAD pair? Looking at the USDCAD daily chart below, we can see that the pair has bounced off the 100% Fibonacci retracement. I would wait for a break above this level before buying.
*This is not investment advice. Always do your due diligence before making investment decisions.
The USDCAD daily price chart.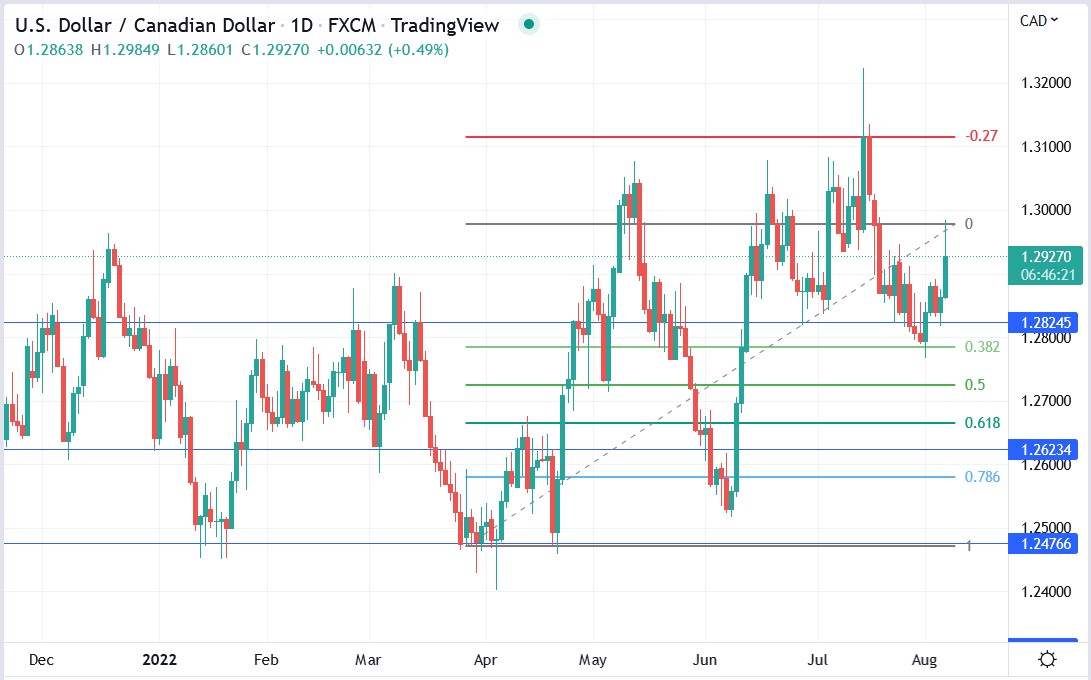 The USDCAD currency pair was up 0.50% as the US dollar strengthened against its Canadian peer.