Shares of Carnival plc (LON: CCL) are up 23% this year, reflecting the markets' optimism about the global economic recovery and the eventual reopening of most countries' borders allowing for the resumption of cruise ship travel.
But, are cruise ship stocks currently overvalued, given that the anticipated global reopening is not happening as fast as initially anticipated, with many countries battling to control the third wave of coronavirus infections.
Carnival released its Q1 2021 earnings report on 7 April 2021 and reported a $1.79 loss per share, which was higher than Zacks' analysts' estimates of a $1.66 loss. Since they came in at $26 million, the company's revenue stood out, missing consensus estimates of $108 million.

While cruise ship stocks may look attractive over the near term giving the pent up demand for cruises that could trigger a spike in customer numbers once cruise ships resume operations, there is a lot of risk over the medium term.
The COVID-19 lockdown measures transformed the way global corporations do business, eradicating the need for physical conferences as people switched to online meetings, which is unlikely to change for a while.
Therefore, demand from corporate customers for cruises and other hospitality services such as hotel accommodation has dropped significantly and is unlikely to change.
Carnival and other cruise ship companies have implemented serious price discounts to get customers to book cruises to business destinations such as New York, Florida and California, significantly depressing their margins.
The costs for operating cruise ships will increase substantially due to the extra cleaning activities and air purification measures necessitated by the measures implemented by governments to fight the coronavirus pandemic.
So, rising costs and lower revenues set up Carnival and other cruise operators for meagre profits once operations are back in full swing, which is not ideal for investors. This is why Carnival shares appear expensive and are likely to fall in future*
*this is not investment advice.
Carnival Plc share price.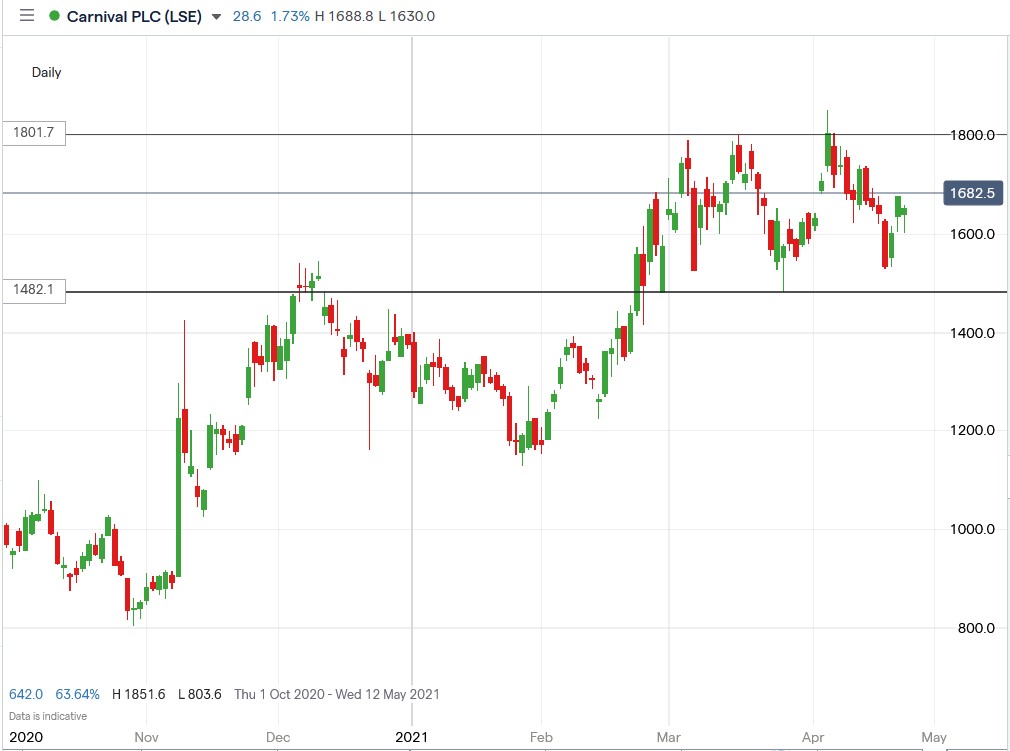 Carnival Plc shares are up 23% in 2021 and are headed towards resistance. Is the stock too expensive?