Key points:
Cellular Goods (CBX) shares surged 17.3% after launching US shipping.
The company's move exposes it to the vast US market for beauty products.
However, CBX shares later retraced their gains as sellers overpowered buyers.
The Cellular Goods PLC (LON: CBX) share price surged 17.3% after launching the US shipping of select products within its 'Look Better' (skincare) range, which can now be shipped to customers based in the United States.

Investors cheered the announcement, given that the US beauty market is much bigger than the UK market, which could generate significant revenues for the company if it can grab some market share.
Also read: Five Best Shares For Beginners To Watch In 2022.
Cellular Goods makes premium consumer products based on lab-produced cannabinoids and is slowly carving a niche for itself as a producer of cannabis-based beauty products, and today's launch further raises its profile.
The company is backed by former footballer David Beckham and partnered with international supermodel Helena Christensen to launch its Rejuvenating Skincare Campaign. Ms Christensen has a massive international following, including in the USA, having featured in leading publications such as Forbes US, Harper's Bazaar and US Vogue.
Some products for shipping to the United States include the Rejuvenating Day Mousse, Rejuvenating Night Cream and Rejuvenating Face Serum. The products contain Cellular Goods' proprietary formulations of cannabidiol (CBD) and cannabigerol (CBG), which fight the effects of inflammation, a root cause of skin ageing.
A significant advantage of using CBD and CBG is that they do not have the harmful effects associated with retinol and vitamin C, the industry-standard ingredients. Cellular Goods will also be shipping Calming Cannabinoid After Shaving Moisturiser and Nourishing Cannabinoid Face Oil, which contain ultra-pure, lab-produced CBG.
The company will also be shipping mini sizes for all the available 'Look Better' products, which are convenient for travelling due to their compact size.
Cellular Goods (CBX) shares had given up all their gains and traded in negative territory at writing as sellers overpowered buyers.
*This is not investment advice.
Cellular Goods (CBX) share price.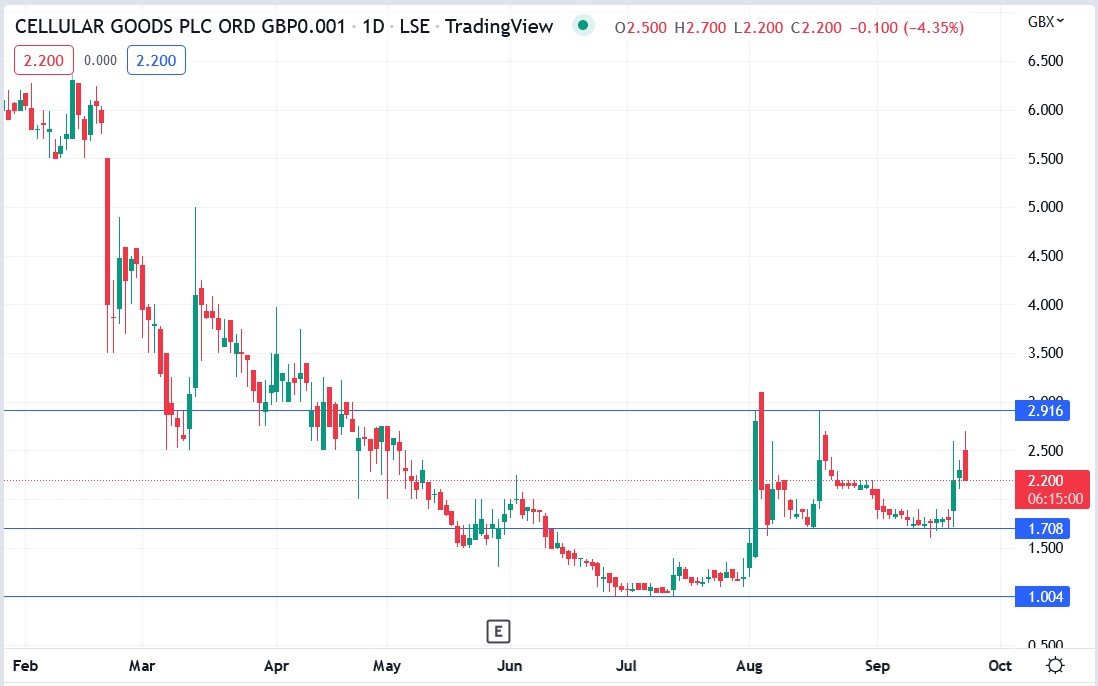 The Cellular Good share price rallied 17.3% to trade at 2.698p, rising from Thursday's closing price of 2.300p.