Key points:
Centamin shares plunged 8.64% as its 2021 profits fell 35% on lower output.
The miner's operating costs rose, fueled by massive government payments.
The firm's prospects are promising as it works to increase gold production.
The Centamin PLC (LON: CEY) share price plunged 8.64% after the gold mining company released its full-year earnings report for 2021, including its payments to governments and dividend payouts.

Investors reacted negatively to the reports despite the company revealing that its attributable profit after tax of $101.53 million represents a 35% decline to the $155.98 million profit recorded in 2020.
The company attributed the lower profits to an 8% decline in overall gold production to 415,370 ounces compared to the 452,320 ounces in 2020. However, the decline in production was much lower than the decline in profitability.
One of the most significant drawbacks that Centamin has to contend with is the high royalties paid to the Egyptian government, which amount to 45% of its earnings. The company paid $101.75 million to the Egyptian government, which is relatively high.
The massive payments to the Egyptian government resulted in the company reporting a negative free cash flow figure of $6 million. Luckily for investors, the gold miner does not have any debt or hedging responsibilities.
Centamin had liquid assets and cash worth $257 million on its balance sheet at the end of 2021, but its free cash flow position was worrying. The miner also achieved gross cost savings of $27 million in 2021, bringing its total cost savings to $71 million.
The gold miner maintained its 2022 outlook with a 430,000 to 460,000 ounces production target and all-in sustaining costs of $1,275-1,425/oz sold.
Investors can also look forward to critical events such as completing the Sukari mine underground expansion study and the commissioning of the Sukari 36MW Solar farm.
The miner is also conducting a pre-feasibility study on its Doropo project in Ivory Coast and is also set to complete a review of its capital structure later this year.
Today's selloff in Centamin's share price seems unwarranted as investors punished the firm for its lower profits. Still, given how long the Sukari mine has been operating, the firm deserves a lot of credit for remaining profitable despite facing multiple challenges.
Martin Horgan, Centamin's CEO, commented: "Delivery towards our strategic objectives was the standout achievement in 2021, placing Centamin in a much stronger position going forward and laying the foundations for long-term success. We safely delivered annual production and cost guidance and made excellent progress on our key capital projects. The completion of our Sukari Life of Asset review delivered a significant mineral reserve uplift, identified further growth and cost savings opportunities, and underpinned a robust 12-year life of mine plan with a clear roadmap to achieving a consistent +500,000 ounce production profile."
While Centamin has its shares of challenges, the 5 cents dividend may be attractive to dividend investors. Furthermore, the rising gold prices could also lead to higher profits for the company.
*This is not investment advice. Always do your due diligence before making investment decisions.
Centamin share price.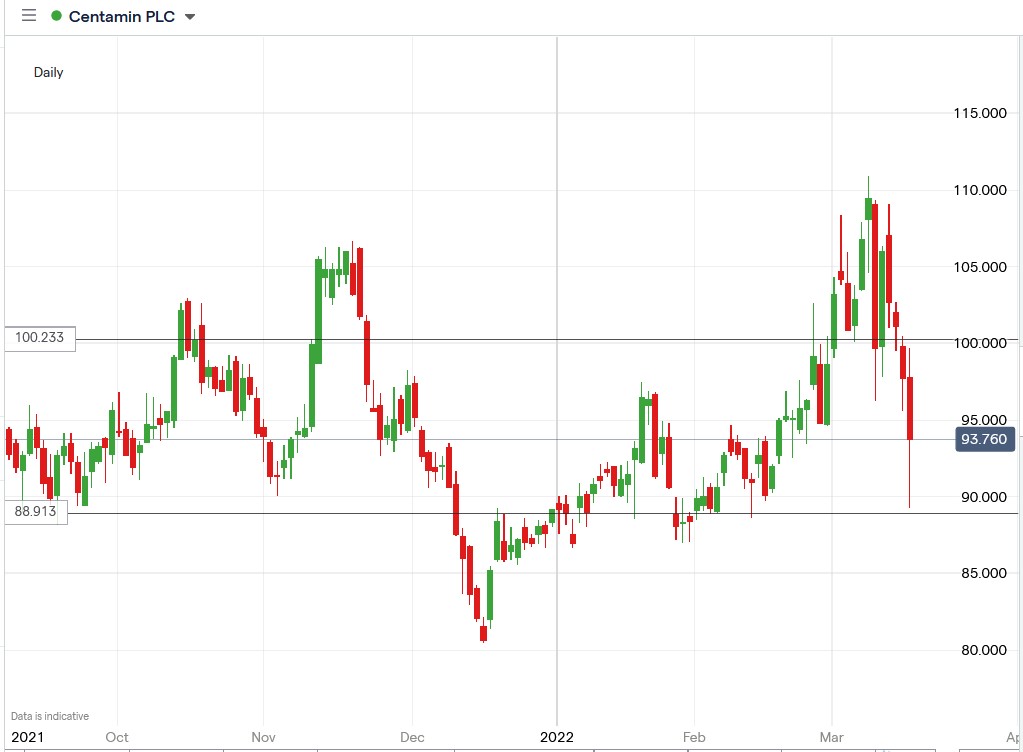 Centamin shares plunged 8.64% to trade at 89.29p, falling from Tuesday's closing price of 97.74p.