Key points:
Cineworld shares appear to have bottomed after falling over 90% YTD.
The cinema operator is working its way out of bankruptcy protection
Could CINE shares be gearing up for a rally soon? Read on to find out.
The Cineworld Group plc (LON: CINE) share price appears to have bottomed after falling over 90% this year, with the decline culminating in a chapter 11 bankruptcy protection filing in the United States.

To make matters worse for investors, the company's CEO and Deputy CEO, brothers Mooky and Israel Greidinger, have been accused of drawing fat salaries even as the second largest movie theatre in the world struggled to meet its daily obligations.
Also read: The Best US Stocks To Buy Right Now From The UK.
Many have hailed the chapter 11 bankruptcy filing as an intelligent move that will willow the company to restructure its debt and emerge stronger once the financial reorganisation is completed. In addition, a bankruptcy judge has already granted Cineworld access to funding worth $785 million to meet its daily obligations.
The bankruptcy judge's decision confirms that Cineworld's filing for bankruptcy protection was the right move. The $785 million is part of a debtor-in-possession financing deal worth $1.94 billion.
Cineworld noted that the above financing deal, combined with cash generated from operations and its cash reserves, should be enough to fund its "ongoing obligations, including post-petition obligations to vendors and suppliers, as well as employee wages, salaries and benefits programs."
Investors were pleased with the announcement, which allows Cineworld to continue operating as a going concern instead of sinking into liquidation or administration. Mooky Greidinger expects the movie theatre chain to emerge from the bankruptcy proceeding in Q1 2023.
The company's Deputy CEO, Israel Greidinger, recently lamented that unlike their US rival AMC Entertainment, which was saved from bankruptcy by becoming a meme stock, Cineworld did not have the same good fortune.
On another note, an Israeli court handed Mooky Greidinger a criminal conviction after one of his businesses was found guilty of withholding movies from a competitor in Tel Aviv. Luckily the court has accepted a plea bargain, and Mooky will either pay a fine or serve a suspended sentence.
While Cineworld shares may have bottomed as shown on the chart below. I would only buy CINE shares once a strong rally off the current lows is underway.
*This is not investment advice.
Cineworld share price.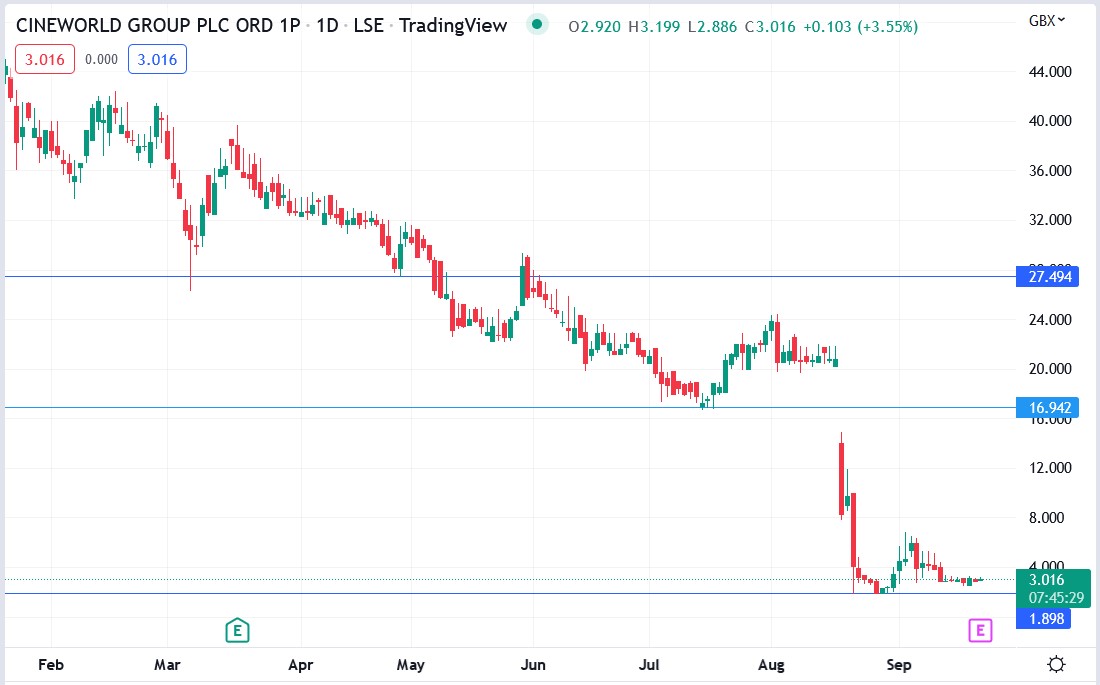 The Cineworld share price appears to have bottomed after a 90.72% decline this year. What's next?