Key points:
[email protected] Capital shares plunged after its 2021 losses ballooned.
The inventory monetisation firm had delayed the release of its FY results.
The firm still has a long way to go and must prove its detractors wrong.
The [email protected] Capital PLC (LON: SYME) share price plunged by 14.3% today after the inventory monetisation company released its 2021 annual results. Investors were disappointed that the company's pretax losses had ballooned to £12.2 million compared to last year's £2.8 million loss.

The company attributed its bigger losses to various improvements in its business, such as recruiting new talent, investing in technological advancements, acquiring TradeFlow Capital Management and strengthening its internal processes.
[email protected] Capital also noted that the negative impact of the coronavirus-related lockdowns on global supply chains had a significant adverse effect on its business. Still, the company continued building its business by testing, learning and finding ways to future-proof its operations.
The inventory monetisation company's executives were optimistic about its prospects based on the significant investment they made in the firm's proprietary business model and platforms, combined with the enhanced leadership team.
The company has started the year on a positive note after the capital it manages grew 17% during Q1 2022 compared to the 4% growth witnessed in Q1 2021.
SYME also revealed that it had a potential pipeline of inventory monetisation contracts worth £164.8 million. However, the figure does not represent its potential earnings since not every contract will come to fruition.
Looking forward, SYME has a long way to go before it can turn profitable, but it has the potential to become a market leader. Still, the company has many detractors who believe its unfeasible business model will fail.
Therefore, investors should do their due diligence before investing in SYME shares.
Looking at the [email protected] Capital daily share price chart below, we can see that SYME shares bounced off the long-term support level at 0.06p earlier today. The level presents an excellent buying opportunity for bullish investors. However, breaking the level would invalidate the bullish thesis and lead to further losses.
*This is not investment advice. Always do your due diligence before making investment decisions.
SYME share price.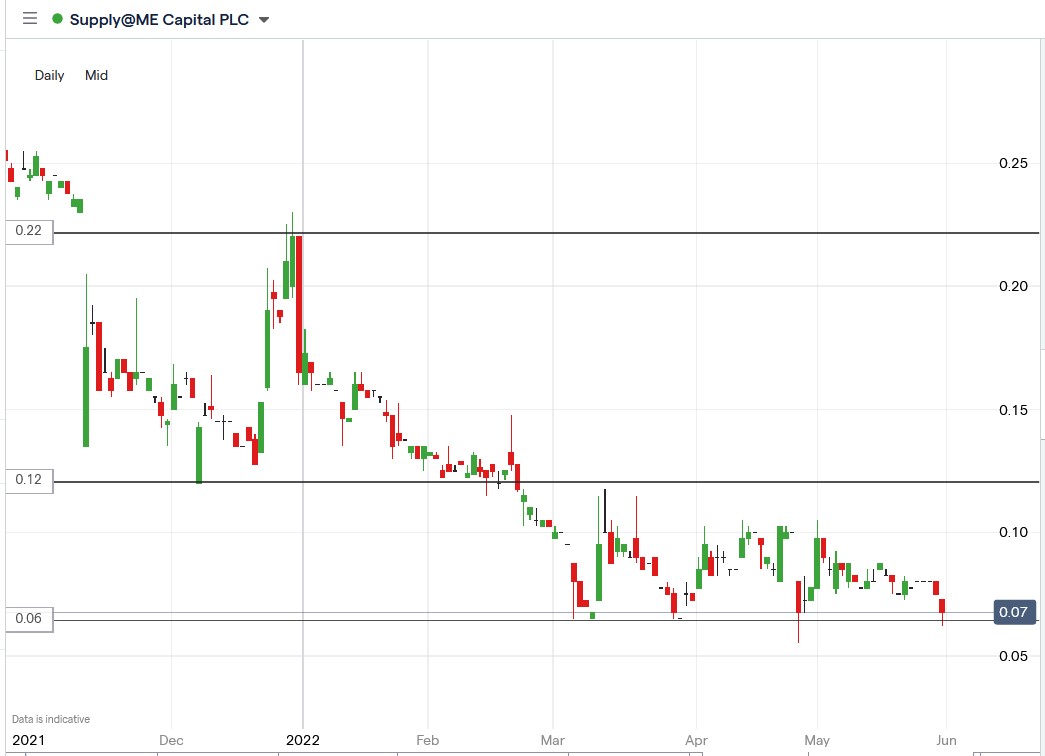 SYME shares plunged 14.28% to trade at a low of 0.06p, falling from Monday's closing price of 0.07p.