Key points:
Cineworld shares have risen 14.7% in a week. Should you buy them?
The recent rally is a move in the right direction, but there are some risks.
Read on to find out what we think of Cineworld shares.
The Cineworld Group plc (LON: CINE) share price has risen 14.7% in the past week amid a broad stock market rally replicated across other developed markets, including the United States and the rest of Europe.

The rally has left many questioning whether it is sustainable given the challenging operating conditions facing the movie theatre chain. In addition, the company is struggling under a massive debt burden far more significant than its current earnings.
Also read: Five Best Shares For Beginners To Watch In 2022.
However, the recent rally looks like a decent recovery as stock markets edge higher despite the constant threat of further rate hikes from leading central banks, including the Bank of England and the Federal Reserve.
Still, blockbuster movies such as Top Gun: Maverick could be the key to unlocking the movie theatre chain's future rally since such high-grossing films tend to drive more people into theatres than movie releases that do not perform as well.
For the current rally to keep going, Cineworld shares have to break above the psychological resistance level at 25p before reaching the 27.5p resistance zone and on to 30p.
Investors should note that Cineworld's current share price of 23p brings its total market value to £315 million, compared to its debt obligations that currently exceed $8 billion.
Therefore, if the company's fundamentals improve, we could see its shares surge much higher than their current price, rewarding investors who buy now near its lows. However, its massive debt burden also poses a significant existential threat to the company, which might be unable to repay its loans when they are due.
Therefore, investors holding Cineworld shares should be aware of the risks associated with the stock. However, the movie cinema chain is currently fighting the C$1 billion damages award to Cineplex by a Canadian court, and a win would provide a much-need boost to the stock.
Therefore, there are both cons and pros associated with owning Cineworld shares, but the potential upside is an attractive proposition. Still, one should not forget the risks outlined above.
*This is not investment advice. Always do your due diligence before making investment decisions.
Cineworld share price.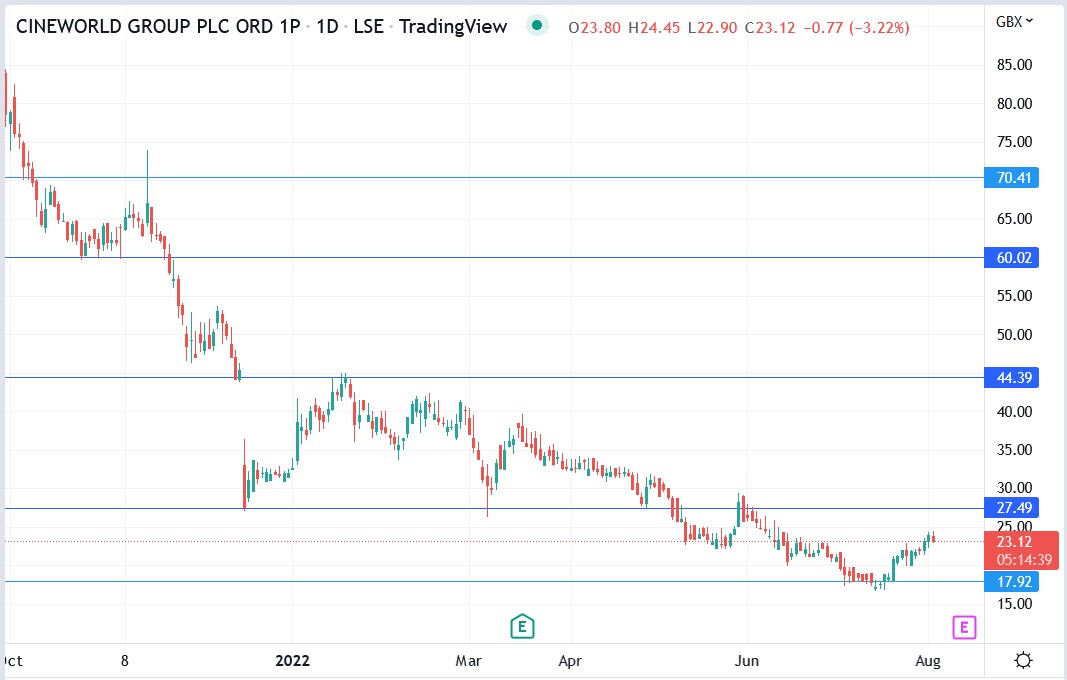 The Cineworld share price has risen 14.74% in the past week. Can the rally phase continue?