Key points:
Cineworld shares have just bounced off a crucial support level.
The movie theatre's shares look attractive at current prices.
The company can navigate through its many challenges to win.
The Cineworld Group plc (LON: CINE) share price bounced off a significant support level since mid-December 2021 and could be headed higher. However, the question remains, should you buy Cineworld shares?

Luckily for investors, the more times a support or resistance level is tested, the stronger it gets and the higher the likelihood it will hold in the future. Therefore, the latest bounce off the 27.50p support level might be the perfect buying opportunity for investors.
Still, there are no guarantees in the markets; hence, we do not have any certainty that Cineworld shares will not break the support level and head lower. However, trading and investing is a game of probabilities and the chances of a bullish move now outweigh the chances of a bearish move. Still, a break below the support level would invalidate the bullish thesis as Cineworld shares could be headed much lower.
Turning back to the fundamentals, Cineworld is set to benefit from the extensive slate of blockbuster movies scheduled for this year, including recent releases such as the Batman movie, which performed exceptionally well at the Box Office.
However, the company is struggling with significant financial issues, including the Cineplex C$1.23 billion (US$957 million) damages award by the Canadian Superior Court after the aborted acquisition in early 2020.
Cineworld could go bankrupt if it were forced to pay the entire sum awarded to Cineplex, so it has appealed the decision to have the damages award quashed. Unfortunately, Cineplex has made a counter-appeal that could see it still get paid even if the Appeals Courts do not uphold the initial award.
The movie chain operator is also struggling with a massive debt burden worth $4.84 billion, likely struggling to repay given the rising interest rates. The company has hinted that it could soon raise money via a share placement diluting existing shareholders to meet its debt obligations.
Another option available to Cineworld is the sale of its Regal movie theatre business in the United States, which could unlock significant cash reserves for the company allowing it to repay a chunk of its debt, easing the pressure on its finances.
Therefore, while Cineworld's fundamentals do not look promising now, the company can navigate its way out of its current predicament given the options at its disposal, making it an attractive investment at current prices. Accordingly, I would buy the shares at the current prices.
*This is not investment advice. Always do your due diligence before making investment decisions.
Cineworld share price.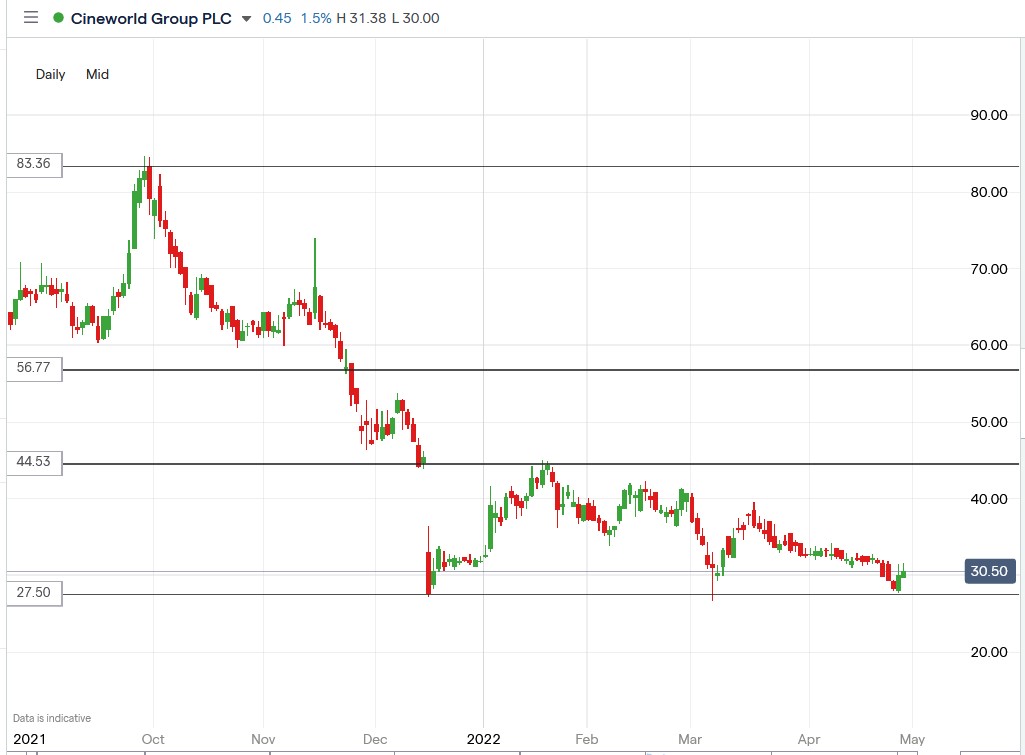 Cineworld shares just bounced off a long-term support level and could be headed higher.