Key points:
Cineworld shares are trading down 92.8% YTD.
So can blockbuster movies push their shares higher?
Read on to find out.
The Cineworld Group plc (LON: CINE) share price is trading down 92.8% for the year and has languished at its all-time lows since September after filing for Chapter 11 bankruptcy protection in the United States. However, there is hope for the cinema operator in the form of blockbuster movies set for release during the fall and winter seasons.

Some of the much-awaited blockbuster movies include Black Adam, which debuted on October 21, and Black Panther 2: Wakanda Forever, set for release on November 11, 2022, and Avatar: The Way of Water, scheduled for release on December 16, 2022. Investors look forward to seeing if Cineworld shares can rally on the blockbuster movie releases.
Also read: Best Shares To Buy Now.
However, there are no guarantees that the movies will lift Cineworld shares, given that the company is battling an insurmountable debt pile, which has forced it into administration. Nevertheless, a deal restructuring the company's debt to get it out of administration could be the right trigger for a rally higher.
Currently, Cineworld is negotiating with its lenders to reach an agreement that will see them write down most of the existing debt, which stood at around $5 billion, not including its lease liabilities, which add another $4 billion to its debt pile.
Another angle explored during the chapter 11 bankruptcy process is Cineplex's bid for Cineworld's American operations under the Regal Cinemas brand, which Cineworld acquired for $3.6 billion in 2017.
The two companies abandoned talks to merge their operations after Cineworld filed for bankruptcy protection, which prompted Cineplex to approach Cineworld's creditors with an offer for Regal Cinemas. However, Cineplex wants to fund the acquisition via a mix of debt and stock guaranteed by the combined businesses' assets.
However, the talks are in their early stages and likely to attract opposition from some quarters, given the failed bid to combine the two firms' operations. Moreover, since Black Adam has already been released, the likelihood of blockbuster movies pushing Cineworld shares higher has significantly reduced.
*This is not investment advice.
Cineworld share price.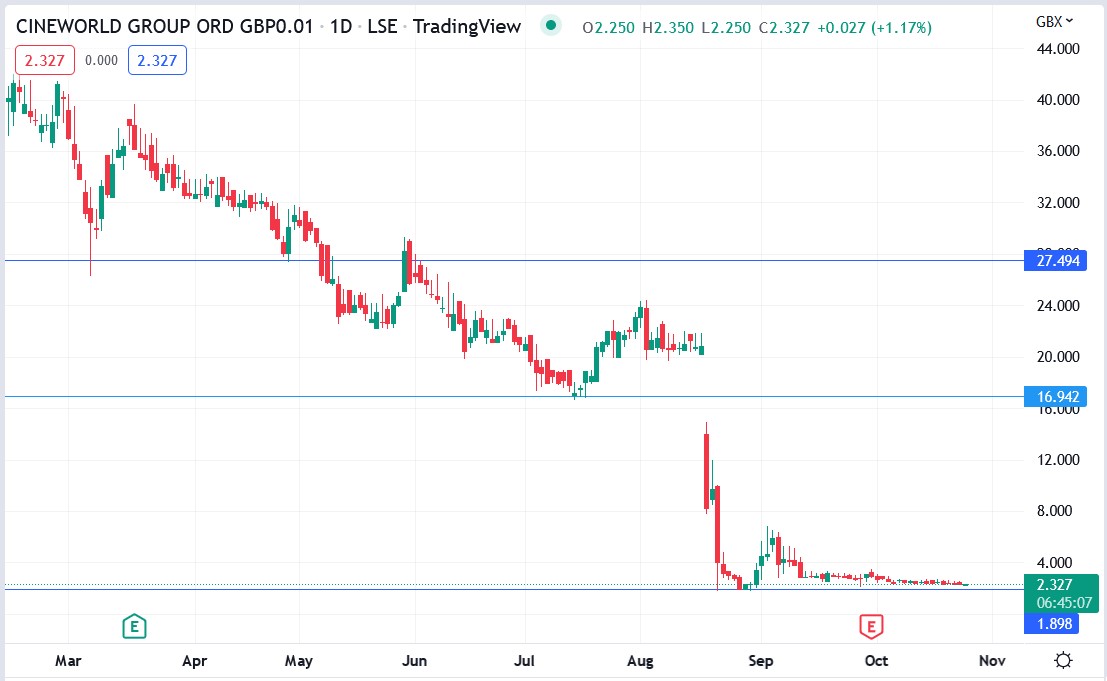 The Cineworld share price is trading down 92.84% for the year and is stuck in a sideways trading range.