Key points:
Cineworld shares barely moved after issuing an update on Regal shareholders.
The company is yet to reach an agreement with the dissenting shareholders.
However, the firm's prospects are pretty promising at the moment.
The share price of the Cineworld Group plc (LON: CINE) edged lower despite revealing that it had started discussions with dissenting Regal Entertainment shareholders regarding its unsecured facility agreement.

The company is looking to secure a waiver of its obligations given the high likelihood of a default due to its precarious financial position amid rising coronavirus infections that could affect its results this year.
Cineworld's management is hopeful that they can negotiate a fair deal with the dissenting shareholders allowing it to postpone some of the payments due as part of the funding agreement.
Cineworld has obtained waivers from the unsecured lenders as a sign of good faith to facilitate the discussions, hopefully placating the affected Regal shareholders.
Investors had a muted reaction to the announcement, given that it does not have an immediate impact on Cineworld's financial position.
However, many investors are interested in Cineworld taking Regal Entertainment public in the future, unlocking significant revenues for its shareholders and drastically reducing its ballooning debt worth over $8 billion.
Investors hope that Cineworld will progress with the dissenting shareholders and announce a strategic move about its Regal cinemas, improving its precarious financial position.
Cineworld shares have risen 21.35% since the year started despite the massive selloff in the broader stock markets as investors reacted to the massive slate of blockbuster movies scheduled for this year.
Despite the positive start, Cineworld's prospects are pretty uncertain given its ongoing appeal against Cineplex's C$1 billion damages award after the botched merger.
The resolution of the ongoing appeal could unlock further gains for shareholders, as could the positive performance of the movies scheduled for release this year.
*This is not investment advice. Always do your due diligence before making investment decisions.
Cineworld share price.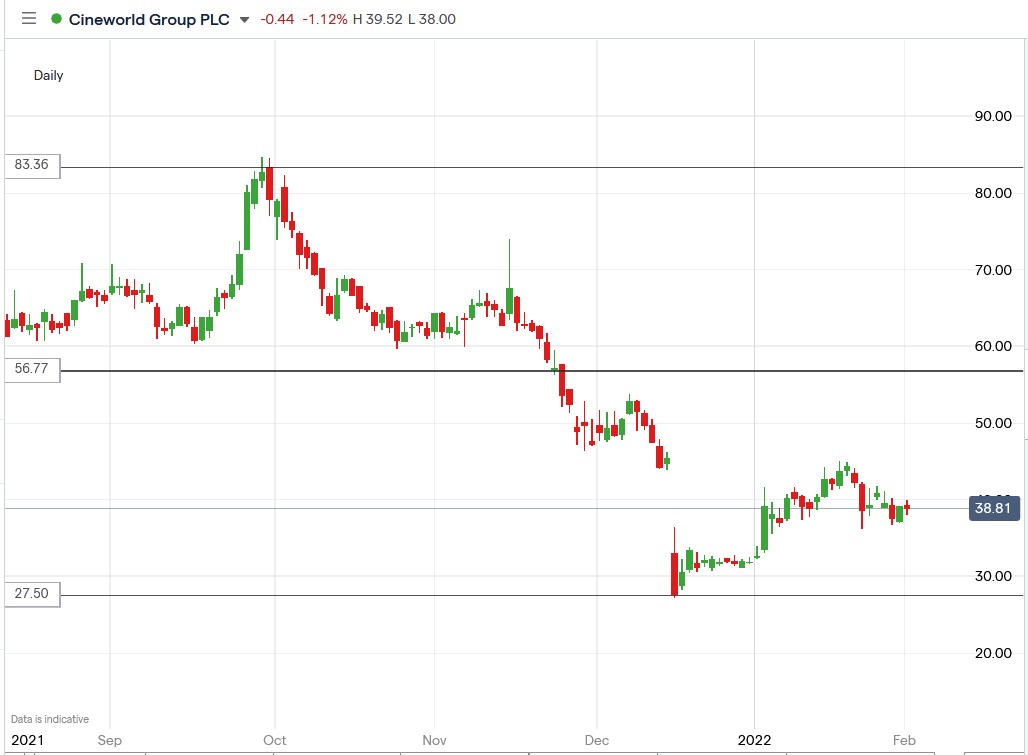 Cineworld shares edged 1.1% lower on today's announcement. So what's next for the firm?