Key points:
ContraFect's MRSE drug trial failed the futility test
But the key question is what else is in the pipeline?
Is there anything else potentially of value?
ContraFect Corporation (NASDAQ: CFRX) stock is down 76% premarket on NASDAQ as the news comes out that the company's Phase III drug trial has been stopped. This does happen, that a drug turns out not to quite work this late in the development process but it's a painful experience for all concerned when it does. For the basic work on effectiveness – does it work at all in treating the disease aimed at – is normally an output of Phase II, and much cheaper, trials. Phase III is meant to ensure that there are no problems that become apparent only when working with a larger sample size.

But that's not how it has worked out here. As ContraFect has stated: "announces today that the Data Safety Monitoring Board (DSMB) of the DISRUPT (Direct Lysis of Staph aureus Resistant Pathogen Trial) study has completed a pre-specified, interim futility analysis and the DSMB recommended that the trial be stopped because the conditional power of the study was below the pre-specified threshold for futility." They simply weren't finding an effect of any use.
This is a significant pity not just for ContraFect of course. The specific problem they were trying to solve was how do you deal with antibiotic resistant infections like MRSA? The logical answer is to try some non-antibiotic method of killing off staph, say biophages. This was exactly the approach taken. Phase II results seemed to show a certain effectiveness. Phase III, as here, then reversed that finding.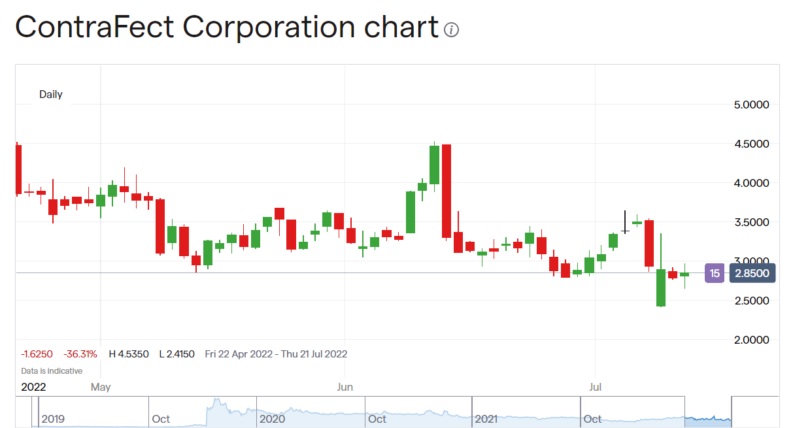 Also read: Five Best Pharmaceutical Stocks To Watch In 2022.
Ah well, this happens. Even though it is a little odd to gain a failure at this point in the process, it does indeed happen. What matters though is what now happens to ContraFect stock? Is this 76% fall going to be the end of it? Will the shock lead to a reconsideration of the company as a whole and if so, upwards or downwards from here?
A guide is this: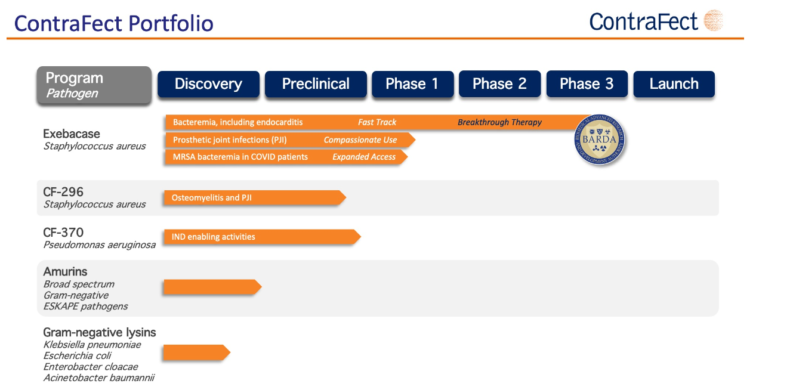 It's Exebacase that has failed here, in that first use against Bacteremia. When staph, or MRSA, gets loose in the bloodstream and there's endocarditis as a result. The future valuation of ContraFect now depends upon investor opinion.
OK, so, the headline hope now seems to be done and dusted. The product furthest down the development pipeline now falls out of it. But that's not the only thing in the pipeline. For one point about ContraFect is that it's not so much developing "a drug" but rather an entirely new approach to a class of treatment. So, even if this one has failed, will others work in their time?
That then becomes the valuation technique for ContraFect stock. How much of that pipeline will in fact lead to something useful? Is the headline failure the end for all those using the same basic technique? Or was it just the wrong target? The stock price will depend upon what other investors think are the answers to exactly those questions.