Key points:
The Cora Gold share price edged higher after releasing a new MRE.
Investors didn't react since the firm did not discover new gold deposits.
The political situation in Mali is of great concern to investors.
The Cora Gold Ltd (LON: CORA) share price edged 3.21% higher after the gold mining released its updated minerals resource estimates (MRE) for the Sanankoro mine in Mali. The new estimates are based on the 2022 drilling campaign, which was recently completed.

The gold mining company drilled 6,992 metres via reverse circulation (RC) drilling and 897 metres via air-core (AC) drilling, which is part of a more extensive definitive feasibility study (DFS) of the Sanankoro mine.
Also read: The Five Best Gold And Gold Mining Stocks To Buy Now.
Investors were largely unbothered by the news since the company mainly converted previously inferred resources into indicated resources meaning that the firm did not discover any new gold deposits.
Given that the Sanankoro mine is located in Mali, investors are worried about the political situation in the country, which seems to be worsening by the day. Can companies such as Cora Gold continue operating in the country for the foreseeable future?
Large parts of Mali are controlled by armed groups that tax amateur miners operating in the areas using crude tools. However, foreign companies operating in Mali have downplayed concerns about amateur miners' impact on their operations.
Companies such as Cora have an advantage in using sophisticated mining equipment that allows them to access gold deposits found deep underground as opposed to amateur miners.
Bert Monro, Cora Gold's CEO, commented, "I am pleased to report Sanankoro has an updated MRE of 920 Kozs Au of which 657kozs are in Indicated and 509kozs of those are also in free digging oxide material…  The programme, from a limited drill metre-age while we focused on the DFS, had a very good conversion from Inferred to Indicated, which also bodes well for future infill programmes on the 263kozs of Inferred material."
However, investors should closely monitor the developments in Mali, which could threaten the future operations of firms like Cora Gold and Kodal Minerals.
*This is not investment advice. Always do your due diligence before making investment decisions.
Cora gold share price.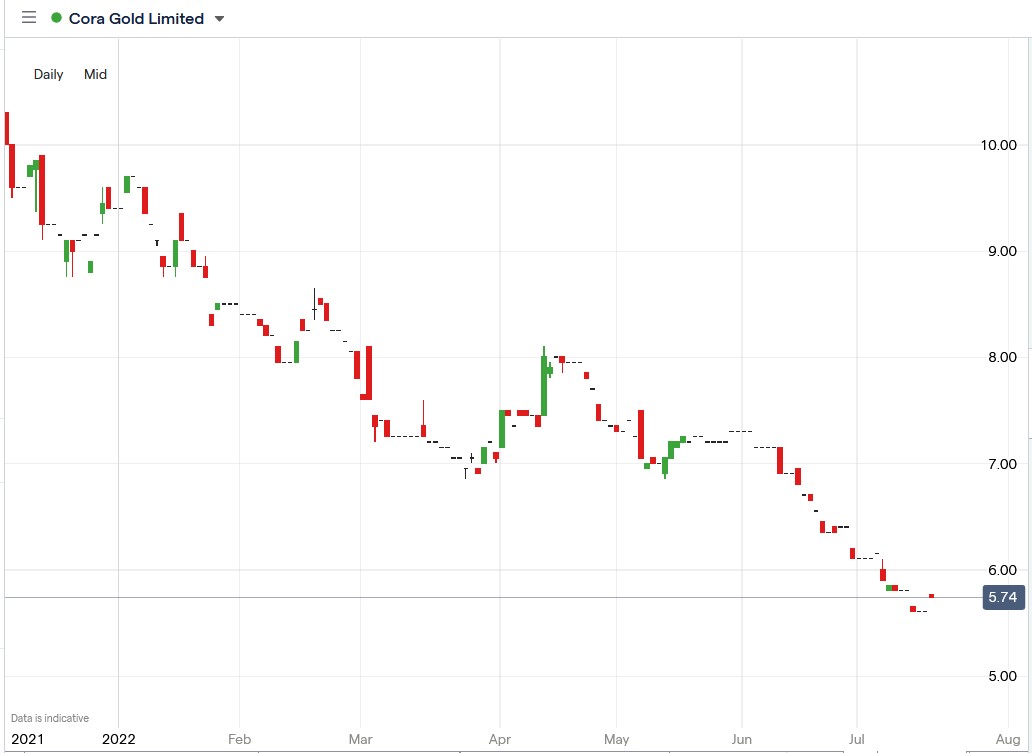 The Cora Gold share price rallied 3.21% to trade at 5.78p, rising from Monday's closing price of 5.60p.